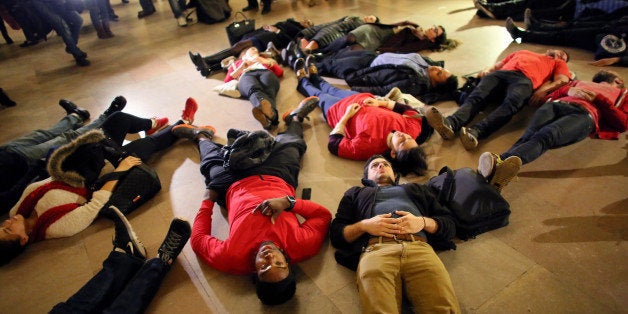 I am deeply disappointed about the grand jury decision not to indict in the killing of Eric Garner. If a man can be choked to death as bystanders shoot video; if we can hear him saying, "I can't breathe;" if the coroner can rule his death as a homicide and we can't get an indictment -- there is something tragically wrong here.
These United States were built on a fault line called racism and that line has cracked wide open. The way to repair the breach and fix what is broken is to work toward racial reconciliation. That means engagement, relationships, and courageous conversations that open our hearts to each other.
We must move from segregated silos of congregations and neighborhoods and be in relationship with one another.
I serve a multiracial congregation. We are forced to bump into each other, to pray together, to sing together, and to work for justice together. Pam Edgar, a young white woman at my church, wrote this poem and shared it in our Sunday worship last week, in response to the events in Ferguson:
Justice
Two young men made mistakes that day
One is dead, the other walks away
There is no justice here
Wilson saw "a demon" and got scared
Brown's large black body, unprepared
There is no justice here
No charges brought, no probable cause
Just a broken system to make us pause:
There is no justice here
Righteous indignation fills the night
Through angry bodies prepared to fight
There is no justice here
Protest, the language of the unheard
Challenging the norm of who gets the last word
There is no justice here

Parents whose arms can only hold pain
Questioning if their prayers were in vain
There is no justice here
Will anger and fear create a breach
Too great for human hearts to reach?
There is no justice here
I wear my whiteness like a stain
Knowing its privilege causes you pain
There is no justice here
I alone can't make sense of all this
But it's too essential for us to dismiss
There is no justice here

So in this place we lift up our hands
To pray, and listen and understand
How to bring God's justice here
No more names to add to the list
A world where racism no longer exists
We pray God's justice here
With all our difference and conflicts thereof
We choose to stand united in love
And claim God's justice here.
It may seem like change isn't happening. But, as Sam Cooke sang, "It's been a long time coming, but I know a change is going to come." We need beloved communities of faith to make this change and to stay committed to a movement for racial justice. Pam, a therapist and an artist, used her poetry to be a part of this movement toward racial reconciliation. Change happens one story, one relationship at a time. And all of the actions impact what comes next.
Do what you can, where you are, to make a peaceful noise for justice: march, write, sing songs of peace, and pray "until justice rolls down like waters and righteousness like a mighty stream."
We must dismantle suspicion and fear, and build a coalition of peace. We need to sit down with law enforcement and with our elected officials and have tough conversations about how we will make this better -- get this straight -- together. My neighborhood police are ready to meet with the faith leaders in our community; invite yours to do the same.
We also need conversations with the people we love. If you want to commit to a conversation with your family, friends, or faith community, make space for deep questions and even the sharing of awkward sentiments. Here are some questions to use:
Why is this happening?
Aren't we past race yet, and can I do anything about this?
What images in our culture reinforce racism?
How does my faith in God relate to these issues?
How can I heal from my own racism?
On Sunday, December 7 at Middle Collegiate Church, we will sing, pray, and talk about justice. We will worship together in community at 11:15 am and stay together for a Candid Conversation on Race.
Our nation is cracking wide open on the fault line of race. In order to repair what is broken, we need each other. We need to heal, to connect, and to be the change.
Related
Popular in the Community