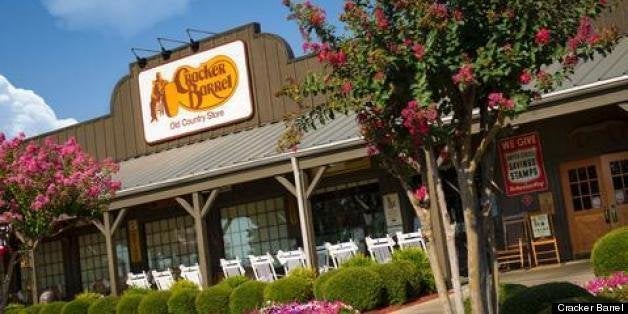 You won't likely be seeing branded products from country restaurant chain Cracker Barrel in your supermarket anytime soon.
The ruling is in favor of Kraft Foods, which had sued Cracker Barrel on grounds that the chain's products could too-easily be confused for Kraft's trademarked Cracker Barrel brand cheese. Cracker Barrel has countered that it does not intend to sell cheese products, only ham, bacon and other meats.
"The court finds that Kraft is likely to prevail on the merits of its trademark infringement and unfair competition claims," reads the judge's order. "Kraft need only show a 'better than negligible' chance of success on the merits, and has more than sufficiently carried this burden."
The ruling noted a survey conducted by a market research expert hired by Kraft, which said that when shown pictures of Cracker Barrel's ham, one in four people incorrectly believed the company also produced cheese.
In a statement, Cracker Barrel said that it will "explore all of our legal options, including a possible appeal of the preliminary injunction."
In February, Kraft Foods explained that it had waited to pursue legal action against Cracker Barrel because until that point, the number of products sold by Cracker Barrel was limited and took place outside a major retail setting. Cracker Barrel currently sells branded goods at its restaurants and online.
REAL LIFE. REAL NEWS. REAL VOICES.
Help us tell more of the stories that matter from voices that too often remain unheard.
BEFORE YOU GO
PHOTO GALLERY
The Countries that Eat the Most and the Least Meat