Hurricane Irene's march through Vermont's Mad River Valley in 2011 tore down bridges and turned roads to rubble in towns like Waterbury. The storm littered businesses and city offices with debris and sewage, and damaged close to 100 homes.
One of its victims was The Alchemist brewpub, which owners John and Jen Kimmich had built from the ground-up into a darling of the craft beer scene, known throughout New England for Heady Topper, its standout India pale ale.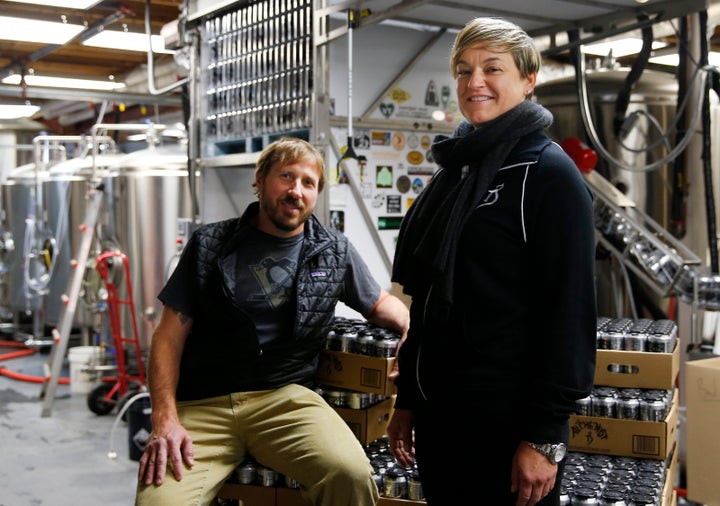 When the waters receded, very little in the brewpub was salvageable. The Kimmichs had actually been working on a plan B: building a production facility – with a strong structure – on higher ground. That opened days after Irene. Still, the storm was demoralizing. They were inches away from throwing in the towel.
"We had a decision to make ― either make an insurance claim and sell our business, or double down, focus on growth and rehire everyone," says Jen Kimmich. She and her husband opted for the latter, rebuilding on higher ground with a stronger structure.
In the face of a changing climate, craft breweries such as The Alchemist are feeling the impacts. More than 5,000 craft breweries now operate across the U.S., and many were built in affordable but precarious locations, like floodplains or forests, making them especially vulnerable to extreme weather events like Hurricane Irene and shifting climate patterns that threaten their business.
Breweries rely on raw ingredients such as hops, water and grain, and supplies can be choked off by drought, storms or pests. These problems will only become more intense with climate change, scientists say.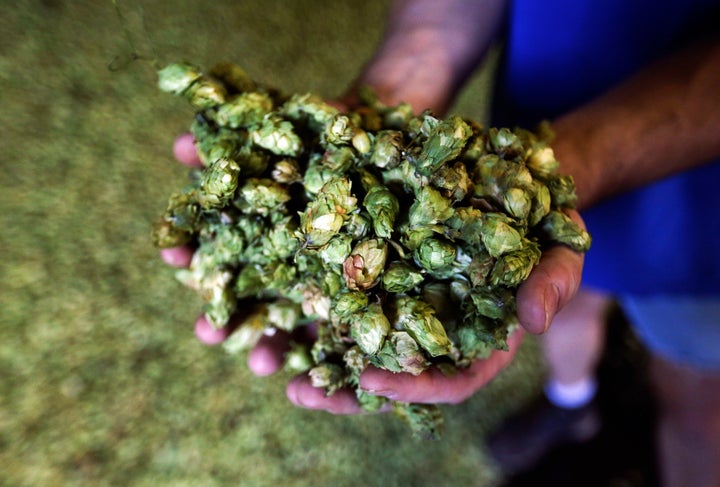 Climate swings have already resulted in U.S. hop shortages that had brewers sourcing from as far away as Argentina. To survive the next climate-driven hop squeeze, Kimmich has a plan. "The best way we can mitigate that risk is to pre-pay for hops," she says. "That puts us first in line in case there's another shortage."
The Alchemist isn't alone in pre-paying for hops. Most craft breweries purchase hop contracts ― several years in advance, in some cases. However, if hop shortages become more frequent, which scientists have predicted will happen in some regions due to climate change, there may not even be a line for buyers to wait in. Nature has a habit of throwing a wrench into things.
Aeronaut Brewing Co. in Somerville, Massachusetts, experienced that firsthand this year, when hops the operators expected from western Massachusetts were delayed, then canceled.
"Unfortunately, due to the late-season warm weather this year, the crop was not ready until way later than expected," says Ben Holmes, co-owner of Aeronaut. "Finally, when [they] were about to harvest, they were hit by a bad blight, which knocked out the entire crop."
Aside from shocks to his hops supply, Holmes has had to contend with rising utility bills imposed by the city to address its aging sewer and storm drainage systems, which officials say are ill equipped to handle major storms and rising seas.
"As Somerville tries to cope with climate change, we are facing bigger and bigger challenges with flooding, mitigation of which is requiring major infrastructure investments which are incidentally being tacked onto our water bill proportional to use," Holmes says.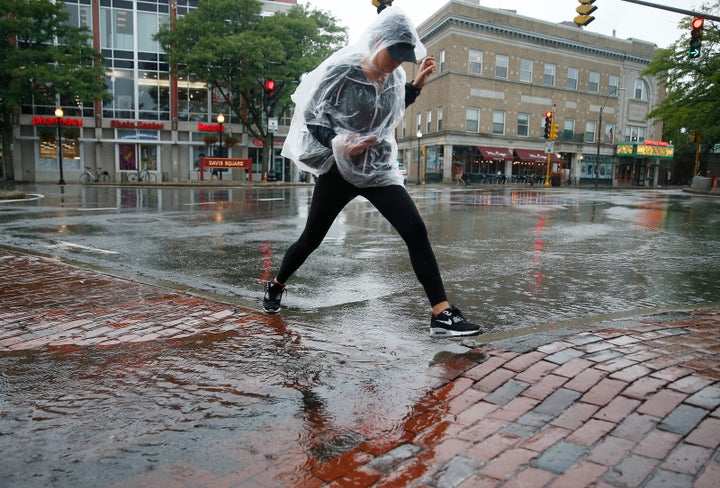 Since his brewery uses a lot of water ― not just for beer, but also for cleaning tanks, hoses and kegs ― Aeronaut ends up paying a lot toward Somerville's cost of preparing for climate change. In fact, craft breweries across the nation are investing in wastewater treatment and solar power generation to offset rising utility bills.
New Belgium Brewing Co.'s solar panels, for instance, generate almost 5 percent of the power for its packaging facility in Fort Collins, Colorado. Louisiana's Abita Brewing Co., meanwhile, has installed an anaerobic digester to convert waste into biogas that's recycled back into the brewery.
But Steve Frazier, head brewer at The Brewer's Art in Baltimore, Maryland, says it's not always easy for small craft breweries to enact resiliency measures like hop contracts or infrastructure buildouts because the return on investment isn't as obvious. What's more, he says, "smaller outfits can't usually budget for big efficiency projects when they are just fighting to stay relevant, or trying to meet production demands."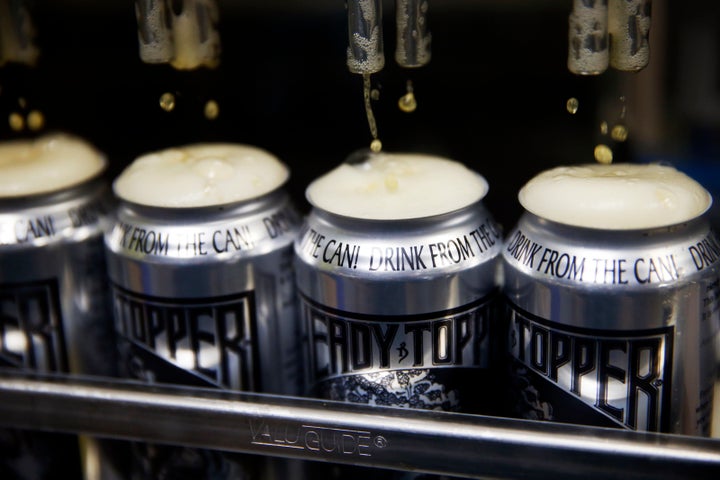 Aside from hops, Frazier also worries about the effects climate change will have on beer's other main ingredients: barley and water. While the amount of water used to make beer varies, it is estimated to take roughly 20 gallons of water to make a pint of beer. Many large craft breweries ― like New Belgium, Sierra Nevada and Stone ― have opened production facilities on the East Coast, in large part to lower distribution costs, but also, Frazier believes, to soften the blow of continued water scarcity in the West.
"I don't think any of the West Coast breweries that have recently opened East Coast facilities would come right out and say it, but I bet it will get really expensive to brew beer out West in the next 20 years if water gets any more scarce," Frazier says.
While not a direct solution, dozens of craft brewers have signed the Brewery Climate Declaration, which calls attention to the effects of climate change on the industry and outlines actions breweries are already taking. That includes Michigan's Brewery Vivant sourcing 100 percent of its energy from renewable sources and California's North Coast Brewing Co. diverting more than 90 percent of its brewery waste from the landfill.
"We hope that by signing onto pacts such as this one, and doing everything we can to keep this topic visible, we can make it clear that businesses must give a damn about climate change," says Holmes of Aeronaut Brewing.
Kimmich agrees. "On the heels of our president pulling out of Paris, we want to show that if the government won't move in the face of climate change, business leaders will," she says. "The writing's on the wall. The science tells us that climate change is real and it's just speeding up. These storms are just crazy. I'm sure there's more to come."
Aleszu Bajak is a science journalist who teaches at Northeastern University.
For more content and to be part of the "This New World" community, join our Facebook Group.
HuffPost's "This New World" series is funded by Partners for a New Economy and the Kendeda Fund. All content is editorially independent, with no influence or input from the foundations. If you'd like to contribute a post to the editorial series, send an email to thisnewworld@huffpost.com