Nothing is more American than small and independent craft brewers and by god right now is American Craft Beer Week (May 16-22). In its 11th year, we raise our glass and toast these small indie brewery businesses and how they have forever changed our economy, culture, communities and country as a whole. Yes, this is about more than just what is in the glass. This week is about celebrating a movement and monumental shift in the beverage of beer.
While more recently we read stories in the news about merges and acquisitions in beer, I want to remind fellow beer lovers about the core values of what makes craft brewing such a unique and caring community. At every brewery tour, beer festival or dinner, time and time again, I see in motion the belief that the success of other independent brewers is as important as their own success. The craft brewing community has shown that competitors can work together to provide beers and businesses that represent authenticity, quality, innovation and collaboration.
To showcase this unity, brewers bonded together for the weeklong celebration to #MakeSmallBeerBig. 100 breweries in all 50 states produced the same beer based on the same base recipe to create the Biggest Small Beer Ever Made.
It's also noteworthy that the recipe of the Biggest Small Beer Ever Made was inspired by Dr. Paul D. Ogg, quality control manager at Denver's Declaration Brewing, who is currently battling for his life. Dr. Ogg has been an influential member of the craft brewing community. Besides his role at Declaration, he also serves as a Great American Beer Festival® steward and BJCP (Beer Judge Certification Program) judge. Many brewers have sought his advice and knowledge on the science of beer over the years. Dr. Ogg has been fighting a rare type of cancer for over a year now, so this beer is also an opportunity to celebrate him. The recipe has been dubbed "P.D.Ogg Porter", one of Dr. Ogg's favorite recipes that he created in his homebrewing days. He always wanted to make this recipe on a larger scale, so we're especially happy to have made this happen.
While all brewers were given the same recipe and ingredients, each participating brewery had the understanding that no beer could be exactly the same. Craft brewers are inherently original and put their own spin on their craft creation. To showcase the special beer and celebrate all 4,400 small indie brewers this ACBW, CraftBeer.com has presented the following image: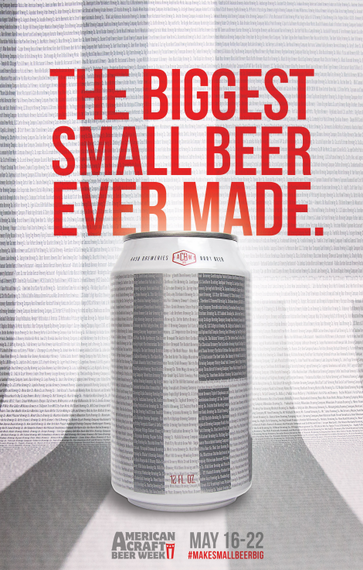 The video showcases the can and is a fun take on craft brewer ingenuity.
How can you celebrate? To find a participating brewery serving the Biggest Small Beer Ever or to participate in the nationwide toast on Thursday, May 19 at 5 Pacific / 8 EST or other events and promotions, visit the official American Craft Beer Week events page.