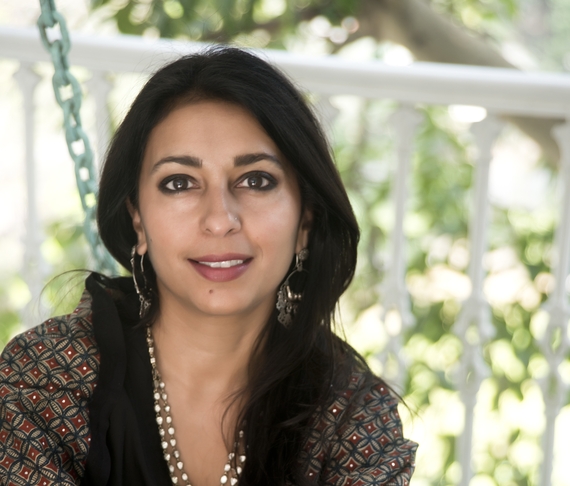 History, ancient cultures, languages and craft have always fascinated me. My mother may be partly responsible for this -- she started her career as a studio potter and passed down her love of crafts to me. I grew up with an understanding that the importance of sustaining crafts cannot be over emphasized.
At an economic, social and cultural level we would be impoverished if we were to devalue our crafts, which are the wellspring of our creativity, and provide livelihood to millions of men and women. The handloom industry in India for instance, employs 80% women, and many of our home and apparel textiles are handloom, that support and empower rural women with weaving workshops in their homes.
My Art History education instilled in me a broader appreciation of the cultural legacies woven in the fabric of craft cultures. I was inspired to write my master's dissertation about the global (cultural, design and even economic) impact of Indian Chintz, a textile tradition of hand block printing with natural dyes coveted the world over for their brilliance and fastness of colour.
As a student, I felt naturally drawn to the historic value and influence of Kalamkari Chintz, and today as CEO at Good Earth I am delighted by the revival success of this languishing art. It is very important to me to work on reviving and sustaining craftsmanship, as artisans are the repositories of heritage traditions. We need to honor their knowledge and skill and ensure that they are given their dignity and due respect at the emotional and material level.
As a design house, Good Earth celebrates the culture and history of a rich and diverse land, and of course, crafts are an integral part of that legacy. It is important that the designs we create retain the spirit of a tradition so that the craftsperson can identify with what he is creating. We feel the key is to revive crafts by sensitively energizing them with new design to develop a contemporary design language that is as relevant to the urban global consumers.
Another way is to help with innovation -- not drastic innovation but small steps, for example, using a different material base for the same technique like using a high quality luxurious silk for natural dyed designs. Our endeavor and responsibility is to be the bridge.
We work with craftsmen across the country. We inspire them, help them with design inputs and innovative application, and then market their products. We have worked with many different craft communities like the Kansa craftsmen who make traditional vessels from tin and copper, papier mache craftsmen from Kashmir, as well as Machilipatnam craftsmen who work with natural dyes. When we work with a craft it as a long term commitment. When we engage with an artisanal community our outlook and development plan is not for a season but for a lifetime.
Before engaging a new community, we spend a lot of time studying the craft's heritage and choose the ones we feel can benefit from a design collaboration to be revived and promoted to a new generation. Design "intervention" at Good Earth is and extension and evolution of the artisan's own tradition. If the craftsperson does not identify with a design, the result is a lifeless product and in a way not much better than if it was machine made.
When we visited Kashmir, we were in awe watching the Papier Mache craftsmen; it's such fine work painting with a single bristle so thin, it is nearly invisible to the naked eye. In this collaboration we worked with the karigars on scale and colour and to create a contemporary design language that reduced the strain on their eyes and referenced their cultural vocabulary in style that appealed to luxury consumers.
What truly energizes and excites us at Good Earth is to create a business that sustains traditions and livelihood through innovation and fine quality and that supports craftsmen and gives them dignity and pride in their own craft heritage. A business that has a purpose greater than just commerce.
Good Earth is proud to support the Fabric of India exhibition, at the Victoria and Albert Museum, London October 2015 through January 2016.
Pioneers for Change is a seed-bed for innovative thought. An activator of personal potential. A catalyst for collective energy. A community to drive social change.
Adessy Associates works with organizations and individuals in their quest to be a greater force for good in society.
About Simran Lal:
Simran is the CEO and driving force behind Good Earth, the leading Indian design house. She is dedicated to taking the Indian design and aesthetics that Good Earth are renowned for, to a global market.
The daughter of Good Earth founder Anita Lal, Simran now looks after the Delhi based company, established in 1996. Setting the standard for stylish, luxurious and heritage retail in India for over two decades, Simran has grown and developed with the company. Under Simran's strategic guidance, Good Earth has grown both nationally and internationally. The company now boasts nine shops across India, one in Ankara, Turkey and a Web Boutique delivering to over forty countries.
Simran studied for a BA in History at the University of Delhi before completing a Masters in History of Art at the University of Bangalore. She then continued to explore her passion for the arts and creativity by going on to obtain a Graduate Degree in Product Development and Merchandising from Fashion Institute of Technology (FIT) New York.
Popular in the Community