Is there a songbird that serenades you every morning or a blue jay that chirps outside your kitchen window in the afternoon? (If so, you're lucky--we've got pigeons.) In any case, give the birds a treat with this Craft Of The Day. These birdseed ornaments are the perfect mid-winter snack for feathered friends. And if you don't know where to hang one, you can make them as party favors for your friends to use instead. Keep reading for the how-to.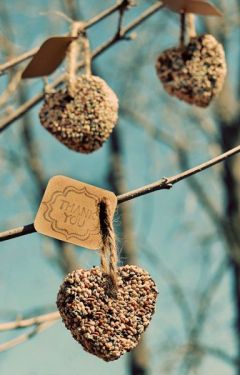 Photo by Christina Friedrichsen of Intimate Weddings
What You'll Need
Edible ingredients:
-3/4 cup flour
-1/2 cup water
-2 1/2 teaspoons unflavored gelatin
-3 tbsp corn syrup
-4 cups birdseed
Mixing bowl
Cookie cutter (these were made using a heart-shaped one)
Nonstick spray (or vegetable oil)
Chopstick
Parchment/wax paper
Yarn/string
How To Make It
1. Mix the flour, water, gelatin and corn syrup together in a large bowl.
2. Add the birdseed and make sure to stir well.
3. Spray the inside of a cookie cutter with nonstick spray and place it on your parchment paper.
4. Spoon the birdseed mixture into the cookie cutter and press it firmly down with your fingers. (Cover the tips of your fingers with nonstick spray to keep the birdseed from sticking.)
5. Insert and remove a chopstick to create a hole.
6. Carefully remove the cookie cutter and repeat. (Respray every few uses.)
7. Let them dry overnight.
8. String yarn through the hole and hang it up on a tree for the birds to enjoy!
For the full photo tutorial and the 'thank you' tag how-to, visit Intimate Weddings. And, be sure to check out the other great crafts in our Craft Of The Day slideshow below.