Charm your dinner guests with this Craft Of The Day. This deceptively simple project turns a fork into a place card holder or as a place to display photos. Either way, there's nothing a little bit of muscle work can't do. Keep reading for the how-to.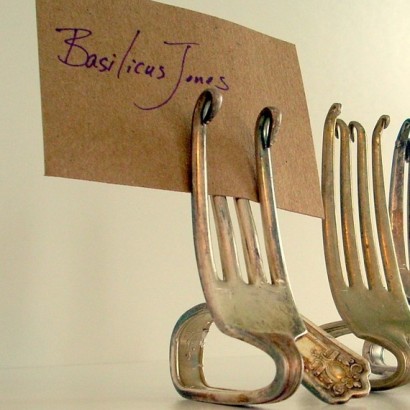 Photo by David Gobeli of BasilicusJones
What You'll Need
Silver-plated forks (Tip: Sterling silver forks will be too difficult to bend, but you could use stainless steel.)
Needle-nose pliers
2 pairs of regular pliers
How To Make It
1. Using regular pliers, bend the exterior prongs forward and the inside prongs back into a 90-degree angle
2. Bend the prongs into a loop with needle-nose pliers.
3. Grip the base of the fork with one pair of pliers, and hold the second pair about one-inch down the handle.
4. Bend until the fork can stand alone.
5. Halfway down the handle, bend the end of the handle over until the fork can stand alone.