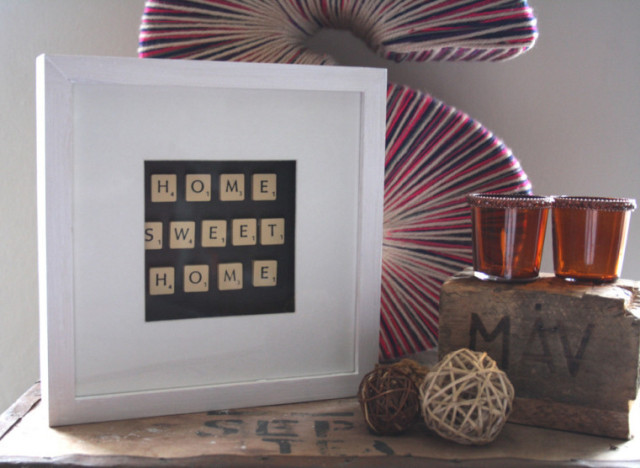 Flickr Photo by Samantha (This Home Sweet Home)
We're writers, so of course Scrabble is one of our all-time favorite games, meaning we couldn't pass on the opportunity to turn it into a Craft Of The Day. Enter this awesome Scrabble tile sign. All you need to do is pick a short but sweet message you like to live by, grab the corresponding letter tiles and follow the directions below! And remember, if you don't have miscellaneous tiles lying around and don't want to ruin the game, you can always find similar pieces at your local craft store.
What You'll Need
Picture frame
Scrabble tiles
Glue
Pencil
Matting (optional)
How To Make It
1. Decide on a message and find the corresponding scrabble tiles.
2. On the back of the frame, or on separate matting paper, measure the tile placement. (Measure on scrap paper first, and then mark off where tiles should be placed on the matting with lightly drawn pencil dots -- dots should align with the center of the tile).
3. Place a small spot of glue over each pencil dot and press the Scrabble tiles firmly into place.
4. Let dry.
5. Close the frame and stand your message up!