As crafters, we're always looking for creative projects, and we often find DIYs that involve sewing. And though (we admit) we're not going to win the next Project Runway with our sewing skills, we like to keep a stocked sewing kit so that when a project strikes our eye we can give it a shot. So, we love today's Craft Of The Day because it helps us keep our pins and needles together...in a stylish way.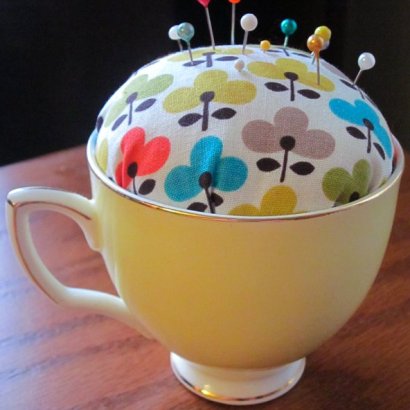 Photo Sara and Kelly From The Spotted Fox.
Unlike the many typical (and boring) looking pincushions we often see in craft stores, this one from the creative crafters at The Spotted Fox uses pretty fabric and a classic teacup to give it a unique look. For a full tutorial on how Sara and Kelly from The Spotted Fox made this pincushion, click here.
And, be sure to check out our other great crafts in our Craft Of The Day slideshow below.