Give your porch an extra burst of color for spring with this bright and easy Craft Of The Day. A tiered planter brimming with flowers instantly livens up the look of your front yard and can easily be made by stacking cheap terracotta pots on top of each other. Blogger Amy Bell painted on address numbers to make her planter pop, but you can use stencils and craft paint to create any design you like. Keep reading for the how-to.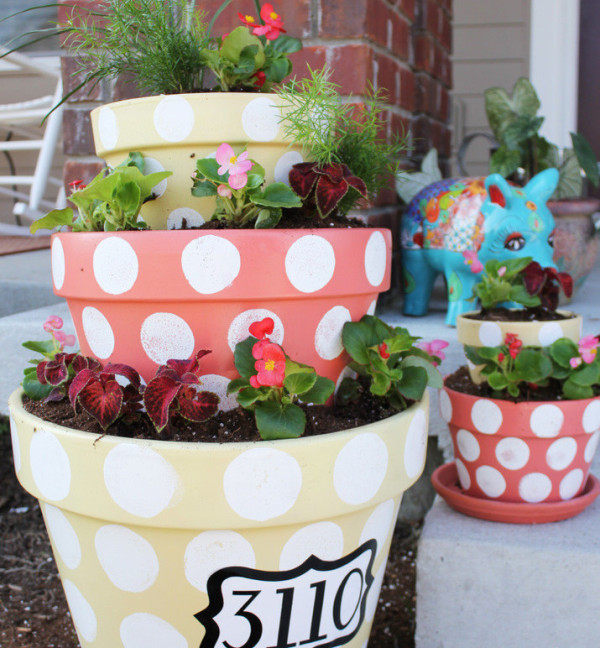 Photo by Amy Bell of Positively Splendid
What You'll Need:
Three terracotta flower pots, one large, one small and one medium-sized
Water seal spray
Spray paint
Acrylic craft paint and paint pens
Springtime stencils
Bricks
Crush soda cans
Potting soil
How To Make It:
1. Prep each pot inside and out with a coat of primer and allow it to dry. Then, using three different colors, spray paint your pots.
2. Use your stencils, paint pens and acrylic paint to add fun shapes and patterns.
3. Seal over everything with water seal.
4. Fill your largest pot with 4 inches of potting soil. Place two bricks side-by-side on top of the soil. Add another row of bricks to achieve a desired height for your second tier.
5. Place your second pot on top of the bricks. To keep it from moving around, fill in the empty area between the two pots with crushed soda cans. Then, fill in the remaining space with more potting soil.
6. Repeat the process to add your third tier.
For a full tutorial, visit Positively Splendid. And, be sure to check out the other great crafts in our Craft Of The Day slideshow below.