Before you recycle that used bottle, take a look at this Craft Of The Day! We're turning old bottles into revamped vases that are perfect for an empty window sill or dull mantel. All you need is a lot of yarn and a little bit of patience, so keep reading for the how-to.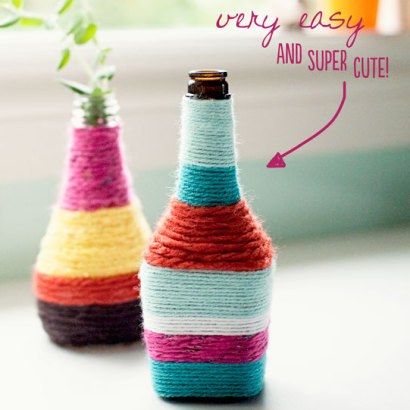 Photo by Rachael Smith of Penelope And Pip
What You'll Need
Empty bottle
Yarn/wool of various colors
Mod Podge (or glue)
Paint brush
Scissors
How To Make It
1. Paint a layer of Mod Podge onto the base of the bottle. (Don't try to cover too much of the bottle or the adhesive may be dry by the time you reach that spot.)
2. Start wrapping one color of yarn.
3. After a few layers, switch colors, but make sure to always switch colors at the same point of the bottle so the seams are contained. (Choose a 'back' side and always change the yarn there.)
4. Continue applying glue and wrapping yarn until you reach the top. (Take your time and make sure the lines are even.)
5. Drop in a few flowers and enjoy!