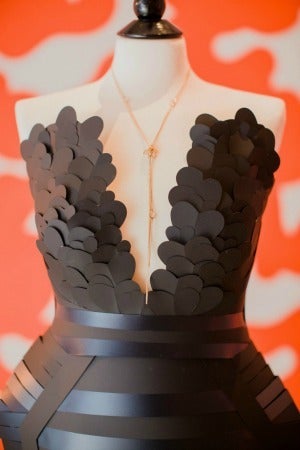 It was really a paper dress that started designer Heidi Moore's journey into the world of Cricut.
As a kid, Heidi was a craft-lover. In fact, one of her best memories is when she and her grandmother created a Santa from a sock. She later went on to graduate college as a graphic designer, and then start her own design company, Idieh Design.
Fast forward to eight years later where she was invited by WIPA (Wedding Industry Professionals Association) to enter a competition to create a paper dress for a local wedding event. Her entry was lucky enough to find itself on display at the Phoenix Art Museum.
"Paper? I've always loved fashion and I've worked with paper, but the marriage of these two entities was a monumental challenge," said Heidi.
"I asked someone if I could borrow her Cricut. Next thing I knew, there was one on my doorstep. I created the dress, and they liked it so much, Cricut not only shared it with their community, but asked me to join the company as their stylist."
A Cricut is a smart cutting machine with Design Space Software. The newest model, Cricut Explore Air 2, cuts on over 100 materials, from paper to adhesive vinyl to leather. People can make a broad range of DIY projects from cards to custom t-shirts to vinyl decals to home décor. Powered by free cloud based design software that runs on most computers, tablets and mobile phones, users can design projects using images from the Cricut library or they upload their own images for free. The latest version, Cricut Explore Air 2 cuts up to 2X faster than previous models on several of the most popular materials.
With Cricut, you can pay attention to the finest of details, so the end result is a stylish, polished, long-lasting item. People of all ages, from Millennials to Boomers, are designing to create beautiful wedding decor or to outfit their homes.
Today DIY is a lifestyle.
"I think really think it's advanced tools like the Cricut that are responsible for DIY becoming a lifestyle. The finished projects never have that "homemade" vibe and, with Cricut allows you to elevate your DIY skills to the next level. Quite honestly, it wasn't like that before," said Heidi.
What woman doesn't want a little black dress, especially during the holidays? Heidi says she's inspired by textures and colors and "thinking outside of the box"--but when she received a request from WIPA to create a dress out of paper it was one of the biggest (and most fun!) challenges of her career!
"I sketched and sketched and worked on making my vision a reality. I mixed strips of paper with different finishes to give the dress dimension and texture--and of course I did it with a Cricut--and came up with her dress masterpiece, shown above.
By the way, if the thought of creating your own dress is a tad overwhelming, you can always dress up an existing one with some of your own designs, such as the woman who bought a wedding gown and then decorated it with her love--butterflies.
GIVE YOUR GIFTS (HOLIDAY) LIFE
You know what cooks say--"presentation is very important." The same goes for your gifts. Dress them up and give them a few extra hugs and kisses with a merry and bright gift tag, made for Cricut by Heidi. Extra bonus--you made it extra personal so people will really feel the love.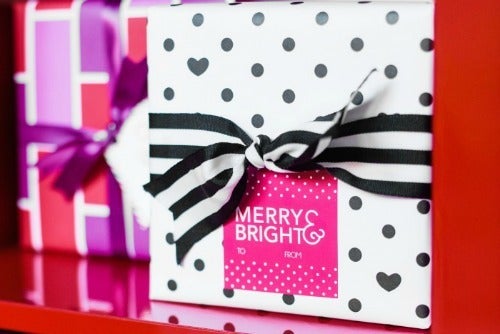 The winter solstice is crammed with holidays, so whether you celebrate Christmas, Hanukkah, Kwanzaa, Greek New Year or something else, there's something for you, such as the Winter Luminary, shown below, one of the more than 3000 ready-made projects found within Cricut Design Space.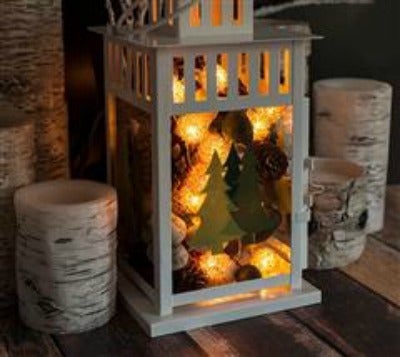 SO YOU'D LIKE TO BE A DIYer
Want to get started, but think you don't have what it takes? Here are 5 tips from Heidi:
1. First and foremost--get rid of that "I can't do it mindset." "I wholeheartedly believe that everyone has creativity within them. They just need to find it," said Heidi. "Think beyond what is considered creative. Maybe cooking is your jam. Maybe you can organize a messy room in minutes (Come help me!) Or, maybe you're creative with numbers--and, by the way, that makes you a whiz at spacial relations so assembly will be a breeze for you. People excel at that which they are naturally good. So find your good."
2. Start Small. Don't take on any huge projects while you're still learning. Otherwise, you'll get overwhelmed. "And overwhelm often leads to inaction. You'll accomplish exactly the opposite of what you want to do."
3. Focus! "Very often our minds can go in a million directions, and if you let that happen, so will your project. Keep it organized and as clear as possible.
4. Look to your surroundings for inspiration. "I'm not talking literal inspiration. For instance, a flower is pretty, but what does it represent? Does it have a cool pattern in its petals, or does its surroundings spark a unique color palette?"
5. Think outside the box. Don't think only in terms of what the item is typically used for. "For instance, I once saw bedroom hooks created from copper piping. While designing a room makeover, I chose to showcase a bathroom mirror in a bedroom. Look beyond the surface and expected."
As for me? Just yesterday I saw someone with holiday-decorated crutches. It looked like she was being balanced by little Christmas trees!
Calling all HuffPost superfans!
Sign up for membership to become a founding member and help shape HuffPost's next chapter
This post was published on the now-closed HuffPost Contributor platform. Contributors control their own work and posted freely to our site. If you need to flag this entry as abusive,
send us an email
.