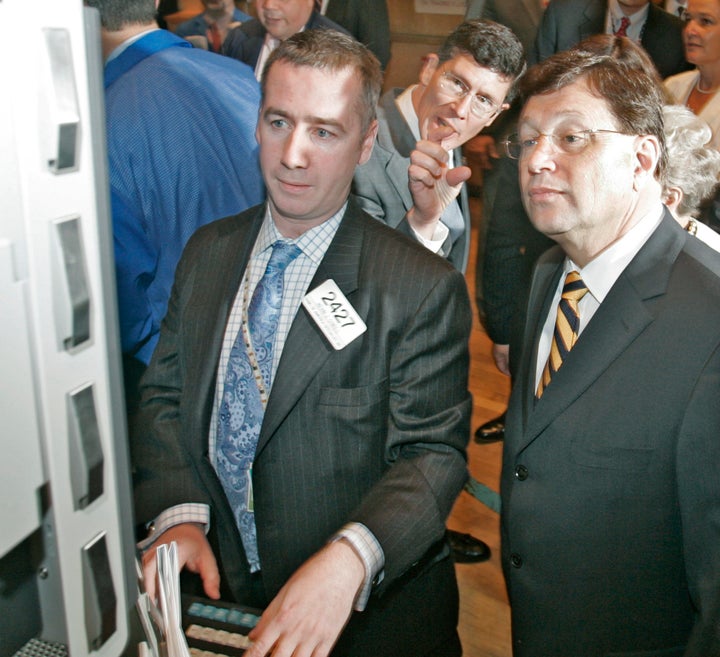 WASHINGTON -- The golden parachute CEO of a giant media company is battling the construction of a new mansion in his wealthy Washington, D.C. suburb.
The Washington Post reported Tuesday morning that Craig Dubow, who stepped down as CEO of Gannett Co. last fall, has sued to stop a new neighbor from building a "25,424-square-foot mansion modeled on the Palace of Versailles." The Dubows alleged in court this month that the chateau would ruin the "sylvan character" of their Great Falls, Va. neighborhood, and that a gaudy mansion would sink property values, the Post reported.
Dubow, 57, resigned from Gannett because of back and hip problems in October, receiving a $37 million severance package. During his six-year tenure as CEO, Gannett stock declined 85 percent, advertising revenue shrank from $5.2 billion in 2005 to $2.7 billion in 2010, and the company laid off tens of thousands of journalists. The contrast between Dubow's performance and compensation led some commentators to wonder why Occupy protesters don't point their pitchforks at the publishing company.
Robert Annis, a reporter who lost his job at the Indianapolis Star when Gannett cut 700 jobs to save money last year, said he is outraged on Dubow's behalf.
"As Gannett CEO, he laid off me and thousands of journalists in order to pay for his palatial estate, and now it's going to be ruined by someone building an even larger mansion next door," Annis, 38, said in an email. "How are you supposed to enjoy the benefits of destroying the careers and dreams of so many hard-working professionals, not to mention crippling the local news coverage of hundreds of communities across the country, when there's hammering going on past the acres of trees and streams separating the two properties?"
Gannett Blog, an unofficial journal about the company, estimated last week that the company is saving less money this quarter by furloughing 9,000 employees than it is paying Dubow. The Columbia Journalism Review wondered how many journalists' jobs Gannett could save if Dubow and other executives could tolerate being single millionaires instead of multimillionaires. (The company declined to comment when HuffPost followed up on CJR's question.)
After losing his job, Annis started chronicling his efforts to find a new one on Twitter. He said he's been getting by, thanks to freelance gigs and unemployment insurance, but that this week is the final week he'll be receiving benefits. Nevertheless, he suggested that he and other former Gannett employees might be able to do something for Dubow.
"Maybe my fellow ex-Gannett employees and I -- at least those of us that have managed to avoid foreclosure on our own homes -- should take up a collection to help him out."
Dubow did not immediately respond to a request for comment Tuesday.
Popular in the Community