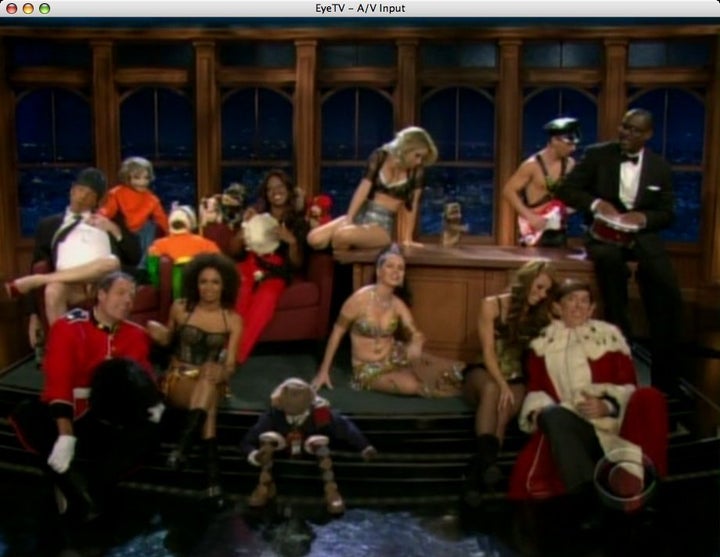 Craig Ferguson celebrated his 1000th show last night and pulled out all the weirdest stops. Ferguson took over the "Late Late Show" from Craig Kilborn in 2005, and since then has introduced puppets, karaoke dance numbers, Aquaman, and much more to late night. He did them all justice in a huge tribute last night that included three musical numbers (all available below), huge stars, and many many many puppets.
In fact, Fegruson hosted the ENTIRE show as his alligator/crocodile alter-ego, Wavy--a stunt which some may have expected to end after the monologue....but no. He interviewed Jason Schwartzman, Maria Bello, and Kristen Bell as the plush hand-puppet. The last interview got scary at one point when Wavy asked Kristen what she wanted in a man. She said someone with no murder in their background (too bad for Wavy), someone with a very nice smile, and someone bigger than a puppet who wouldn't require a baby blanket. Wavy's response? "Bitch, I will eat you!"
The show opened with a dance number (obviously) with Chris in his usual S&M gear and three sexy ladies swinging their hips. Jason Segel performed the second musical number, "Dracula's Lament," from his film "Forgetting Sarah Marshall," and the whole team (all the puppets and human regulars) joined together for the farewell number. The last musical number was the only point at which Craig appeared as a human during the entire episode, he was dressed as Prince Charles.
For those of you who can't watch video at work, or who just like pictures, we've also made a slideshow of the episode's best moments (scroll to the bottom to see!)
Popular in the Community