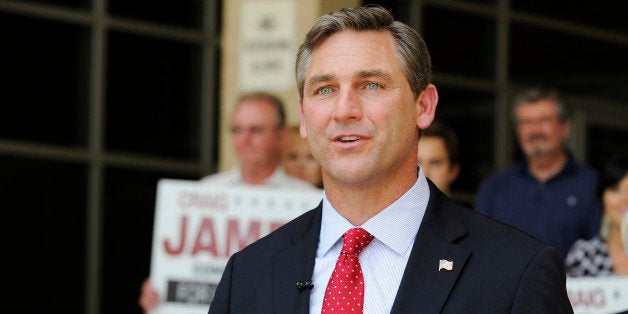 Former NFL player Craig James continued to speak out against gay marriage this week, saying most recently support for such is equal to Satanism.
"If I were a current player in that locker room and my livelihood depended on me being quiet or losing it because of my belief system, I worry, I wonder," James said Monday on a radio program broadcast by the staunchly conservative Family Research Council.
He continued, "So, that's Satan working on us."
James, a running back who played for the New England Patriots in the late-1980s, made the comments after the NFL franchise along with the MLB's the San Francisco Giants and Tampa Bay Rays, joined 376 other businesses and companies that called upon the U.S. Supreme Court to strike down bans on gay marriage.
James, who joined FRC in 2014, said those who support gay marriage "have a problem with God."
It isn't the first time James has waded into the political arena. In 2011, James left his job as an analyst for ESPN after he announced and ran a failed bid for a U.S. Senate seat in Texas, which Republican Sen. Ted Cruz ultimately won.
During the race, however, James was fired after just one-week as a college football analyst for Fox Sports Southwest. The network said it was due to James' anti-gay stance that the player expressed during his campaign.
Among other comments, James said in a debate that it is a choice to be gay and people who are will have to "answer to the Lord for their actions," according to the Houston Chronicle.
"We just asked ourselves how James' statements would play in our human resources department. He couldn't say those things here," a spokesman for the company said at the time, the paper reported.
James' most recent remarks come less than a week after New York Mets player Daniel Murphy also came out against the gay "lifestyle."
"I disagree with the lifestyle," Murphy told the Daily News. "But that doesn't mean I wouldn't love a teammate who is gay. I was glad he was here today and to hear his story."
Murphy, also a devout Christian added that he "completely understand[s]" why those who say being gay is not a choice "would take issue with [his] beliefs, that it is a lifestyle."
He continued, "I feel like acceptance, embracing -- that falls short. You understand what I'm saying? I love this person. The same way I love my wife, even though I don't always agree with everything she does, I love her."
Calling all HuffPost superfans!
Sign up for membership to become a founding member and help shape HuffPost's next chapter
BEFORE YOU GO
PHOTO GALLERY
15 Of The Biggest LGBT Sports Moments