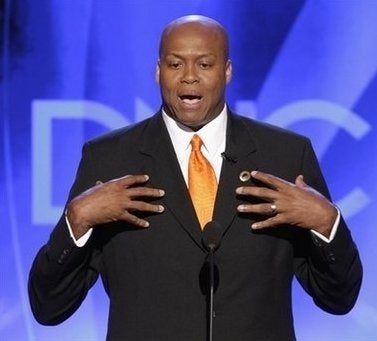 Below is the text of the speech as prepared for Craig Robinson, Michelle Obama's brother, at the Democratic convention.
Good evening, I'm Craig Robinson and Michelle Obama is my little sister.
Tonight, I don't want to just introduce my sister, I want to introduce you to my sister. The girl I grew up with. The poised young woman I saw her grow in to. The compassionate mother, aunt and sister-in-law she is. The passionate voice for women and children she has become. And the type of first lady she will be.
Sometimes, when I look at the woman you are about to hear from, it's funny to think that this is the same person who used to wake me up early, and I mean early, on Christmas morning - because we both had to be up at the same time, in order to open our presents.
This is the person who would play the piano to calm me down before all of my big games in high school.
This is the person who - even though we were allowed only one hour of television a night - somehow managed to commit to memory every single episode of the Brady Bunch.
But when I really think back, I can also see how the person she is today, was formed in the experiences we shared growing up: working hard, studying hard, having parents who wanted more for us than what they had. And always being reminded that in this country of all countries - those things were possible.
Neither of our parents went to college.
My father went to work right out of high school to help pay for his brother's college tuition.
He worked at the water filtration plant for 30 years.
We lost my father in 1991.
And I know he's looking down on us tonight, so proud of his daughter, not because of who she married, though he was a big fan of Barack - but because of the hard-working, brilliant woman she is, what she's accomplished in her own right, the mother she's become, and the values she's instilled in her daughters.
My mother Marian is here tonight. She remains our family's anchor, and the sole reason Michelle was willing to campaign at all was because she knows that Mom is there to help take care of the girls.
When we were young kids, our parents divided the bedroom we shared so we could each have our own room.
Many nights we would talk when we were supposed to be sleeping.
My sister always talked about who was getting picked on at school, or who was having a tough time at home.
I didn't realize it then - but I realize it now - those were the people she was going to dedicate her life to: the people who were struggling with life's challenges.
She has continued to follow that passion. She gave up a job in a big law firm to work in her community. With a group called Public Allies, she trained a new generation of community leaders.
She developed the University of Chicago's community service center - connecting the university to the neighborhood that was blocks away - but often worlds away - from its gates.
And when I wasn't happy doing what I was doing - investment banking - she was the one who encouraged me to go back to my first love - teaching and coaching.
And today I'm proud to be the coach of the Oregon State men's basketball team. Go Beavs!
But she did take something away from that first big law firm job. A young lawyer by the name of Barack Obama.
My sister had grown up hearing my father and me talk about how to judge a person's character by what type of sportsman they are, so she asked me to take Barack to play basketball.
If you're looking for a political analysis based on his playing, here it is: he's confident but not cocky, he'll take the shot if he's open, he's a team player who improves the people around him, and he won't back down from any challenge.
Together, I've watched Barack and Michelle strengthen each other. I've watched them create a home filled with love, and grounded in faith.
During challenging times I've watched Michelle and Barack stand by each other. And I know, they'll stand by you -- the American people -- now and in the future.
So please join me in welcoming an impassioned public servant, a loving daughter, wife and mother, my little sister and our nation's next first lady: Michele Obama.