Republican presidential candidate Mitt Romney's Spanish-speaking son, Craig, gave a pitch for his father to Latino voters on Thursday, becoming emotional when he spoke about his grandfathers who immigrated to the United States.
"It's easy to forget that the story of my father's success begins with the story of two immigrants--," he said, becoming emotional. "-- my grandfathers -- who came to this country with little more than hope in the opportunity of America."
His speech, along with a video featuring eight Hispanic Republicans who endorsed Mitt Romney, summarized the Republican Party's message to Latinos this year: that their party is more in line with the community's values.
So far, Romney isn't breaking through among Latino voters, still trailing President Barack Obama by huge margins. But Republicans this week have argued that Latinos are being taken advantage of by a president who doesn't serve them, or, as Ann Romney said Wednesday, are voting based on biases rather than the issues.
"When I think of the Republican party of Lincoln and Reagan, I see a political movement very much in line with values that Latinos share," Sen. Marco Rubio (R-Fla.) said in the video, which aired ahead of his speech later in the evening.
Seven other prominent Hispanic politicians spoke in the video: New Mexico Gov. Susana Martinez, Rep. Raul Labrador (R-Idaho), Nevada Gov. Brian Sandoval, Puerto Rico Gov. Luis Fortuno, Rep. Ileana Ros-Lehtinen (R-Fla.), Rep. Mario Diaz-Balart (R-Fla.) and Rep. Quico Canseco (R-Texas).
One of their arguments was that the GOP is welcoming to Latinos, the majority of whom voted Democratic in the past and plan to again this year. The politicians pointed out that Hispanic Republicans have done well recently, with three elected governor and one elected to the U.S. Senate. "Our Hispanic-American elected leaders are as diverse as our people," Martinez, who spoke on Wednesday about her switch from Democrat to Republican, said in the video.
"It's not just about 'Sí, se puede,'" Canseco said, referring to Obama's "yes we can" message from 2008.
"It needs to be about 'como se puede,'" Labrador said.
Romney also appears in the video, sticking more to an economic argument and promising not to let Latinos down.
"America's entrepreneurial spirit is alive in the Hispanic community," Romney said. "Millions of Hispanics working hard to achieve a better future for their loved ones: that's the American dream."
Craig Romney promised that Latinos would play a prominent role in a Romney administration and some of those he mentioned were in the video that preceded his speech.
"We're seeing this story play out in the lives of many other Hispanic Americans who have become leaders in the Republican Party and throughout our nation," he said, concluding his speech. "These leaders, along with Hispanics across the country, will play a vital role in the Romney-Ryan comeback, as we fight to put America back on the path to prosperity."
Before You Go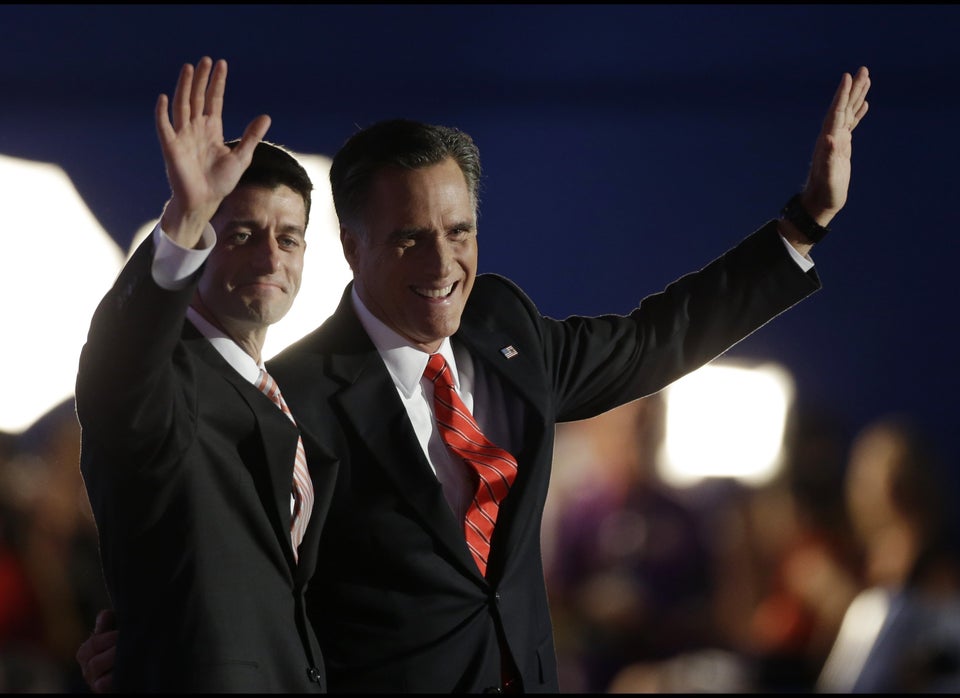 Republican National Convention 2012
Popular in the Community