Biden, who lost his son Beau to cancer last year, introduced Sager by saying, "his conduct, he teaches us how to live with perseverance and passion, fearless, hopeful, together."
Sager, in his traditional fashion, wore an outrageous cheetah flower-emblazoned suit jacket and glittering tie. He opened his remarks, which weren't prepared beforehand, by supporting Biden's initiative, then thanked each of his family members. 
"My battle is your battle," he told them as they looked on in the audience. 
Sager shed tears after his ESPYs tribute video concluded.  
Standing before a room of loved ones and peers, Sager emphatically explained how his cancer has made him not only a stronger person, but one who's more determined to live his life with the most love and fun possible.
"Whatever I might've imagined a terminal illness would do to my spirit, it's summoned quite the opposite. The greatest appreciation for life itself," he said.
"So I will never give up. And I will never give in. I will continue to keep fighting, sucking the marrow out of life, as life sucks the marrow out of me. I will live my life full of love and full of fun. It's the only way I know how."
As he's pondered his mortality since his latest diagnosis, Sager delivered a simple, but inspiring perspective on something he's more aware of than most.
"Time is something that can't be bought. It can't be wagered with God, and it is not an endless supply. Time is simply how you live your life."
"If I missed a game, that meant I was losing the battle. I'm not going to let leukemia affect me," he said during his ESPYs tribute video. Sager also mentioned that at one point in his treatment, doctors wanted to isolate him. He wouldn't have that — Sager wanted to live his life as he always as. 
"I said, 'Doc, you put me in isolation, I'm doing to die.'"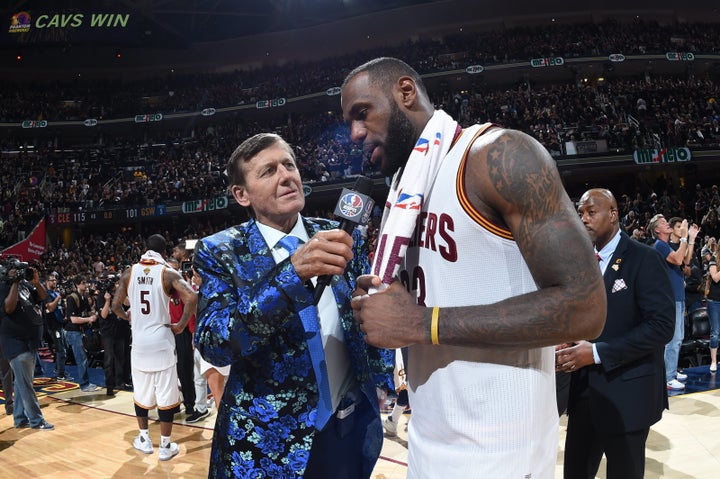 "Sports are in my soul. They've guided my life," said Sager.
The NBA is undoubtedly better with Sager, and on Wednesday night, he reminded the ESPYs why everyone in sports is rooting for him to beat his cancer. 
BEFORE YOU GO
PHOTO GALLERY
A Handful Of Craig Sager's Very Best Suits