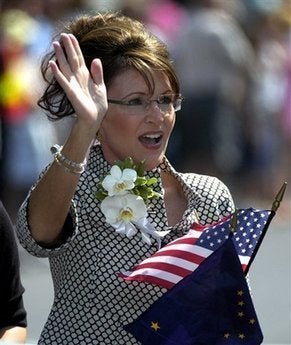 An author quoted liberally -- some say plagiarized -- by Sarah Palin during a recent speech said he has no objection to the Alaska Governor's use of his work.
But long-time GOP strategist Craig Shirley -- whose 2005 article on Ronald Reagan, co-written with Newt Gingrich, was lifted by Palin this past week -- did use the opportunity to rap the GOP in general and its 2008 presidential candidate specifically.
"It looks as if Palin's career is still being ably managed by the best elements of the McCain campaign, including Nikki Wallace and Steve Schmidt," said Shirley. He added later: "I just wish George Bush and the GOP leadership had read the article four years ago."
The Huffington Post's Geoffrey Dunn, who broke the story, highlighted twelve instances of liberal borrowing and/or potential plagiarism. Twice in the speech, Palin cited Gingrich, but never Shirley. The Alaska Governor's lawyer, meanwhile, has insisted that nothing nefarious transpired.
"It is abundantly clear in context, and even in subcontext, that the overview of President Reagan's legacy was attributed to Newt Gingrich," said Thomas Van Flein.
Shirley, in an email exchange with the Huffington Post, did not seem angered by Palin's use of his article. His objection, he said, was that the populist message of that '05 piece was being adopted only in rhetoric and not in action.
For Palin, however, the incident is yet another in a slew of unfavorable or potentially damaging stories that have arisen since her run as Republican vice presidential candidate. And charges of plagiarizing a GOP standard-bearer like Gingrich and a respected operative like Shirley seem likely to further widen a developing rift between the Alaska governor and the national GOP. On Monday, it was reported that Palin may end up skipping an annual fundraising dinner for the Republican Party's two campaign committees because she would not be allowed to address the crowd. Organizers, it seems, were concerned that she would upstage another keynote speaker -- Gingrich.
REAL LIFE. REAL NEWS. REAL VOICES.
Help us tell more of the stories that matter from voices that too often remain unheard.