Craig Stephen Hicks, 46, was charged on Wednesday with murdering three members of a Muslim family in Chapel Hill, North Carolina. The motivation for the killing is unclear, though police said their preliminary investigation showed that a parking dispute may have been at the root of the matter.
Hicks, however, appears to have spoken openly about his anti-religious views on what is reportedly his Facebook page. The page was frequently updated with quotes, cartoons and links representing these opinions.
On Aug. 11, 2011, Hicks appears to have written:
There is no position on which people are so immovable as their religious beliefs. There is no more powerful ally one can claim in a debate than Jesus Christ, or God, or Allah, or whatever one calls this supreme being. The religious factions that are growing throughout our land are not using their religious clout with wisdom. They are trying to force government leaders into following their position 100 percent.
On Jan. 20 of this year, the page was updated with a photo of what the caption calls a "loaded 38 revolver."
In addition to the posts criticizing religion, the page also includes posts advocating equal rights for LGBT people and promoting freedom of speech.
On June 18, 2012, Hicks appears to have commented on a heated Facebook debate, writing: "While I am an outspoken atheist (obviously), I would never take away a persons [sic] right to religion. I would even fight for their rights to have religion if it ever came to that."
According to the Facebook page, Hicks appears to be a fan of Thomas Paine's The Age of Reason and Richard Dawkins' The God Delusion. Dawkins, an outspoken atheist who has been accused of Islamophobia in the past, denounced the shooting on Twitter Wednesday, writing: "How could any decent person NOT condemn the vile murder of three young US Muslims in Chapel Hill?"
Police identified the victims as Deah Shaddy Barakat, 23, Barakat's wife, Yusor Mohammad Abu-Salha, 21, and her sister, Razan Mohammad Abu-Salha, 19. News of the tragic shooting quickly spread on social media, giving rise to the Twitter hashtag #MuslimLivesMatter, which circulated Tuesday evening and into the following day.
"Based on the brutal nature of this crime, the past anti-religion statements of the alleged perpetrator, the religious attire of two of the victims, and the rising anti-Muslim rhetoric in American society, we urge state and federal law enforcement authorities to quickly address speculation of a possible bias motive in this case," Nihad Awad, national executive director of the Council on American-Islamic Relations, told WNCN.
Though many believe the victims were killed because of their religion, others have cautioned against jumping to conclusions, arguing that inflammatory language might only make things worse. Abdullah Antepli, director of Muslim affairs at nearby Duke University, posted a statement on Facebook: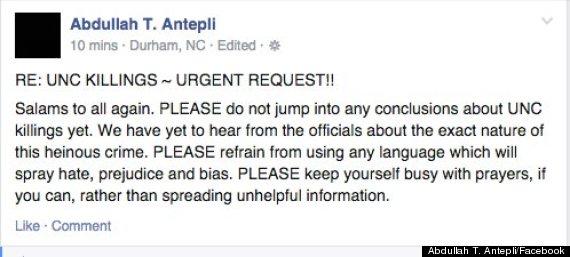 However, Dr. Mohammad Abu-Salha, the father of two of the victims, was adamant that the shooting was a hate crime, telling reporters that one of his daughters who lived near Hicks had previously said she had "a hateful neighbor."
"Honest to God, she said, 'He hates us for what we are and how we look,'" Abu-Salha told The News & Observer, a North Carolina newspaper.
The Associate Press reported Wednesday morning that the shooting may have been the result of a parking dispute and that Hicks was cooperating with the investigation.
According to a Facebook page set up for the victims, a vigil will be held at 7 p.m. Wednesday at the Peace and Justice Plaza in Chapel Hill.
Related
Before You Go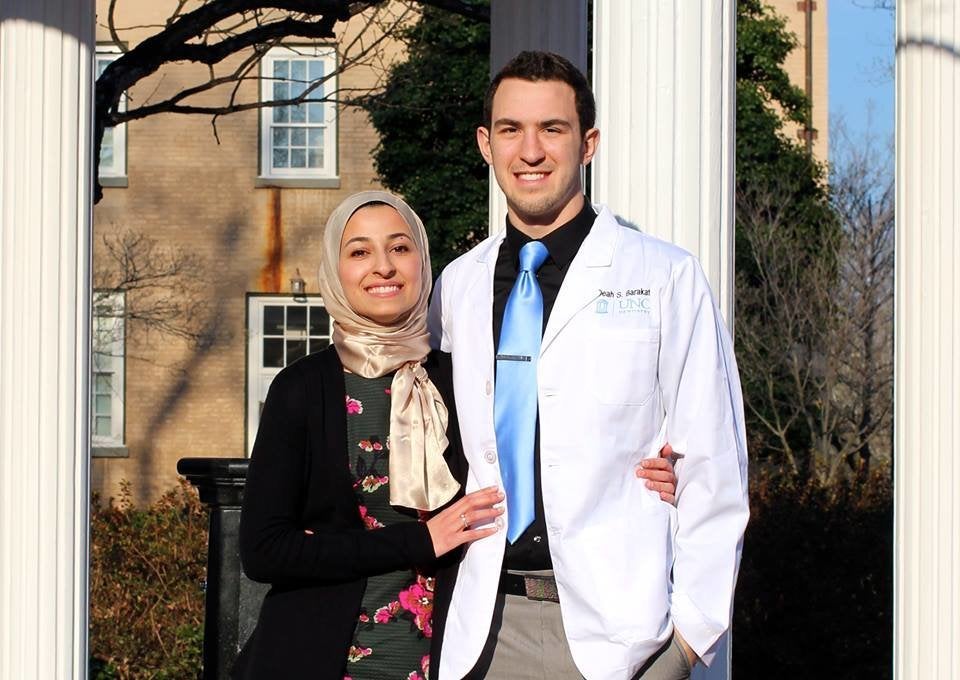 Chapel Hill Shooting
Popular in the Community