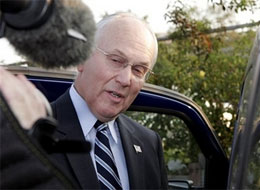 Despite failing at his efforts to overturn his guilty plea, Sen. Larry Craig (R-ID) says he will not resign from the Senate until his term ends in January 2009. A statement released moments ago:
Craig Reaction to Court Ruling

WASHINGTON, D.C. - Idaho Senator Larry Craig issued the following statement in reaction to today's ruling by the State of Minnesota District Court Fourth Judicial District allowing the guilty plea to stand:

"I am extremely disappointed with the ruling issued today. I am innocent of the charges against me. I continue to work with my legal team to explore my additional legal options.

"I will continue to serve Idaho in the United States Senate, and there are several reasons for that. As I continued to work for Idaho over the past three weeks here in the Senate, I have seen that it is possible for me to work here effectively.

"Over the course of my three terms in the Senate and five terms in the House, I have accumulated seniority and important committee assignments that are valuable to Idaho, not the least of which are my seats on the Appropriations Committee, the Energy and Natural Resources Committee and the Veterans' Affairs Committee. A replacement would be highly unlikely to obtain these posts.

"In addition, I will continue my effort to clear my name in the Senate Ethics Committee - something that is not possible if I am not serving in the Senate.

"When my term has expired, I will retire and not seek reelection. I hope this provides the certainty Idaho needs and deserves."
Craig's lawyer, Billy Martin issued a statement saying his client was considering whether to appeal the ruling.

"Senator Larry Craig maintains that he is innocent and there is insufficient evidence to support a finding that he is guilty," Martin said. "Thus, we renew our arguments that it is manifestly unjust to deny Senator Craig's request to withdraw his guilty plea. Senator Craig continues his steadfast denial that any inappropriate behavior took place at the airport."

Craig, in his separate statement, said he was disappointed in the ruling. "I am innocent of the charges against me," he said.
Calling all HuffPost superfans!
Sign up for membership to become a founding member and help shape HuffPost's next chapter