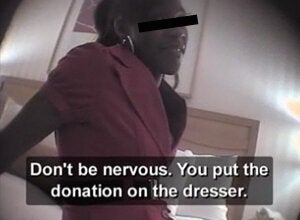 UPDATED A year after investigating prostitution via Craigslist, MSNBC has gone undercover to once again probe the illegal sex trade on Craigslist and see what the site has done to "clean up its act" since last May.
The report found that prostitution on Craigslist was still prominent, even after the site had promised to crack down.
MSNBC's Jeff Rossen rented a hotel room in New York City, then contacted individuals who had posted ads on Craigslist's "Adult Services" section.
Once the escort arrived at the hotel, "within seconds, it was clear this was all about sex," Rossen reports.
Connecticut attorney general Richard Blumenthal compares the sex trade on Craigslist to "an online red light district" that's "as obvious and plain to you as Times Square was in the 70s or 80s."
Watch the MSNBC investigation in the video below.--UPDATED 5/5/2010 8:32 AM ET: Craigslist faces a prostitution investigation over its adult services section.
Connecticut's attorney general on Monday issued a subpoena to Craigslist, asking the site to turn over evidence that it is fulfilling its promise to get rid of ads for prostitution and other illegal activity, as well as data on what it earns from adult ads.

Craigslist dismissed the subpoena as an unnecessary political maneuver.
WATCH:
Popular in the Community