What has happened since Craigslist shut down its Adult Services section in the United States in September and internationally in December?
Anti-trafficking advocates applaud the move by Craigslist as monumental towards reducing the number of underaged sex trafficking ads in the Internet, but the problem has been spread around within Craigslist itself, and redistributed to other sites. I first covered the Craigslist saga here on Huffington Post Impact.
Some of the sex ads formerly posted on Craigslist's Adult Services section have migrated to its Casual Encounters and Therapeutic Services sections. Additionally, a great deal of Craigslist's sex ad business has been redistributed to 11 other websites including top offenders Backpage and Eros.com. Backpage is now the #1 place for sex ads online, raking in $17.5 million yearly for sex ads.
Although website traffic reach on Craigslist.org has decreased by 6 percent over the past three months, website traffic reach has increased for eight of the top 10 sex ad competitors: Backpage (12.5 percent), CityVibe (3 percent), MyRedBook (10 percent), TheEroticReview (1 percent), AdultSearch (10 percent), NaughtyReviews (7 percent), SipSap (5 percent), Eccie.net (2 percent) (Source: Alexa).
The good news: Craigslist and Backpage accounted for over 88 percent of sex ad revenue tracked by the AIM Group, but the shutdown of Craigslist's sex ads will cut online sex ads in half, as Change.org's Amanda Kloer reported in October. She projected the online commercial sex industry to shrink by $37 million this year. It will inevitably shrink further after Craigslist's shutdown of Adult Services internationally in December.
The Sex Offenders: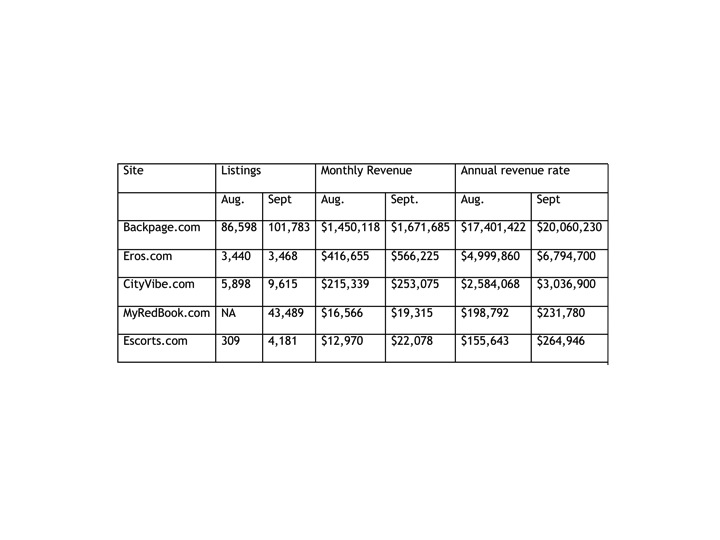 Craigslist competitors are raking in millions for sex ads, and are projected to raise more over time after the shuttering of Craigslist's Adult Services:
#1: Backpage, 20 million
#2: Eros.com, 6.8 million
#3: CityVibe.com, 3 million
#4: Escorts.com, 265,000
#5: MyRedBook.com,230,000
Other top sites profiting from sex ads include: TheEroticReview.com, AdultSearch.com, NaughtyReviews.com, Sipsap.com, and Eccie.net
As you can see, the sex trafficking ad problem has not disappeared, but the nature of the beast has just changed: sex trafficking ads have become decentralized and harder to track after Craigslist shut down Adult Services internationally. Stop the dangerous precedent by telling Backpage to stop child sex trafficking. Malika Saada Saar, executive director of the Rebecca Project for Human Rights, says the Internet has increased the sex trade in minors.
What can responsible businesses do?
Andrea Powell, Executive Director of
, and Aaron Cohen, Founder of
, recommend the following steps for classifieds websites and social networks at risk for hosting sex trafficking ads:
Have an intelligent person trained in detecting sex trafficking ads heavily involved in ad monitoring
Review every single classifieds ad before it is published
Report every single instance of sex trafficking ads to law enforcementContinually invest adequate corporate revenues into preventing sex trafficking ads
Powell and Cohen recommend using a classifieds listings website like Kroobe.com as an alternative to Craigslist and other sex ad offenders. They have worked closely with Kroobe to ensure that it follows the best practices they recommend as anti-trafficking organizations. Salmane Saadani, founder of Kroobe, says, "I founded Kroobe with the intention of providing a family friendly and ethical alternative to classifieds websites that are littered with sex ads. It is one of the safest places to find and review classifieds ads." On its corporate blog, Kroobe features a frequently updated section devoted to human trafficking awareness here.
Additionally, Cohen applauds Facebook and its CEO Mark Zuckerberg for spending a significant portion of its revenue to crack down on sex ads, and for working with the FBI to prevent the problem as much as possible. If corporations like Facebook and Kroobe continue to be examples for online businesses, perhaps they will show that it is more profitable for businesses to be responsible rather than reprehensible.
Related
Popular in the Community