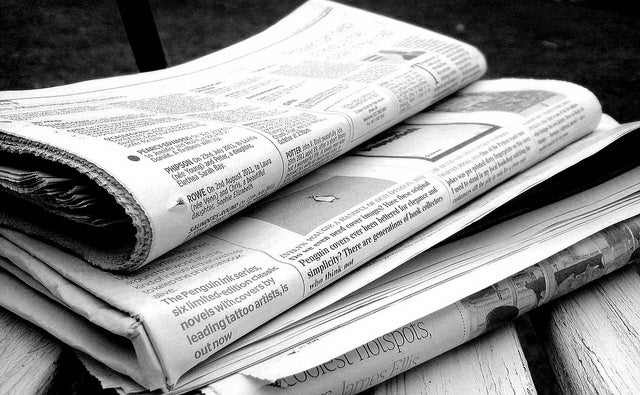 I wish we would actually see the headlines and fictional content that follows. It would materially improve the sad lot of many investors. While there's definitely been progress, the securities industry is great at disseminating misinformation designed to enrich itself at your expense.
Here are the headlines and stories I am waiting to someday read:
Cramer Admits Charade. Resigns.
In a stunning announcement, Jim Cramer announced he was going off the air. The last Mad Money show will air on July 27, 2016.
"It's been a great run," Cramer said, "But I can no longer deceive investors by pretending I have the ability to pick stocks, predict the direction of the markets or select outperforming mutual fund managers. It's been an elaborate charade that, unfortunately, has been exposed by many studies. The latest one, from The Wharton School of the University of Pennsylvania, was the last straw."
Cramer disclosed he was a "closet index investor," stating: "It's time for me to fess up. My personal assets are invested in a globally diversified portfolio of low-management-fee index funds. I go with the lowest-cost index fund I can find."
When asked about his future plans, Cramer said he was going to try to make amends for the incalculable harm he has done investors by speaking out about the perils of trying to "beat the market." "I still have time to get it right," he said. His new program is called Making Amends and will appear on YouTube.
A spokesperson for the financial media said: "Jim Cramer will be sorely missed. He has generated more revenue for the securities industry than anyone in the history of television. Our advertisers are devastated by this unwelcome news."
"EBA" Becomes New Gold Standard for Advisors and Brokers
There's a new professional designation for everyone who receives compensation for providing financial advice. It's called "EBA," which is the acronym for "evidence-based advisor."
In order to receive the coveted EBA designation, advisors must agree to act as fiduciaries to their clients and pledge to accept these duties set forth by the Institute for the Fiduciary Standard:
Serve the client's best interest

Act in utmost good faith

Act prudently, with the care, skill and judgment of a professional

Avoid conflicts of interest

Disclose all material facts

Control investment expenses
EBA holders will also agree not to make any effort to "beat the market" by picking stocks, timing the market or attempting to select outperforming mutual fund managers.
Consumer advocates welcomed the new designation as a "beacon of light" in a business where obfuscation and complexity combine to harm the retirement dreams of beleaguered investors.
Securities Industry Adopts New Form of Compensation
A securities industry representative has announced a new standard form of compensation for brokers.
The representative, who wanted to remain anonymous because he was not authorized to discuss this matter, said that, in the future, brokers who claim the ability to "beat the market" would only receive compensation when they did so.
While details remain to be worked out, the spokesman said the concept was "fairly simple."
"We know that anyone, without paying for advice, can capture the returns of any benchmark by just buying a low-management-fee index fund," he said. "Unless we can improve on those returns, we don't think it is fair for us to receive any compensation."
He provided this example. Investors can achieve the returns of the U.S. domestic stock market by buying the Vanguard Total Stock Market Index Fund (VTSAX). Since its inception on November 13, 2000, this fund had an average annual performance of 5.48 percent.
"If your broker claims the ability to beat these returns through stock-picking, market-timing or fund manager selection, and fails to do so, investors won't pay any fees or commissions," he said, adding, "It's the right thing to do."
Representatives of trade organizations for the securities industry refused to comment.
The views of the author are his alone and may not represent the views of his affiliated firms. Any data, information and content on this blog is for information purposes only and should not be construed as an offer of advisory services.
Related
Popular in the Community