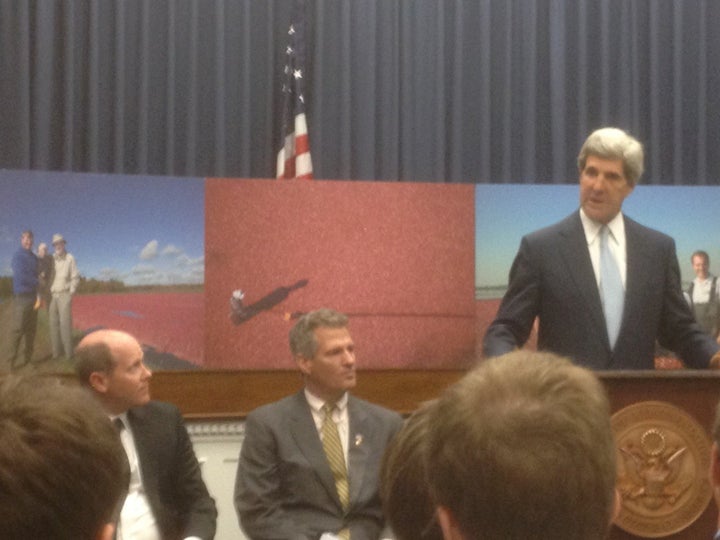 A bipartisan group of U.S. senators and representatives from cranberry-producing states kicked off a brand new "Cranberry Caucus" Wednesday with an event on Capitol Hill. They pledged to defend the fruit from bad regulations, especially ones targeting sweetened beverages.
"The cranberry has very special characteristics in terms of health and also the way they're produced, the independent farmers who really are sort of the heart of America, if you will," said Sen. John Kerry (D-Mass.), a co-chair of the new group. "There are also enormous benefits in terms of land conservation."
"I put cranberries on my Cheerios, like, every day," said Sen. Scott Brown (R-Mass.), the other Senate co-chair of the caucus. "I'm deeply concerned that cranberries should not be placed in the category of other sugar-sweetened beverages and products. That's critically important."
Kerry said the caucus would be sending a letter to the U.S. Department of Agriculture "to make it clear that we intend to fight for the appropriate designations and the appropriate policies being applied to cranberry products."
The caucus kickoff was well-attended by industry honchos and lobbyists, including Gerald Cassidy, the man who pioneered the modern earmark process. Cassidy, whose career has been profiled in a book by Washington Post reporter Robert Kaiser, has represented OceanSpray, leader of the cranberry industry, for decades. Cassidy knows how to help the cranberry crowd fend off unwelcome regulations; the industry may need his lobbying skill now more than ever.
The Cranberry Caucus launched at a time when sugary drinks are being targeted by public health advocates like New York City Mayor Michael Bloomberg, who blame big sodas and other beverages for making people fat. Bloomberg recently proposed banning the sale of sugary drinks in containers larger than 16 ounces in restaurants, movie theaters and delis.
Nobody at the event mentioned that cranberry juice -- at least the kind anyone would want to drink -- has more sugar than soda.
Margo Wootan, director of nutrition policy at the Center for Science in the Public Interest, a public health and nutrition advocacy group hosting its own events this week, said later that it seems the Cranberry Caucus is interested specifically in favorable regulations from the USDA, which will soon update nutrition standards for food in schools.
"It's yet another group wanting exemptions from school nutrition standards," Wootan said. She compared the cranberry advocates to the folks who would have you believe pizza is a vegetable.
But speakers at the Cranberry Caucus had a lot to say about the nutrients in cranberries, especially the ones that help heal urinary tract infections.
Wootan was not impressed: "There's not an epidemic of urinary tract infections in this country. There is an epidemic of obesity."
Calling all HuffPost superfans!
Sign up for membership to become a founding member and help shape HuffPost's next chapter
BEFORE YOU GO