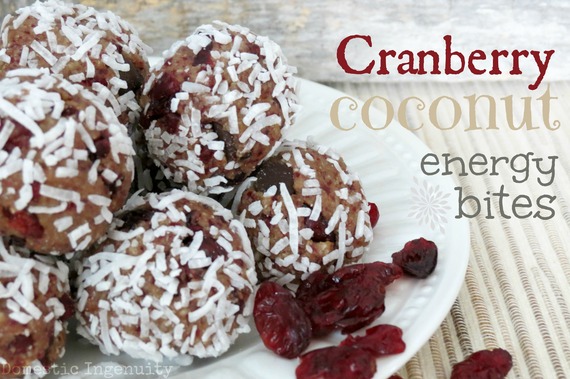 As a mom chasing after a very busy toddler, I find it a challenge to eat well-balanced meals and snacks all the time. When I'm running out the door or heading for an afternoon walk I want a quick snack that's balanced with protein, carbs and healthy fats. I get tired of making protein shakes and I just need something quick to grab on the go! I wanted to incorporate my plant-based protein powder into a snack recipe. After trying several different recipes, I combined my favorite ingredients from a few and they turned out perfect! The best part of these bites are that they are grain-free, gluten-free, high in protein, and high in omega 3's. By no means am I paleo, gluten-free or grain-free... heck, these days I just try to stay French fry- and ice cream-free.
3/4 cup mixed nuts (I used an unsalted mixed nuts blend)
1/4 cup pitted dates
1/4 cup vanilla protein powder
1/2 cup dried cranberries (or other dried fruit of your choice)
1/4 cup shredded unsweetened coconut
1/2 tsp vanilla extract
1/2 tsp almond extract
3 Tbsp organic peanut butter (or almond butter)
1 Tbsp pure organic maple syrup
1/4 cup dried cranberries, coarsely chopped
1/4 cup chocolate chips (optional)
1/4 cup shredded coconut for rolling (optional)
1.Place the mixed nuts, dates and protein powder in a food processor. Mix until finely chopped and combined (30-45 seconds).
2.Add the rest of the ingredients (except ¼ cup dried cranberries and chocolate chips) to the food processor. Process until a dough ball starts to loosely form. (This takes a minute or two.)
3.Transfer the mixture to a large bowl and add the remaining coarsely chopped dried cranberries and chocolate chips.
4. Roll into balls, then roll into coconut and store in an airtight container in the refrigerator or freezer.
They are super quick an easy to make, don't require mixing wet and dry ingredients, no need for your oven and mixed all in one bowl! I loved the texture of these and the fact that they eat like a dessert! Have a great weekend!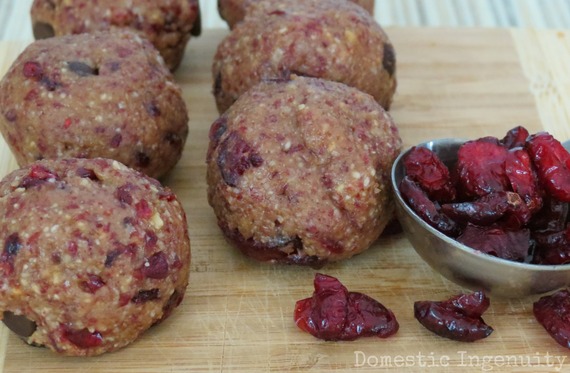 Cheerfulness is the best promoter of health and is as friendly to the mind as to the body. ~ Joseph Addison