BLOOMFIELD HILLS, MICH. -- On Nov. 11, the Cranbrook Art Museum opened its doors to the public after two years of renovations.
Every piece in Cranbrook's collection is now accessible to the public, and pieces are stored in such a way that they resonate with each other even sitting in orderly rows on shelves. But what really makes Cranbrook advanced in the "open storage movement" is that the collections wing is designed with several teaching areas, including a seminar room that was specifically designed to hold the maximum class size in Detroit Public Schools.
"I do not know if any other museum in the nation has designed their most sacred vault as a space you can teach in," said Greg Wittkopp, director of the museum.
But its now 6,000-work collection outgrew the available exhibition space, which couldn't hold more than 100 pieces. Many pieces have only been on display once or twice in the last decade.
Wittkopp was inspired by the Schaulager, an extensive private contemporary art collection in Basel, Switzerland where each room contains all the acquired works from a single year. Each piece is displayed exactly as it was intended to be seen by the artists, including individual screening rooms for video and film works.
Wittkopp wanted to take the Schaulager's innovative combination of storage and museum and apply it to his public teaching institution.
With multiple classroom settings, the Collection Wing will be an invaluable resource for researchers, students at the Cranbrook Art Academy and Cranbrook students at lower levels.
The museum is currently searching for an Education Curator, so the full extent of educational programs has yet to be realized. "We haven't added on the staff we need quickly enough," Wittkopp said.
But several educational ideas are in development. Wittkopp and the museum are working with Cranbrook Kingswood Upper School to develop lessons for a Memoir in 20th Century Literature class to be held every two weeks in the Collections Wing. A pilot version is being created for a class at Cranbrook, with plans to export it to other schools in the metro Detroit area.
The museum also received a Masco Corporation grant to develop a program that will use a collection of Detroit-based material with third graders from the city of Detroit. It is being designed to meet educational benchmarks and be integrated into their regional history lesson plans. The museum is in the process of raising money for buses to bring Detroit students to the museum, a program planned to start in the spring of 2012.
Cranbrook Art Museum kicked off its reopening with the exhibition "No Object is an Island: New Dialogues with the Cranbrook Collection," co-curated by Wittkopp and Sarah Margolis-Pineo, the museum's Jeanne and Ralph Graham Collections Fellow.
"I can honestly say that I'm enthusiastic about each and every object in the show," Wittkopp said. "Each piece in the show is a killer object."
"No Object is an Island" features 50 pieces from the collection paired with 50 contemporary art pieces, many created specifically for the show, and includes work from Cranbrook Academy of Art professors. The works are arranged to play off each other and grouped in six thematic categories: Craft, Site, Comfort, Resistance, Process, and Fiction.
"We wanted to do a show that demonstrated the exceptional quality of the collection by showing a selection of it," said Reed Kroloff, director of Cranbrook Academy of Art. "But more importantly for us, we wanted to be able to demonstrate how the collection becomes even more powerful when it's put in the context of continuing to make art and design, continuing to inspire new generations."
Check out some of Wittkopp's favorite pieces in the Cranbrook permanent collection below.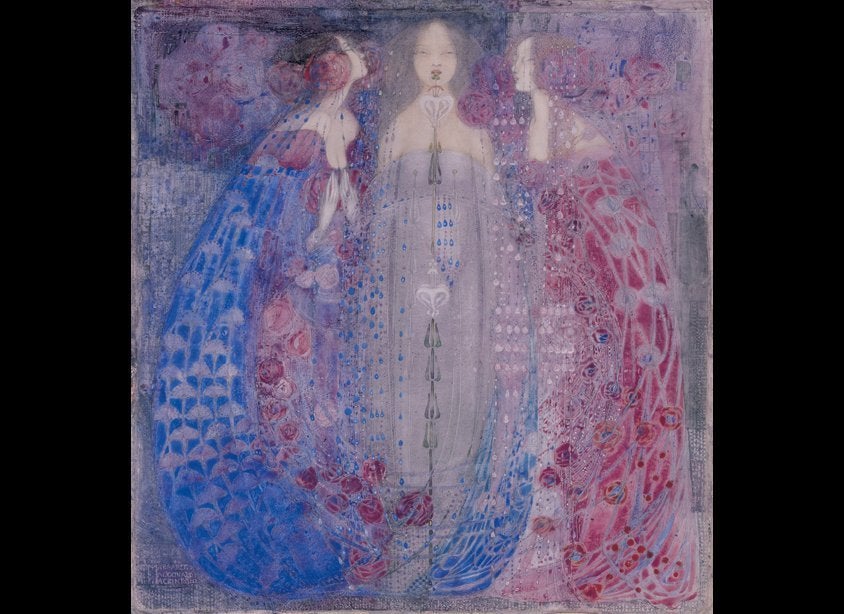 Cranbrook Art Museum Director Greg Wittkopp's Favorites From The Collection
CORRECTION: An earlier version of this story indicated that The Three Perfumes was the gift of George Gough Booth and Helen Scripps Booth. Her name is Ellen Scripps Booth.