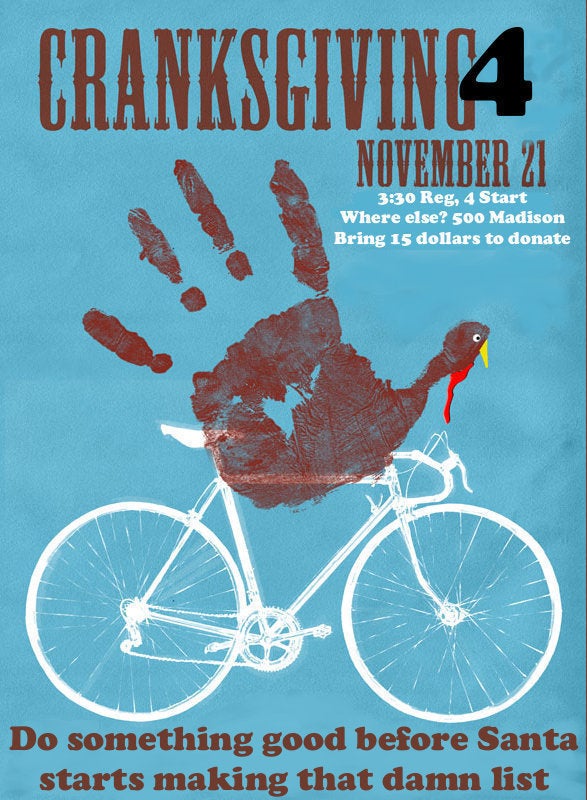 Most major cities obviously have more to worry about than the occasional alleycat street bike race, but the brains behind a burgeoning Thanksgiving tradition are coming up with an even stronger incentive for local police authorities to look the other way.
Cranksgiving marries the Thanksgiving hallmarks of giving back and riding one's bicycle through a grocery store. Participating cyclists navigate supermarkets to select items to give to the city's needy. Last year, the New York event donated over $1,000 worth of food to local pantries, and the race is spreading throughout the U.S. The Milwaukee Cranksgiving chapter has laid claim to their eponymous Twitter account and Cranksgiving Miami's race stretches 17 miles and donates food to the veteran organization Camillus House.
Since the event began in New York in 1999, Cranksgiving races have emerged in at least 13 other cities around the country, from Des Moines to Miami to Los Angeles. This year's 118 bikes -- including three tandems -- represented the largest New York turnout yet, according to Ken Stanek, who took over organizing the race from its founder, Antonio Rodrigues, three years ago. (Mr. Rodrigues now runs a Cranksgiving race in York, Pa., where he lives. He's also written a history of the event.)

"I wanted to make sure this race keeps happening," Mr. Stanek said. "It's such a good idea, it can't not happen."
See a list of all Cranksgiving events via Urban Velo.
Calling all HuffPost superfans!
Sign up for membership to become a founding member and help shape HuffPost's next chapter