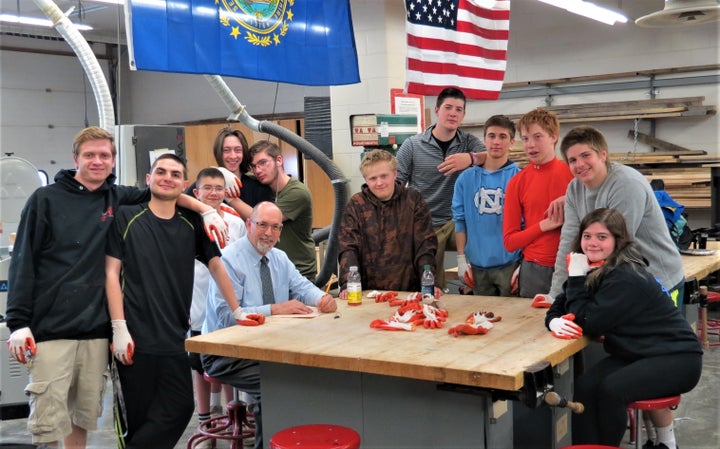 LITCHFIELD, NH - Two years after it opened in 2000, Campbell High School in Litchfield began a modest recycling program. For most schools this is hardly headline news, but for Campbell High School it became a launch pad that has impacted hundreds of students over the years and has helped to integrate environmental sustainability into the school's curriculum.
"We started out recycling paper. We also collected aluminum cans, cardboards, and some plastics," said Dennis Perreault who has taught social studies at the school since it opened. "We started taking the material to a local recycling center and got some minimal money for paper and aluminum."
What happened was an organic sprouting of increased interest from one class to the next which has grown to encompass all three schools in Litchfield. It also led to investments in equipment, expanding its recycling program to new materials, and, beginning in 2009, a popular semester-long class in the economics of recycling.
"It kept getting bigger and bigger," said Perreault about what would become affectionately known as the Campbell Recycling Advocacy Program or C.R.A.P. "We've been able to teach them how to turn trash into cash."
Ray Dube, the sustainability manager for the Bedford-based Coca-Cola Bottling Company of Northern New England, had been introduced to the program during his travels as a sustainability lecturer to schools and business groups throughout Northern New England.
"I had heard about them through the different events we do to promote recycling," Dube said. He recently got a first-hand view and was very impressed.
"They have an aluminum can baler and I've never seen a baler at a school. They go way beyond from what most schools are doing," he said. "The enthusiasm of the students and the effort they make is amazing. They are instilling attitudes and habits that will last a lifetime."
Dube also took notice at the dozens of small things the students do and their attention to detail. "Students involved in the program will collect leftover water from plastic water bottles into a cistern which is then used to water plants around the school. They also remove the bottoms from tin cans to flatten them entirely – pretty advanced stuff," he said.
As another example of how far C.R.A.P. has evolved, Dube was on hand when the program received a $200 grant award from New Hampshire the Beautiful to purchase a wire stripper. The device allows students to remove insulation from copper wire, donated by a local electrician, to then be redeemed to further the recycling program efforts.
"We got a call from a local electrician, Gimas Electric, who no longer had any use for the excess wire," Perreault said. "We had never done anything with wire before and knew we needed a real stripper to get the job done." The program applied for a grant to pay for the stripper and as of early May, students had by hand stripped 21 pounds of aluminum wire, 280 pounds of clean copper, and 49 pounds of dirty copper.
Between September of 2016 and early May of 2017, Perreault said students had also recycled 650 pounds of plastic bottles, 727 pounds of steel, 1,200 pounds of cardboard, 177 pounds of aluminum cans and 112 pounds of plastic bags.
Students take part and essentially run the program, Perreault said, by making decisions on investing revenues in equipment, more recycling bins in the school district, and adding materials to be recycled such as clothing. They can take the class three times during their school tenure and he said many do (though only one class counts as ½ credit) for the learning and community service aspect. They also get a $25 stipend each semester for their work. Perrault said the classes usually fill up with 12 to 14 students per semester.
Like any other venture, Perreault said the students and the program have faced its share of challenges including occasional indifference from school administration. After a public plea by Perreault on a local cable access channel, an anonymous donor pledged $2,500 towards the baler.
Dube said the C.R.A.P. has set a high standard for other schools and businesses to follow with their comprehensive recycling efforts. He recommended that New Hampshire the Beautiful commission a promotional video highlighting the program. Dube plans to use it in future presentations. The video can be viewed here.
CCNNE is a business partner of the Green Alliance, the Portsmouth organization representing more than 100 local and regional green businesses and nearly 4,000 consumer members. CCNNE is also a member of New Hampshire Businesses for Social Responsibility and is a leading sponsor of New Hampshire the Beautiful which has helped kick start recycling programs in scores of New Hampshire communities.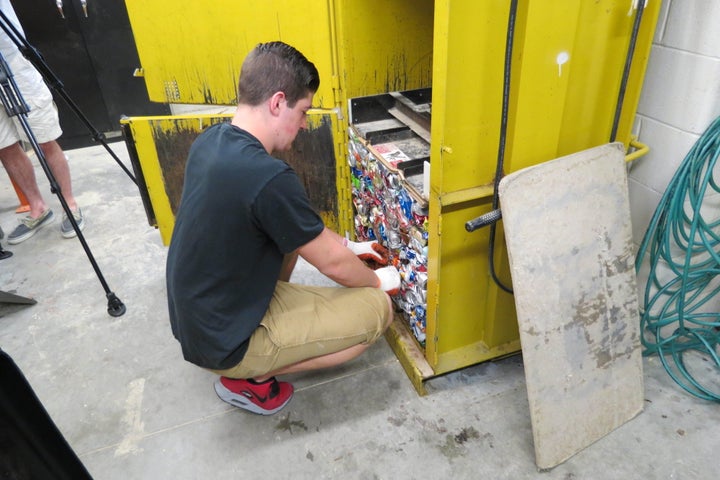 Support HuffPost
The Stakes Have Never Been Higher
Related
Popular in the Community