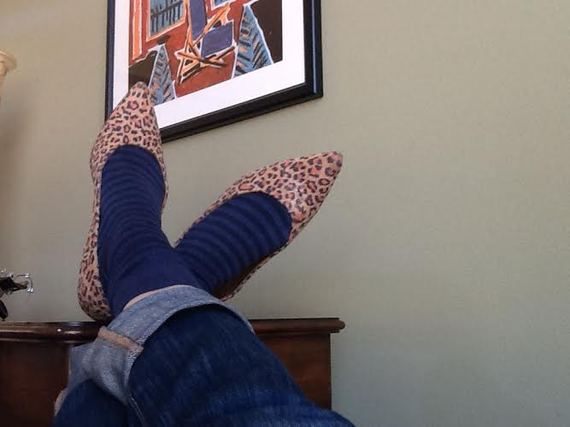 I would take these socks off, but I'm not at Phase 5 yet.
I'm always looking for fashion ideas. I could post every day with the smart outfits I see on my favorite fashion blogs.
I love to window shop and daydream on their sites. I could be like them, if I didn't have the shortage of items required, like tops and bottoms. My closet is full, but not with what they have. Over here, it's time for a Goodwill Drop and Run before the clerk chases me down with, "Hey! We told you last week! We want vintage not 1992!"
My closet is made up of the 5 Phases in my life:
2. Slept in it? Woke up dressed in it? It's all a blur.
4. Surprise! It's Clean Shirt Week!
5. I think I'll Care Week
I am a busy mom of three, and I need what I have. I am going to share my tips and tricks to help you on your busy mom personal journey: I promise you, you don't even have to learn how to use belts to accessorize.
Biggest game changer in Mom Fashion is to adopt a uniform. I don't know why that CEO who wore the same blouse and skirt for three months is such a big deal, I've done that for the past decade. The first five years of my kids' lives I lived in my black cardigan with husband's T shirt underneath. Smart, chic, and no nonsense. I only replaced it because the elbows got shiny.
Into the second decade of mothering, I learned to work with my budget of $65, it's actually $70 but I need to have money left over for a breve latte. Faux animal print flats takes you across your day of many purposes: from school drop off where you are the fashion envy of the mom minivan queue to the ten items or less check out lane, your cheetah scheme pointy toed self says, "Yeah. Feline. I went there."
Flats need to be the first thing you buy.
Next, invest in a flowy purple top. Flowy is key, because hides the flab, hugs the curves. And BONUS: color of royalty! That's what you'll tell yourself all day now that you know this. So, go nuts and splurge at that next outlet mall run. Pair with stretchy pants, call them yoga pants if it makes you feel better, but we all know, STRETCHY PANTS.

Can you picture me now? I'm killin' it. Purple top, black stretchies, awesome cheetah flats.
Go ahead. Start out with $65, spend $19.99 on the shoes, $23 on the blouse, and $14.99 for the stretchy capris. Come home Sexy, Sophisticated and Snazzy with $3.02 in your pocket after your Starbucks stop.
You're not just a mom in a T-shirt anymore. Never again look like you just woke up and put something on. Or slept in it.
Even if you just did. (see Phase 2)
REAL LIFE. REAL NEWS. REAL VOICES.
Help us tell more of the stories that matter from voices that too often remain unheard.