I spent the infamous Blizzard of '96, which hit my sophomore year of high school, sledding and fighting over the last of the perishable groceries at my neighborhood Key Food. I spent the Blizzard of 2006 holed up in my apartment watching the entire first season of The Girls Next Door (do not judge). And I spent the Blizzard of 2010 standing in a will-to-live-sappingly long line at the Bryant Park tents waiting to get my press pass for Mercedes-Benz Fashion Week.

When The Huffington Post asked me to do some Fashion Week coverage for them, I looked down at my Payless flats (I go crazy for the BoGo, y'all) and canvas carry-all (which I got for free and which is stained with blue ink and subway grime) and said, essentially, Moi? Arianna, girl, is you crazy? I mean, I know I recap Project Runway, but I have absolutely no street cred. Luckily they explained that they wanted me to write about the experience of Fashion Week more than the actual clothes. They wanted me to tell you what it's like for a plebe to penetrate the inner sanctum of style, that nebulous (but, without a doubt, fahhhhhbulous) place where a group of tastemakers--who I can only assume look like those futuristic elders who wear Star Trek glasses and play air guitar in Bill and Ted's Excellent Adventure--decide that jumpsuits and derby hats need to make a comeback.
So here's my Fashion Week diary. Think of it as the Eloise book that Kay Thomas never wrote. If you want more credible commentary on the collections (read: if you don't care about two Nigel Barker sightings in one day*) check out the posts by Jim Shi and Alex Geana.
*What is wrong with you?

DAY ONE
My very first show at Fashion Week is Duckie Brown, a menswear brand that I am predisposed to love because it shares a name with my idol, Pretty In Pink's Duckie Dale. It was my first time in the Bryant Park tents since 2007, when I crashed the Badgley Mischka show with a colleague at BlackBook, where I worked at the time as the managing editor. Here's a quick primer on what it's like to navigate the tents:
First, you will approach the entrance to the tent, which is along the western end of Bryant Park, at 6th Avenue and 41st Street. There will be a scattering of photographers (sometimes a throng, if someone famous is expected) and they will, rightfully, ignore you. (Confession: I wear giant sunglasses in the hopes that people will mistake me for a C-list socialite, but it never works. Maybe my Chucks give me away?)
Once you are inside (you need a press pass or a ticket to a show to get past the bouncers), it is like you are in the lobby of a totally bizarre mall. As soon as you enter, if you look to you left and right you will see car displays (Mercedes Benzes, naturally). There are women handing you magazines (Fashion Week Daily, which is published specifically for the event, and Women's Wear Daily) and along the sides of the "lobby" are makeshift stores that don't actually sell anything. If you go to them you can usually get something for free, like a Zone bar or a bottled Starbucks coffee drink. There are oddly-dressed people milling about, and once in awhile someone will be getting interviewed on camera, and if you move fast and place yourself just so, you can probably be in the background of some live-stream video on an obscure website. Worth it!
To actually get into the show you have a ticket for, you must wait in a line to get your seating assignment. If there is more than one show happening at the same time (the tents have three runways: the main Tent, which is the biggest space; the Promenade; and the Salon) the lines become crowds and the crowds become confused. Luckily there are people with clipboards and headsets who can assist you, but they are so stressed out that it is best to leave them alone unless you have a fetish for being verbally abused, or a deep flesh wound that requires immediate medical attention.
I finally found my way to my seat at Duckie Brown. I sat down at about 12:45, because I am a punctual person. And that's another thing. When a fashion show "starts" at 1 pm, it really means that that's when people start to sit down; the actual show starts about 30 minutes late and lasts about ten minutes, which means that if you arrive unfashionably early you will be sitting and waiting for five times as long as it takes to watch the actual fashion show. But I can't complain, because my free time allowed me to people watch, which is one of my very favorite things in general but is exponentially better at Fashion Week due to the fact that there are generally celebrities of some level wherever you go. The first person I noticed at Duckie Brown was a tall, foppishly-dressed man wearing a tall hat and painted-on eyebrows who had a distinctive Willy Wonka vibe about him and who seemed to be attracting the cameras. It turns out that this was Patrick MacDonald, who is known as "Dandy" and whose job seems to be "fashion personality." He was fun to look at.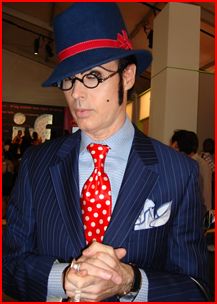 Dandy, indeed!
There was also a tiny African-American boy who could not have been more than thirteen or fourteen who everyone was taking photos of. I stopped being able to recognize a lot of the people in Us Weekly years ago, but I'm fairly sure that this kid is not in the High School Musical franchise. I still haven't figured out why he was so popular. I Tweeted about it and my followers assured me that this must be Tavi Gevinson, the adolescent wunderkind with a style blog and a spread in French Vogue. But the last time I checked I'm pretty sure Tavi wasn't black and didn't have testicles (though fashions change so quickly these days, so who knows). I also saw Mark Indelicato from Ugly Betty.
The show itself was full of plaid and Sex Pistols-y safety pin earrings and bomber jackets and boots. The models looked a little bit like skinheads but they sure were cute.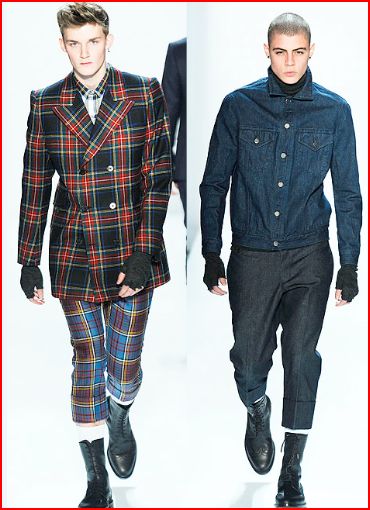 Duckie Brown
Another great thing about fashion shows: Sometimes you get free stuff on your seat. Since this was a menswear brand the free stuff was a bag full of Gillette products, which I dutifully took home for my husband.
I see Olivia Palermo, a socialite who "stars" on MTV's The City, in the main area of the tents, being interviewed. Her legs are like toothpicks, but her hair sure is shiny!
Spot season four Project Runway also-ran Chris March in Chipotle!
My next show is Ports 1961, a chic womenswear label. I line up with my fashion editor friend but lose him in the crush of rabid ticket-holders. I find my seat, on which is a bag containing an odd pink planter (hey, I'm not complaining. I'll take anything free!) and settle in behind what looks like the entire staff of Elle magazine (I recognize Joe Zee, the creative director, first, and then realize that Anne Slowey, the Anna Wintour-lite editor who lorded over the contestants on that horrible show Stylista, is sitting right in front of me). Olivia Palermo is on the other side of Joe, attracting most of the cameras.
This, of course, is the sad day we find out that Alexander McQueen has passed, and so before the runway show begins a voice comes over the sound system asking us to take a moment of silence. Anna Slowey continues chatting with the woman next to her (scandale!)
The Ports show is beautiful, a great collection of oversized knitwear and comfy but elegant separates that remind me of Annie Hall. Also I have major hair envy, since all of the models sport giant, cascading curls. Their coifs have the volume that my hair does on a humid summer day... but without the Roseanne Rosannadanna frizz.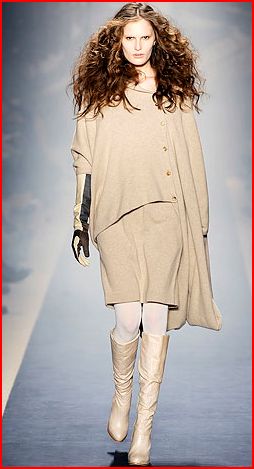 Ports 1961
Since this is the first show I attend during Fashion Week that features female models, I'll give you some inside scoop: They are all sixteen year-old Eastern Europeans, they are forbidden from making facial expressions other than the glassy-eyed, bored look of vague apathy, and they all walk leaning backwards at a 30-degree angle, leading with their hips as if their entire upper body is being bombarded with gale-force winds. So now you know.
My final show of the day, and the one I'm most excited for since I am such a celeb whore, is the Heart Truth's Red Dress collection. Each year, stars don red dresses designed by top fashion names in order to raise awareness about women's heart disease. This show is also my first show in the main tent, which is huge and decked out in sparkling chandeliers. I'm in the fifth row--not too shabby, though I definitely need my glasses--and while I wait the requisite 40 minutes for the show to actually begin, I rifle through my swag bag, which is full of Diet Coke (a sponsor of the show) and chocolate-covered cranberries (it's like it was MADE for me!). I also get a chance to check out the program, which is when I discover that Joan Motherfucking Collins, my hero and hopeful future doppelganger, is going to be walking the runway mere feet from me. I have to fan myself in order to calm down.
I am sitting next to Alex Geana, a fellow HuffPo blogger, who seems unmoved by my excitement at seeing Reggie Bush and Wendy Williams in the audience. He is writing about actual fashion; I am simply keeping up with the Kardashians.
The show begins, and it is super fun. The celebrities smile and dance and wave as they walk the runway. I wish regular models were allowed to smile and show some personality (I know that that would take people's attention away from the clothes, but seriously, if you are going to send out a bunch of expressionless teenage droids, why not just use one of those carousels they use at the dry cleaner? Same difference.) Among the stars I recognize are Kristin Chenoweth, Felicty Huffman (who bends down to kiss someone in the audience who I later realize is William H. Macy), Bethenny Frankel, who walks the runway with her baby bump to "Baby Love" by the Supremes, Jordin Sparks, Raven Symone, Regina King, Kimora Lee, Kim Kardashian, Heidi Klum (who is actually kind of boring compared to the actresses, but maybe she was saving her energy for the Project Runway show the next morning?), Robin Roberts, and Elisabeth Hasselbeck. Wendy Williams was sitting in the front row, and cheered and cat-called everyone, but when Elisabeth walked, she sat back in her seat and rolled her eyes. Awesome. I did feel bad for Elisabeth, though. The fashionista crowd is decidedly Democratic, and her applause was weak compared to the others. Joan Collins walked to a techno remix of "Lady in Red" wearing a diamond-belted diva dress complete with chiffon wings that she held out. I seriously almost teared up, it was so magical. Imagine if I had been a gay man; I might have spontaneously combusted.

Have you ever seen anything more spectacular in your life? I mean, really.
At the end of the show red confetti fell from the ceiling. It was the perfect end to a busy day.
DAY ONE TOTALS:
Celeb sightings: 23 (if you count the Red Dress collection and if you consider Reggie Bush and Olivia Palermo celebs)
Fashion editor sightings: 3
Swag gifts: 3
Transformative life experiences involving Alexis Colby Carrington Dexter Rowan: 1
Check back soon for my Day Two diary, including scoop from the Project Runway tent show!