If you missed part one of my Fashion Week diary, read it here.
Most people attending Fashion Week are clamoring to get into Alexander Wang or Phillip Lim or Narcisco Rodriguez. My dream ticket? The Project Runway finale show. And thanks to a benevolent Lifetime publicist named Kannie, my dream came true.
(P.S. ProjRun fans: I did recap this week, it just wasn't featured on the main site, probably because of all the Fashion Week coverage. You can find it here!)
Even though the show starts at 10 (which in Fashion Week time means 10:30), I get an email suggesting I make it to the tent by 9:15. I join a giant crush of people who are being herded, cattle-like, towards the entrance to the tent (which, I forgot to mention, is lined with blown-up photos of celebrities like Giselle Bundchen and Ashton Kutcher modeling at Fashion Weeks past. This is the last year that the shows will be held at Bryant Park, so there are some commemorative things like this going on).
There is a trio of women in front of me clutching Starbucks cups and talking the kind of talk that I will come to realize as standard for Fashion Week. Now, I'm sure there are plenty of industry people who genuinely love and are thrilled by the experience, but lots adopt a haughty, bored attitude. They like to yak loudly about how anesthetized they are to the spectacle of it all, and how terribly difficult it is to get a decent seat and how terribly vexing it is to have to attend three or more fashion shows in one day. These people think it makes them seem insider-y to complain instead of to enthuse. Their lives are so hard, y'all. They have to go to fancy fashion shows all day and get free stuff and drink champagne with other terribly bored and jaded people. Also their $700 Louboutins are too tight and their wallets are too small to hold all of their hundred-dollar bills. I want to shake these people and tell them how good they have it. I especially want to shake these particular women because I hear one of them say "Do you even watch the show anymore?" and one of the other ones sneers, "God, no." I want to scream, "Then get out of the line and give your ticket to someone who wants to be here! That means you're out. Auf wiedersehen, bitch!" Luckily I look up and spot Christopher from season six in line ahead of me and my excitement defuses my rage. (Yes, he still sports the chinstrap beard.)
I don't see any other contestants or celebs until I fight my way to my seat, which is in the seventh row. Do you want to see a super crappy BlackBerry photo of my view? Of course you do! (You can get in-focus, well-lit shots anywhere, but I want to be your PREMIERE source for horrible phone photography.)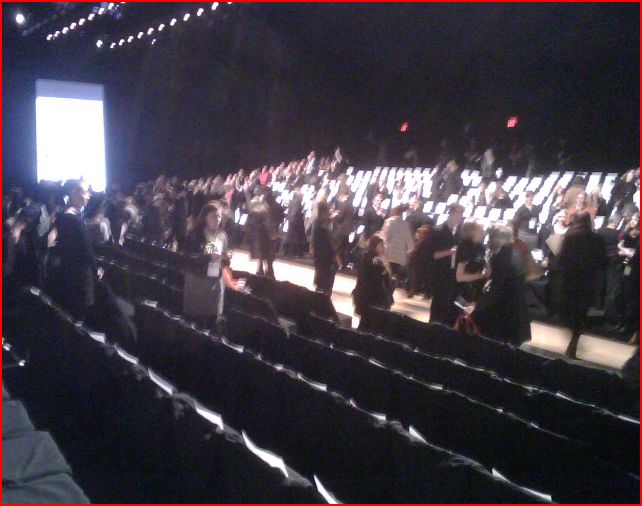 No one famous is in this shot, not that you could make them out anyway.
Almost immediately after sitting down, I notice a very familiar bald head in the first row. Is it Ron Perelman? Daddy Warbucks? Joey Lawrence? Nope, better... it's "noted fashion photographer" and America's Next Top Model judge Nigel Barker! I love ANTM, so for me this is practically like seeing Brangelina. I immediately Tweet "Noted fashion photographer Nigel Barker is in spitting distance. Should I?" I mean this like "Should I spit on him?" but my followers suggest much more graphic acts. Next to Nigel is Beth Ostrosky, who is married to Howard Stern. The cameras flock to them and I practice looking intently at my Fashion Week Daily in case I am in the background of any of the pictures (I actually hope that I'm not, as my skin has gotten so excited for me that it has sprouted a big honking zit on my right cheek. Awesome.)
While I wait for something to happen, I people-watch. I spot an enormously tall blonde who I figure must be a model or celebrity, but who actually turns out to be Althea from season six. She arrives with Carol Hannah. Moments later, "Meana" Irina Shabayeva, the polarizing winner of last season whose show I'm seeing on Saturday, breezes past the blondes without a greeting. As hard as I squint (my seat is pretty far from the runway and I need new glasses) I can't make out any other famous faces. Until, that is, Heidi Klum, Michael Kors, Nina Garcia, and Faith Hill (the inexplicable guest judge*) make their entrance.
*Really? Faith Hill? I mean, nothing against her, but she's not exactly finale-caliber judge material. Give us Jason Wu, give us Valentino in all of his leathery glory (seriously, he makes Michael Kors look like Edward Cullen), give us Cathy Hornyn from The New York Times!
They emerge from backstage and walk, four abreast, slowly down the length of the runway until they are right in front of the photographer's pit. Flashes go off at breakneck speed, and the photographers call out to them. "Heidi, over here!" "Nina, up here!" Do you want another shitty picture? Do I really have to ask?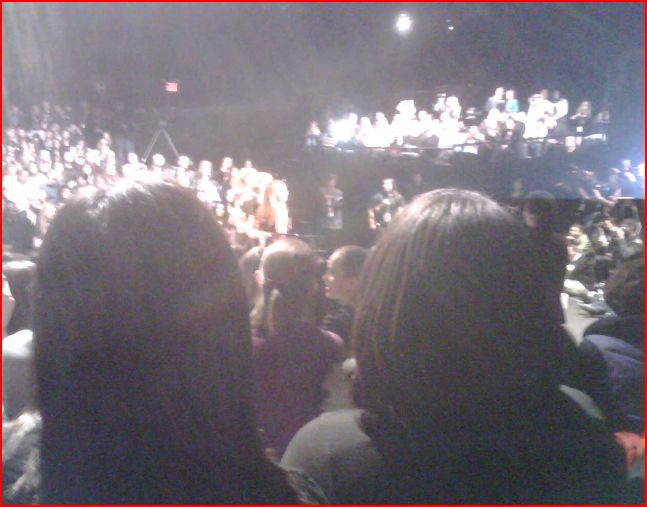 That beige-colored thing in the center is Nina Garcia's right side.I don't want to jinx it but I think this one might win a Pulitzer.
OK, fine, here is what it actually looked like: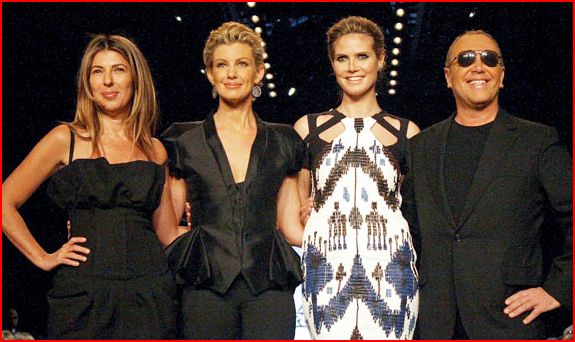 When they're done with the photo op, they all walk back to the center of the runway and everyone but Heidi takes their seats. From where I'm sitting I can see the side of Michael's face. He is, of course, wearing sunglasses even though it's as dim as Heidi Montag in here.
The lights go down, everyone gets quiet, and Heidi grabs a microphone and stands on the runway. When the lights come up she welcomes the crowd to the finale show and it dawns on me that I am getting to watch TV happen. I am almost as excited as when I got to watch how peanut butter was made on Sesame Street at age five.
If you don't watch Project Runway, here's a quick primer on the runway show: Three contestants make it to Fashion Week, but since there is such a time lag in between when the show tapes and when it airs, at this point in the season there are still 11 designers left on the show. Last year the producers dealt with this by presenting the collections anonymously; i.e. the designers did not get to appear at Fashion Week, and instead taped their segments on an empty runway so that no one could leak who made it to the end. This year, Heidi tells us (after saying "They're going to cut this part out," meaning that what she's about to say won't be on the show) that they decided to let all ten of the remaining designers present collections so that no one can tell who makes it. I guess last year people speculated based on the aesthetics of the clothes? I can't decide how I feel about this: On the one hand, it'll be great to see all of the designers in person and this gives them all the amazing opportunity to show their work at Bryant Park; on the other hand, it's relatively early in the show and there are still a number of contestants left who are not up to snuff talent-wise. In other words, it's quite likely that we will have to sit through four or five mediocre collections in addition to the good ones.
So I know you want the details -- especially those of you who read my weekly recaps -- but can't give them to you. I know, this pains me, too. But there are a few reasons for this:
1. Photos from all ten collections are readily available on lots of sites including HuffPost (find them here, but only if you don't mind finding out by process of elimination that one designer currently on the show is about to get eliminated*) and posting lots of photos into this blog would be a pain in the ass.
*While 11 designers are left on the show, only 10 presented collections. This means that the designer absent from the finale is getting eliminated next week.
2. I will recap the finale when it airs, and I feel I should save my commentary and critiques (and the photos) for that post.
3. Lots of other bloggers are speculating on who will win/make it to the end based on what the collections looked like, but I don't want to spoil it for anyone who doesn't want to know. Yes, I have my opinions and hunches (for example, of the ten designers, only three thanked their family members, who were presumably in the audience, and only six showed collections that seemed polished enough to be contenders), but being a lover of reality TV myself, I know that not everyone wants to know these things. Those of you who DO want to know what I think (read: potential spoilers) may email me for the dish. But don't post what I tell you in the comments or I'll have to delete it.
Suffice to say that there were a few really interesting and beautiful collections. I can't name any names because that would give you hints as to which designer was NOT at Bryant Park. This sucks! I feel like such a blog tease, but I just don't want to spoil anything for you. I will tell you that it was super fun to see the designers in person (although most of them offered very terse, nervous introductions to their work. One wonders if they were too terrified of inadvertently revealing something to speak freely...) and that there was a camera on a crane that followed each and every model like Wall-E following Eva. I thought this was hilarious. The Wall-E camera would sometimes pan the audience and I'm not ashamed to say that I turned my non-acne-ridden cheek towards it every time, just in case my zit was big enough to be seen in the nosebleed section (Oh, God, if Nigel Barker is in the same frame as my pimple on national television I will never forgive my face.)
As soon as the show ended, people rushed the runway the way teenagers might rush the stage at a Justin Bieber concert. All of my friends had instructed me to throw myself shamelessly in front of any camera I saw, but I had to get back to work and besides, there is the matter of my vanity, seeing as my skin was most certainly NOT ready for HD at the time. If it makes you guys feel any better, even if I had rushed the stage I highly doubt anyone would have paid any attention to me, and if I had succeeded in touching Nigel Barker I most certainly would have lived to regret it (I have terrible results when I interact with celebrities.)
I head to Gotham Hall on 6th Avenue, my first non-Bryant Park site of the week, to see Cynthia Rowley. Gotham Hall is a really incredible space (it used to house the Greenwich Savings Bank and has a giant Art Deco ballroom with a seven-story-tall vaulted dome). Unfortunately I don't get to see the inside yet because the doors aren't open and there is a long line of people waiting outside in the freezing cold. "Is this the line for Cynthia Rowley?" I ask a man with glasses and a mullet. He nods vaguely in my direction and then looks away. Attention fashion peeps: You can be fabulous and polite at the same time. Being a dick needs to go out of style along with the knee-high gladiator sandal.
Once I'm inside, I can gawk at the gorgeous space, which is (sorry, Bryant Park) really unique and perfect for this kind of spectacle. When I check in, the girl with the clipboard, God bless her, seems excited that I'm here. Maybe she's a HuffPost reader.
The seating is, essentially, two sets of bleachers, and I make my way up to the fifth row. No sooner do I sit down do I see that Nigel Barker is in love with me and has followed me here. He's brought his wife as a decoy, but I know what's going on.
Obviously I document the moment: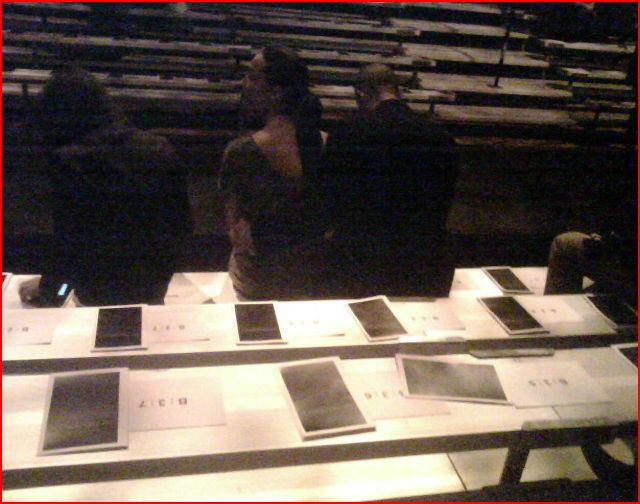 NIGEL: "Honey, I know this is hard, but I'm leaving you for the girl with the pimple in the fifth row." WIFE: [Looks away]
It takes half an hour for the seats to fill up, and I see a few familiar faces in the front rows: Waris Ahluwalia, who has a line of jewelry called House of Waris but who I remember most from The Inside Man; model Maggie Rizer; James Frey, looking still like Oprah just kicked the everliving shit out of his ego; and a man in glasses and a hat and a high-collared jacket who might be Justin Theroux but probably isn't. There's also a girl in a cloche hat who looks like a cross between Shelly Duvall and Liv Tyler who I think is some socialite or other.
Soon the lights go down and loud music starts as per usual, but this time the music is not pumped-in techno but a live rock band playing on the second level. That is pretty awesome. The show itself is colorful and fun. I love a lot of the pieces. Cynthia has made a lot of use of tassle-like fabric that has a playful Muppet kind of vibe (and you know how I love my Muppet clothes).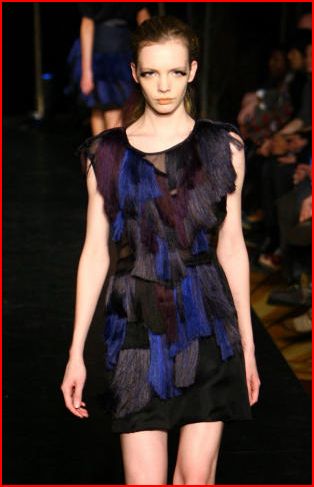 No one from Dr. Teeth and the Electric Mayhem was harmed in the making of this dress.
DAY TWO TOTALS:
Celeb sightings: 8
Project Runway contestant sightings: 14
Swag gifts: 0
Pseudo-dates with noted fashion photographer Nigel Barker: 2
Look here tomorrow for my Day Three diary, in which I interview Irina Shabayeva and become famous in the fashion world.
Related