Missed my previous installments? Find them here.
Day Three of Fashion week is, blessedly, a Saturday, which means no running back and forth from work. Or, at least that's what I thought (cue dramatic music, and maybe a Scooby Doo squiggly dissolve.)
I get an email from the PR rep for Irina Shabayeva's show, which I'm set to attend at 7, asking me if I can move my backstage interview with Irina from 6:25 to 6:50 pm. Um, backstage interview? What backstage interview? Has Fashion Week so scrambled my brain that I have blanked on a face-to-face with Meana herself? I email back saying yes, of course I can do it, making a mental note to run to the office after my first show and grab my mini recorder so that I look at least quasi-professional. I also pray to Austin Scarlett that Irina has not read my recaps of last season's Project Runway, in which I eviscerate her and talk about how hot her dad is (What? He is.)
I'm back at the Bryant Park tents for Georges Chakra. I spot Simon van Kempen and Alex McCord from The Real Housewives of New York, but they are the most famous people in the vicinity. There's a dude across from me who kind of looks like Hayden Christensen but isn't. I will discover that every show has these celebrity look-alikes, and I wonder if the PR flaks seek them to give the front row the impression of fabulousness or if it's just that all young, rich white people kind of look alike (if I said that about Asians it would be racist, but here it is OK because these people are A) white and B) probably own letter openers that cost more than my annual salary).
I flip through my Fashion Week Daily to kill time before the show starts and I nearly die when I come across this: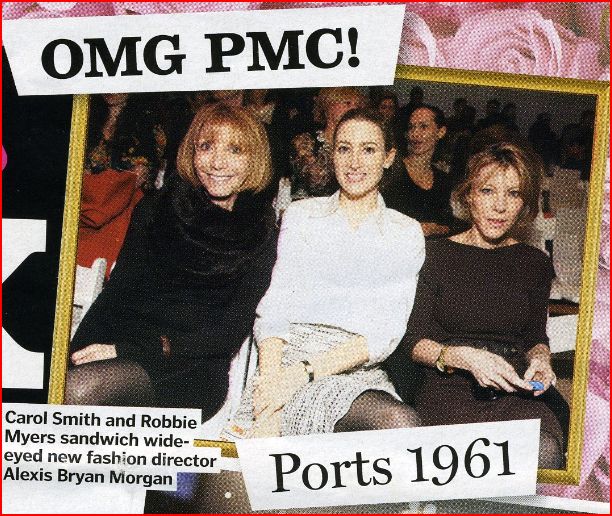 ZOMG I am famous. Yes, friends, that torso and fine chin in the upper left corner is me. I made Fashion Week Daily! (P.S. I don't even mind that my face is covered because it is obscured by "OMG". How perfect.)
I am the most famous person at Georges Chakra. It is official. Yeah, Alex and Simon were on TV but I am in Fashion Fucking Week Daily. That is like a royal flush in poker, and it beats everything. I wink at fake Hayden Christensen and wonder if anyone recognizes my chin and red coat from the photo. It is only a matter of time before the paparazzi descend.
The Chakra show is full of delicious gowns, many of them incorporating lace or patterned overlays.
Too bad I'll never be able to afford them (and even if I could, they won't be available for six months. Oh, fashion, you so crazy!) But the music Georges has chosen for the show includes the spoken line "I hate milk and fucking lemonade." You know how I love cursing. Georges Chakra for the win!
I stop by my office in the financial district and pick up my recorder. I don't have another appointment until 5:20, so I settle into an armchair at a nearby Starbucks to write my HuffPo blog about my previous day (meta!). I can't get wireless at first and I ask the barista, who informs me that wireless in S'bucks is not free and that you can only get it if you have a special account. That is some bullshit, plus I've already bought a coffee. I stew in my chair for a bit until I successfully siphon Internet access from some unsecured network nearby. Take that, Starbucks. I'm fightin' the man while drinkin' his burned-ass-tasting overpriced coffee. I am a fucking renegade.
I peel myself out of the chair I've been sitting in for over four hours and get on the uptown C train. I'm headed to Exit Arts on 10th Avenue and 36th Street to interview makeup artist Napoleon Perdis (who also moonlights as a HuffPo blogger) backstage at Elise Overland.
I've never been backstage at a fashion show before. In this case the models are dressing in a separate space, so I am in the hair and makeup headquarters. There are camera crews and reporters milling around, and models are getting their hair did and their faces painted. I don't know what the hell I am supposed to be doing and so I decide to stand in one spot looking confused. This tactic, amazingly, works. People start coming up to me and introducing themselves: a PR rep from Skyn Iceland gives me a goody bag and takes me over to meet the company's founder; the publicist for the hairstylist tells me I can interview him if I want to; and I run into a colleague who is interviewing Elise. I spot Napoleon but don't know if I am just supposed to go up and start talking to him. As I often do when I'm nervous, I launch into self-deprecating mode, telling anyone who will listen how totally unqualified I am to be here and how I don't know what to do. Luckily one of the people I start babbling to is Napoleon's publicist Danielle, who I'd emailed with, and she leads me over to him. He hugs me hello.
I stick my recorder in his face and ask about the makeup he's doing for the show. He tells me he's a bit crazy because he's working on both Elise Overland and Zang Toi, which are both starting at 6, so he's literally running back and forth. Napoleon has big doe eyes and a fabulous tan, and I just stare at his face while he talks, feeling like an asshole. "This look is all about girl power,: he explains. "Very clean skin, lilac, and a line on the eye that's very feline." He shows me the waterproof mascara that he's using from his own line, and tells me I have very nice lashes. I nod like a bobblehead (side note: it is torture listening to my own voice on this recording. I sound like I just inhaled helium or got my balls cut off. When did my voice get so high?)
After I finish with Napoleon (who also hugs me goodbye, such a dear...while I am decidely "deer in headlights"), I go upstairs to watch the show. For the first time all week, I am given standing room only, and I'm surprised it's taken this long. I park myself and my uncomfortable shoes (I've been darting around town all day in stacked heel boots that kill my feet, in an attempt at being more fabulous) against a wall and wait.
As people take their seats, I recognize Maggie Rizer (who is also obviously stalking me, a la Nigel Barker, since I saw her yesterday at Cynthia Rowley) and a young blonde in a hat who I think is Gossip Girl's Taylor Momsen but who turns out to be Peaches Geldof, a person who is famous for reasons even I don't know (which is saying a lot). At around 6:20, Heidi Klum breezes in, followed by cameras. Apparently one of the contestants on Germany's Next Top Model (which I got to see in the motherland last April) is walking in the show.
At 6:35 I have to leave, sadly before the show begins, in order to make my interview with Irina, but before I go I witness some choice diva action. A young African-American woman is making a scene in the front row because there is not enough room for her to sit comfortably (the seating is on benches, not individual chairs). She raises her voice, gesticulates, and finally pushes her way out of the room, walking in front of the cameras that are filming Heidi Klum a few seats away (she could easily have gone behind). I hear someone say, "Where did Keke go?" As I walk out (less dramatically, I might add), I see "Keke" pouting in a corner, refusing to sit down. A quick Google search tells me that this woman is sixteen year-old Keke Palmer, who starred in Akeelah and the Bee. Really, Keke? You think you are famous enough to pull shit like that? I don't know who you are, and I can name every single Bravo Real Housewife and all of their husbands. You are sixteen years old and you are just starting out in this business. You do not get to behave like that. And nobody, but nobody, pushes past Heidi Klum. Respect!
I kill time waiting for my sister--who is joining me at the Irina Shabayeva show--in the Dunkin Donuts gas station shop across the street. Did you know that there were chocolate peanut butter-flavored Bugles? Because when I wished on that Zoltar machine I never thought it would actually come true.
I meet my sister outside of Stage 37 on 37th Street. Zoe is a Project Runway fan and I thought she'd get a kick out of seeing a fashion show. When we go to get our seating assignments, however, the bitchy attendant tells me "Your plus one doesn't have a seat." WTF? If you get a plus one, you'd think you'd get two seats. But no--Zoe has to stand. I offer her my seat but she barters instead; she wants the swag bag. We make a deal. There is an open bar here, the first I've seen all week. Zoe gets a drink while I go backstage to meet Meana Irina.
When I walk in, I see her steaming a dress in a corner. The backstage area is relatively calm, but she must be crazed. The PR rep who emailed me this morning, Shaye, takes my bag (which weighs nearly 30 lbs thanks to my laptop) and steers me over to Rick, a Tupperware VIP. Irina has partnered with Tupperware for her collection and is in fact using Tupperware materials in her garments. Rick, who is obviously super excited about the show, explains that Tupperware is trying to change their image and make strides towards supporting women across the globe, hence the partnership. He shows me gorgeous plastic necklaces and dresses with gravity-defying skirts that are held up by Tupperware material structures. It's pretty cool. (Also, my sister's swag bag turns out to be filled with Tupperware containers. I apologize later for the lameness of this prize but Zoe seems excited.)
I take a deep breath as Shaye leads me over to Irina for a quick interview. I don't know what I expect--for her to throw something at me? Sneer? Tell me I copied her chunky cowl-neck sweaters?--but what I get is the exact opposite. Though she is mere moments away from her debut Fashion Week show, Irina seems calm and sincere. She speaks softly and articulately and makes eye contact with me the whole time, even though she could be finalizing the looks for her collection. "My collection is inspired by the idea of freedom and liberation," she says. "Every time I'm in an airplane I look out the window and think, it must be so freeing to just be able to fly." I ask her if the preparation for this show is different than what she experienced last season on Project Runway, and she laughs, shaking her head. "No matter what, there's never enough time," she explains. "I joke that even if I started Spring [2011] now I would still be rushing to finish." After a few minutes I let her go, as I assume she has much better things she could be doing. I leave feeling like a superficial bitch; Irina was totally lovely. And I'm really not just saying that to kiss her ass in case she reads this.
I rejoin Zoe and pound a glass of red wine as we people-watch. Every single person who is dressed flamboyantly (oh, and there are a few, including a man in full-on pimp regalia, leopard-print coat included) grab our attention, but none of them pan out as real celebs. "Next year you should just dress like an asshole," Zoe says. "People will think you're somebody." So true. We spot season six ProjRun contestant Gordana with this season's already-auf'd Jesus, as well as Maya Luz. When I take my seat, I am delighted that Trudy from Mad Men (aka Alison Brie, who also stars on Community) is sitting right in front of me. I text my father, a fellow Mad Men fan, who writes back, "If Joan or Betty show up, call me." I am now on my second glass of wine. Drinking at fashion shows is fun!
Irina's collection is full of lush knits and furs and hand-painted details. At the end are a few show-stopping feather-adorned dresses. Unlike at Bryant Park, here the crowd feels free to whoop and cheer during the presentation (the booze may have something to do with it).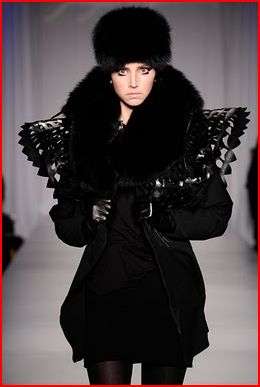 This model's runway face is classic! Can "angry Katie Couric" be a fashion pose now, along with Blue Steel?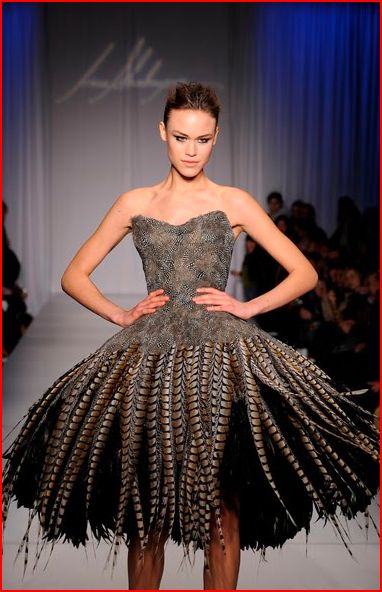 I totally thought I knew this model personally and got excited, but then I realized she is Irina's model from Project Runway. Also I like this dress.
P.S. Irina's superhot dad sat across from me the whole time. You are so jealous!
DAY THREE TOTALS:
Celeb sightings: 5 (I am NOT counting you, Keke Palmer!)
Project Runway contestant sightings: 4
Swag gifts: 2
Appearances in Fashion Week Daily: 1
Awkward backstage interviews: 3
Check back tomorrow for my final diary, in which I freeze my ass off at Jill Stuart and keep up with the Kardashians at Bebe.
Related