Reading a novel isn't what it used to be.
There you sit, nose stuck in a book, á la Belle the Disney princess, when your phone buzzes with a text from your mom. After a long back-and-forth with her about when you'll be able to make it back for a visit, you finally turn back to the book. Oops, another buzz -- a text from your bestie containing just a string of random emojis. While you laugh, you swipe over to Instagram. I mean, as long as you're checking your phone. Maybe you should just toggle over to Twitter too -- surely you have some new faves on that last tweet; it was so clever. No? Well, it's only been a couple minutes. OK, back to the book; you can check Twitter again after a page.
Bookworm Belle might have been able to remain engrossed in a book even as she wandered through a plaza packed with singing villagers, but she probably wouldn't be any match for a smartphone's endless stream of alerts.
So, what if all these distractions were part of the story?
A new romance book app, Crave, which launched late in 2015, claims to reimagine the reading experience for today's Snapchat-addicted consumer, and it looks like part of that means embracing those breaks in concentration.
As you scroll through an ebook on Crave, the app periodically breaks into the narrative to show you a text message conversation between two characters, a video of an actor portraying one of the characters doing an interview about the book's events, a filmed moment (like the hero first looking up at the heroine) or even a reaction GIF.
But after around 1,000 words, you're cut off. Crave slices each book into mini-chapters intended to take only three or four minutes to read, including multimedia. You can tune back in the next day for another bite-sized installment, generously salted with supplementary videos and text exchanges. Later, after you've returned to scrolling aimlessly through Twitter, you might receive a text alert from the book's author, or even from the romantic lead of the novel you're currently following.
Texts, notifications, GIFs -- every part of how we communicate on mobile now becomes part of the storytelling medium in Crave's platform.
And the folks behind Crave think this format might just save the novel.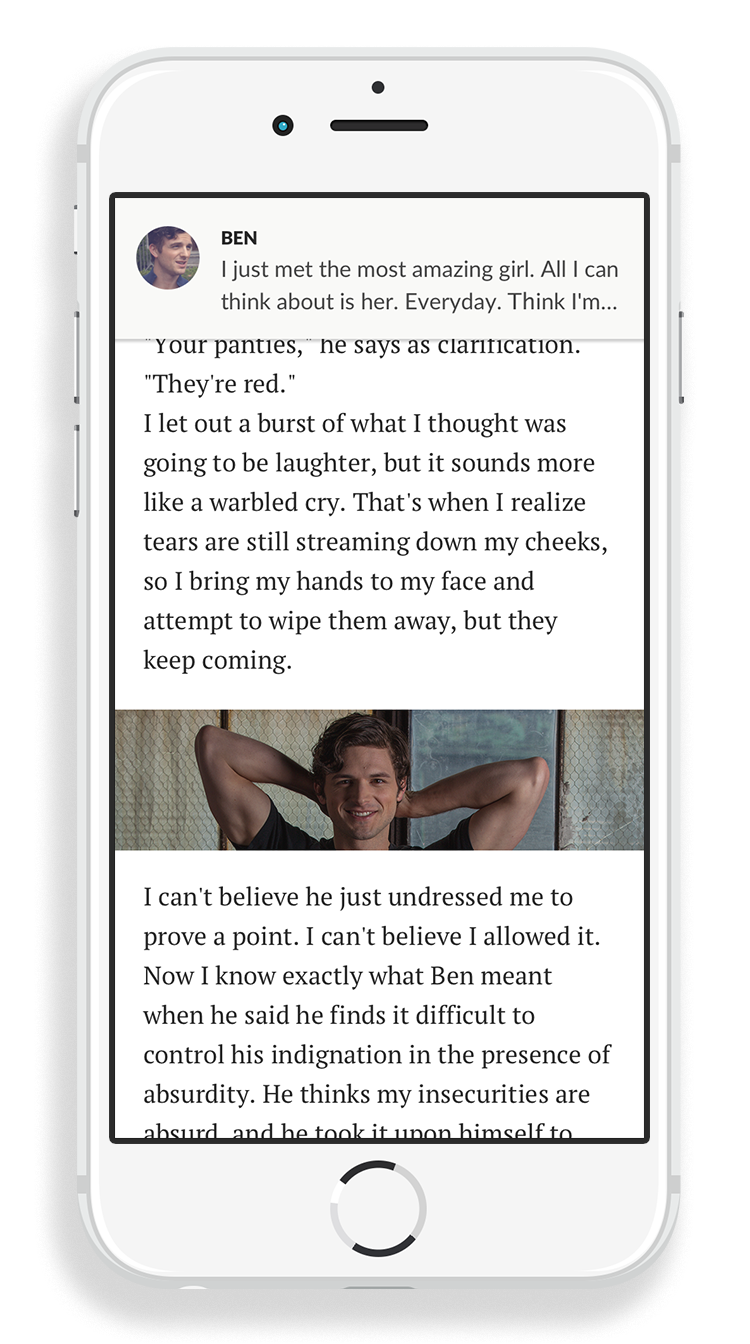 Crave, a lovechild of digital media startup Paragraph, is poised to be the book industry's response to a smartphone app landscape teeming with instant-gratification machines.
Ziv Navoth, the co-founder and CEO of Paragraph, explained in a long conversation about the app that it's "hard to compete with the eye candy" of flashy apps like Snapchat and Instagram. Readers might have only a few minutes to invest in a story, he told me, and their expectation is that "it'd better be compelling, and it'd better be with pictures, and it'd better be with sound."
Navoth described Crave to me as something like a new theatrical release for major romance novels. Though their first book, Colleen Hoover's November 9, hit bookstores before they were able to launch the app, future books will be released on the app first, giving subscribers a sneak preview. A new installment of the book, multimedia included, is delivered to the app each day. Fans can subscribe to their favorite authors on the app to ensure they don't miss a thing.
While the first week is free, a monthly subscription fee of $3.99 then kicks in -- basically, once the reader is hooked, Crave starts to charge. But real devotees may find the price worthwhile; the app's version of the book is packed with bonuses that provide behind-the-scenes glimpses at their favorite characters.
Paragraph created Crave after a meeting with Judith Curr, the president of Atria Publishing Group, a division of Simon and Schuster, in which she mentioned she'd like to forge still-stronger connections between their best-selling authors and fans. The app currently features major authors from Atria's New Adult and romance offerings, like Hoover and Abbi Glines. These authors already have well-rooted fan bases and books that sell like hotcakes -- ripe audiences for ambitious marketing.
"Romance readers are voracious," Navoth pointed out, eagerly. "They read twice as many books as any other reader does. And when they discover an author that they love, they'll read all of her back catalog."
Curr noticed, as she worked with romance authors on bus tours, that it wasn't just the authors who drew fans' utter devotion. "What I discovered," she told me when we spoke on the phone, "was that readers were more interested or as interested in the character in the novel as they were in the novelist. We created these buttons that said, 'My book boyfriend is ___.'" Fans would wear these buttons at conventions or author appearances, congregating with like-minded fans to gush over their fictional crushes.
With a multimedia-filled, potentially interactive app, these book boyfriends could leap off the page, and entwine themselves even more convincingly in readers' fantasies.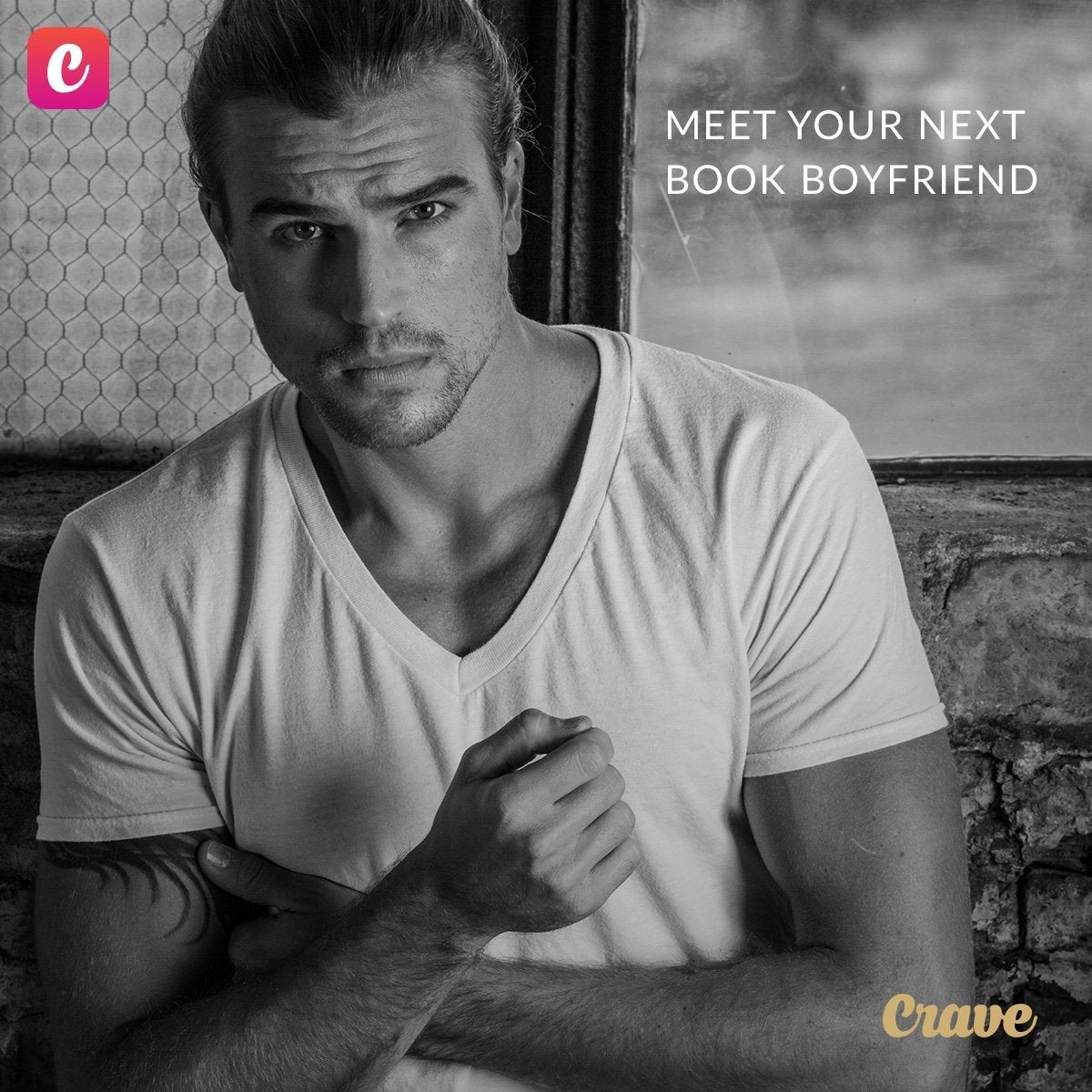 I met Navoth at Paragraph's office in the West Village one damp November day, on a mission to find out what the deal was with this app. A slight, middle-aged man dressed in a snug tee and seemingly superfluous knit beanie, he ushered me to a slouchy leather sofa off to the side of his open workspace, where the rest of the staff continued to clack away at their computers.
I hadn't known what to expect, exactly. I'd set up the chat after receiving a cryptic box of chocolates in the mail, along with my usual pile of advance review books; the hand-scrawled card only listed a phone number. I called the number, at the other end of which was a flirty recording of a man identifying himself as Benton James Kessler. His sultry voice dropped hints about Crave and Colleen Hoover's then-upcoming book November 9, of which "Benton" is the male lead. Google yielded little more info about what Crave itself was. The app launched in December, but when I first began researching it in November, it was hard to find anything online.
What I gathered, basically, was that Crave was an app for romance fans, meant to satisfy certain desires that the books just couldn't. Their favorite male leads from these books appear in alluring videos. They might even be able to interact with the men. It would take the idea of a book crush to a whole new level.
To me, this seemed entirely counter to the entire concept of reading a book, if not patronizing to the romance crowd: basically, blasphemy. But there's a thirst in the romance community for the sort of immersion in a storybook world that, if well-executed, would be welcomed. Amanda Diehl, a contributor to the romance site Smart Bitches, Trashy Books, pointed out in an email, "Romance fans are an imaginative bunch. We're hungry for books, too. So adding elements that make a book stand out, like visual or audio components, is definitely something I'm willing to try as a reader."
So far it seems like a glimpse into a fairly unsurprising romance world. The app spotlights sculpted, doe-eyed hunks casting melting glances toward the camera and opening up about the women who made them believe in love. One might be long-haired and tattooed, while another is tousled and sensitive, but the gamut still runs within a pretty mainstream, heteronormative spectrum. (So far it's also pretty white, but Navoth told me one of the upcoming books would feature "an African-American hero.")
Crave, like much of romance publishing, takes the apparent position that romance readers are and will be straight women. The heroes are dashing men falling in love with women who could, maybe, be you. When I asked Curr if they planned to gear any upcoming books toward straight men or LGBT readers, she was vague. "Crave is targeted at a general romance reader," she wrote back. "Romance lovers of all stripes will hopefully enjoy the current stories and those planned to launch over the next few months."
"It's mostly 'her,'" Navoth told me during our chat, a bit more openly. "Most of the readers, about 85 to 90 percent are female, and almost all of the writers are female. And they form a special relationship with the lead male character." I asked him later whether the Crave team had sent any enigmatic promo chocolates to male culture writers, and he rejoined, "Are there a lot of male journalists who cover romance?"
"We don't cover romance, specifically, on HuffPost Books," I said. "But we are ladies." (My colleague on the books beat and I are both of the female persuasion.)
"It's kind of unfortunate, but I feel there's a sort of unfortunate sort of … we don't do romance, we don't cover that," he said. "And that's okay, because you know what? Sixty-nine million people on Facebook like it."
Navoth himself has a more conflicted relationship with the state of literature than I'd anticipated. Paragraph sprang out of his passion for short stories -- he published his own collection several years ago and alluded reverentially to John Cheever throughout our conversation -- and has taken the form of a digital magazine that aggregates short fiction published online. Since that project began, about three and a half years ago, Paragraph has begun to work with major book publishers on translating author brands to digital, an endeavor that led to their meeting with Simon & Schuster's Atria and the birth of Crave.
In Navoth's eyes, Crave is just one foray into the brave new world of reimagining literature for the digital native. For one thing, his team decided, the whole book format is outdated in the era of social media. "We realized that something's going on in the way stories are being told," explained Navoth. "If we want these artifacts to be relevant, not as something that's printed on dead trees, but as something that's a long story -- we believe in the future of long stories -- then we have to bring them to this world."
Sure, you might say. Like an ebook. But to Navoth, an ebook doesn't truly inhabit the digital media space the way other forms of entertainment do. "Not really different. Nothing to write home about," he said dismissively of a traditional ebook. "We said, OK, so forget about, 'How do we take books and make them digital?' How does digital change the nature of storytelling, especially longform storytelling?"
Crave could be viewed as a response to this enormous question, or at least a stab at a response. The experience is like a hybrid between e-reading, watching a web series, and stalking people's social media accounts, and each day's update only demands a few minutes to peruse fully.
Navoth sees these three-minute chunks of a story as a particularly vital modernization, translating hefty books into social media-sized installments."Our starting point was not, this is book with media in it. Our starting point was ... if I come up to [a reader] and say, 'You got two to three hours for me?'," Navoth speculates, a reader might simply say, "No, I don't."
It's this high-minded quest to save the novel from the masses (unwashed due to their unwillingness to set down their iPhones for even five minutes in order to take a shower) that purportedly drives Crave's installment plan.
Or maybe it's something else. Curr candidly admitted that she was inspired, in part, by the famously addictive mobile game Candy Crush, which rakes in profits by allowing users to play for free, but also to pay real money for extra lives. "You're only getting one day at a time," she told me. "And you're getting one week. And unless you pay, you're not going to get more of the story. You may well go get it somewhere else, but you won't see what Ben is doing."
"Each week you keep paying," she added. "You know, pay to play."
Depending on whom you're listening to, Crave is either the Ulysses or the "Kim Kardashian: Hollywood" of its time and genre.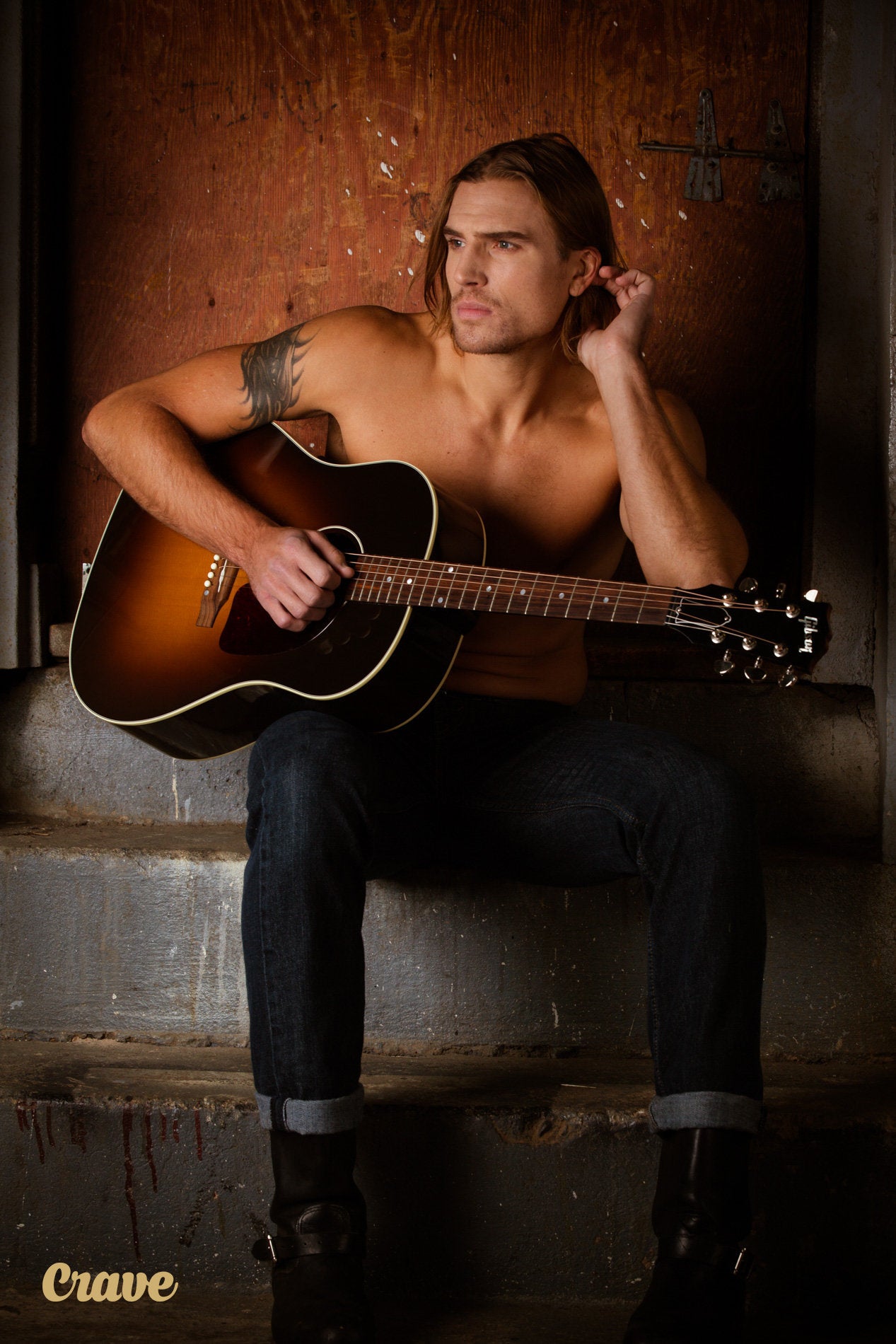 Recreating the novel for tap-game-addicted youths requires toeing a fine, fine line. Crave's format supposes that readers today are impatient and drawn, like crows, to shiny things; thus the brief chunks published per day and the constant interruptions.
While the book itself is written by a bestselling romance author, there's a humming hive of production surrounding the queen bee. One actor is cast to play the romantic hero, and sometimes other characters are cast as well. A film crew is on set to shoot the performances. The lines each actor speaks are almost all written by a separate writing team -- they're not drawn from the original text or written by the book's author. It's like watching little snippets of officially sanctioned fan fiction caught on tape.
There's a risk, however, of simply filling the app with trivial noise, videos as pointless and irritating as pop-up ads. In earlier beta versions of the app, video and audio often just consisted of an actor reenacting lines found in the book -- but the Crave team quickly heard from focus groups that the repetition was annoying. "If you're interrupting someone, it'd better be either to entertain them, or to add a layer of information that doesn't exist in the story," Navoth explains. "It can't be just a repetition of what's already there."
This pitfall, the e-reading equivalent of a teacher standing in front of a class reading every word on his slideshow for 45 minutes, was easily rectified. Others may prove more troublesome.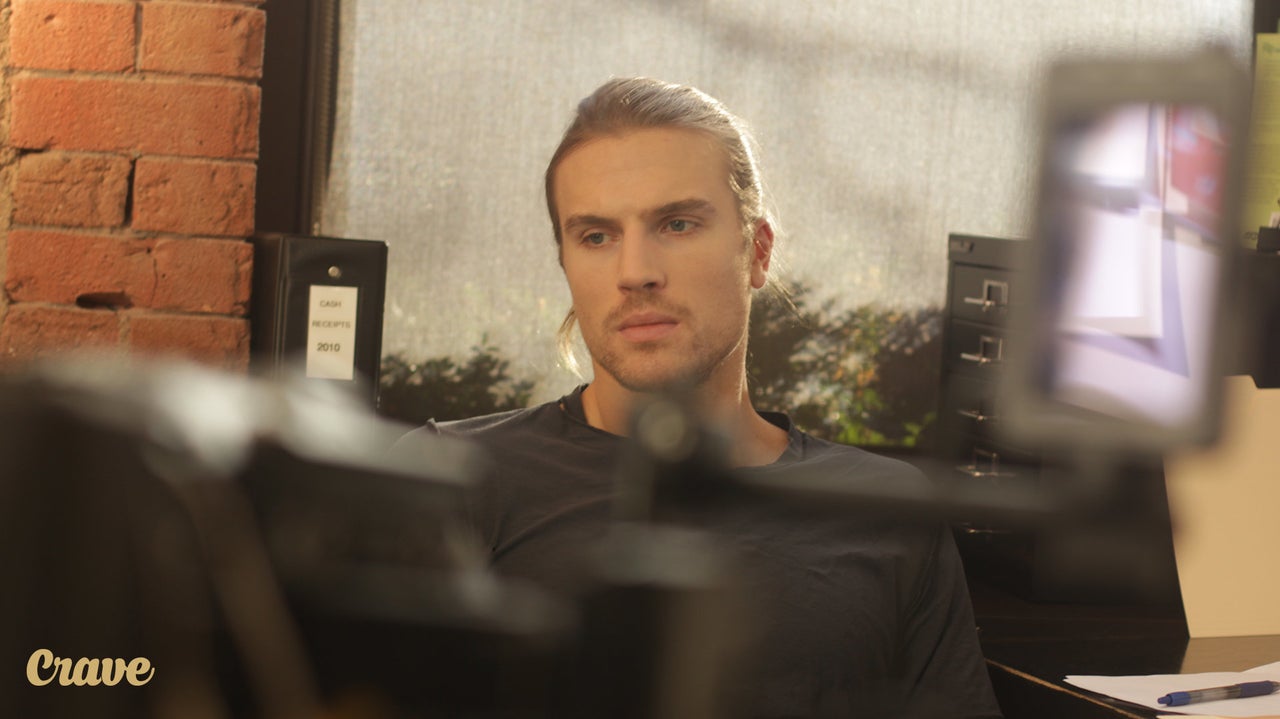 Turning readers' book boyfriends into more tangible creatures -- men with handsome features and gravelly voices borrowed from actors, men who send readers intriguing texts at night -- brings the fantasy one step closer to reality. And Crave's formula relies on leaving the female lead out of it altogether so readers can easily project themselves into her position; the heroines of these books never appear in the video elements, though many videos appear to be shot from "her" perspective.
"When you show the female protagonist, then [readers] think, well, I'm nothing like her, so that's not realistic, I wouldn't fit into the story," explains Navoth. "But when we show him, all the doors are open."
"In the app, you see the guy, you never see the girl," said Curr. "He's our boyfriend. He can interact with you off the page as well."
Those off-page interactions on Crave don't exactly fuel the romantic frisson, though. Take those text messages users might receive from the hero of the book they're reading. "Depending on the story, that communication has different contexts," says Navoth. "In November 9, you're his BFF. You have a platonic relationship with him -- maybe you want a different one! … In The Best Goodbye, you're gonna be his sister, because he's not the kind of guy that actually has friends."
Well, nothing fans that romantic spark like a sexy hunk of man meat texting "Hey sis" and confiding in you about how he just can't stop having meaningless flings with hot women, but he thinks he might really be falling for this new one. Most romance readers don't care to project themselves into platonic roles, thinking, "Oh, I'm like Vance's sweet older sister who just wants him to settle down!" as they pore feverishly through scenes of Vance repeatedly violating the feisty heroine of the novel in a number of creative positions.
I point this out to Navoth, that it might be difficult to indulge in the fantasy that you, the reader, could be the love of your book boyfriend's life if you're bombarded with aggressively platonic text messages from him. "Clearly when you're in the reader place, when you're reading the story, maybe you're a fly on the wall or a voyeuristic perspective; In your head, it's very clear what role you play," he responds, carefully. "You're peeking into their lives. You're not participating. When you get notifications from someone, that's a little bit different, because those were sent to you. So what is my relationship with that person?"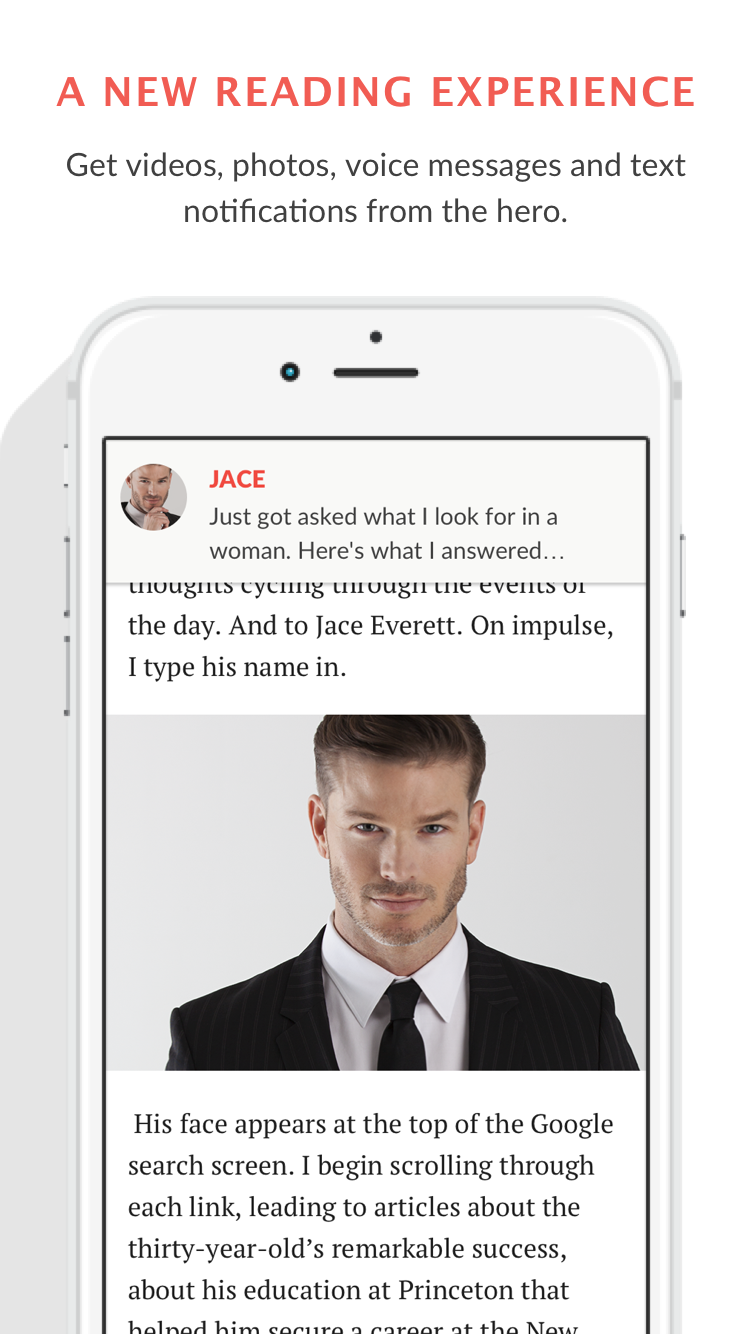 The easy alternate reality of romance and "book boyfriends" is that the role of the reader doesn't need to be all that clear. Romance readers aren't delusional; on a factual level, it's obvious that they are reading a story about two made-up people. But the imaginative space created and left open by a good book allows for a gratifying slippage between the real and unreal, the self and the other. What passionate tween arguing Jacob vs. Edward didn't, on some level, envision herself as Bella, the shy girl who doesn't realize her own beauty? Readers are watching but we're also identifying, sometimes very strongly, with the characters. It's not so easy to separate a romance heroine from the desires we invest in her.
By actually pulling readers into the narrative with direct interaction, Crave turns this ambiguous relationship into an untenable one. The texts aren't romantic, directed at the reader as if she were the girl in the story, perhaps because directing them to a third, platonic party creates a space for new story-telling revelations. But by sending platonic ones, the app puts the reader firmly in her place -- not the love object, but the voyeur.
It turns out there's another fine line between reimagining books for the modern reader and completely upsetting the delicate ecosystem of traits that have made books so successful for centuries. Like so many instances of the much-balleyhooed disruption trend, the "disruption" can be more literal than its proponents intend.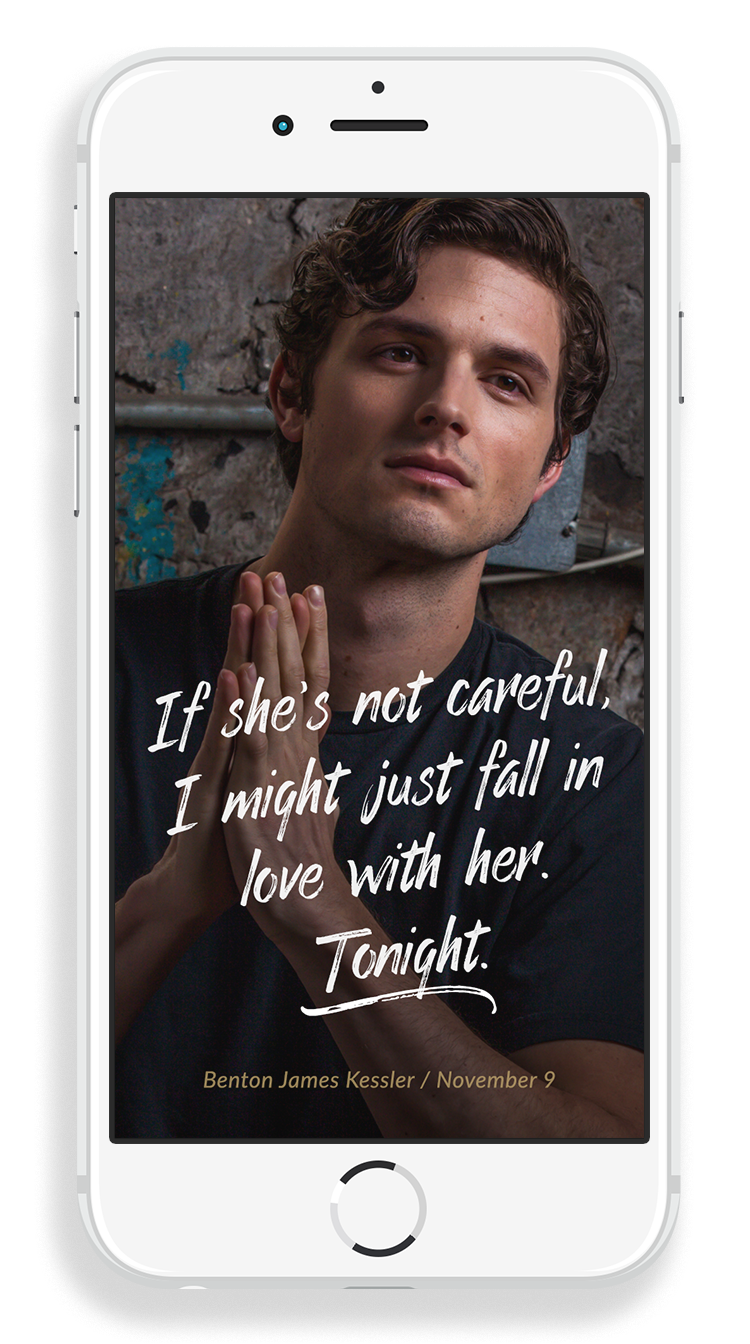 In an odd way, Crave is disrupting book reading for the modern era, or trying to, by reverting to old tricks of the entertainment industry -- monetization models even film and TV have begun to move away from. The bonus video interviews, text exchanges, audio clips and GIFs resemble nothing so much as a suite of DVD special features. On Crave, superfans can pay a premium to scrape a little more out of the characters and stories they already love.
As Crave is offering extra features for readers, however, Hollywood has lost interest in this gambit, perhaps in part due to the rise of streaming services such as Netflix and the rise of binge-watching. With your Netflix subscription you can easily find something else to stream; the endless flow of content might make little extras seem less exciting to consumers.
Serialization might be the most obviously retro of Crave's innovations. Long after major books were routinely published by installment in magazines, TV series remained as the most popular serialized form of entertainment. Now, with the ubiquity of Netflix, Hulu and binge-watching, the public has grown impatient with traditional week-by-week series. Netflix original shows, such as "Master of None" and "Orange Is the New Black," drop an entire season at once, allowing fans to frantically consume each season in an orgy of narrative immersion.
Our thirst for binge-watching seems to contradict our shrinking attention spans (and Crave has gambled on our shrinking attention spans being more powerful). At the root, however, the two urges are indistinguishable: We want control over our stimulation. We want to be able to keep watching "Making a Murderer" for 10 hours if we're desperate to find out what happens next, and we want to be able to flit ceaselessly from app to app -- Twitter, email, Instagram, Snapchat, Facebook -- until we find the entertainment or validation we're hoping for.
I asked Navoth if Crave might consider allowing readers to just read the whole book in the future, and he was circumspect. "Then we're back to ... 'Well, this is just an ebook with audio, and why not just read all of it?'" he says. "That's not the problem we're trying to solve."
Reviews of the app on iTunes suggest users are already bridling at the time constraint:

Binge-reading, of course, doesn't disrupt anything. Books have always been the most inherently bingeable media. Trying to flip the experience to the other, shrunken-attention-span side of the coin is treacherous. Crave can replicate the glossy graphics and pinging notifications we see as we swipe through our smartphones, but the sense of control is gone, and we move at the pace and through the passageways predetermined by the app. It's a creaking simulacrum of how we use our devices.
Still, Crave might just be nimble enough to dodge all the pitfalls that lie in wait for those who come to remake books in the image of the Internet. Already, they've responded to focus group data to streamline the app and make the reading experience more engaging. Even the serialization aspect might fall to reader demands, if a consensus arises, says Navoth. "We might realize that people are saying, 'I love this, this is so much better than the book, but I want to read all of it now.' And that's data that we'll get and we'll decide what to do." (After initial feedback proved critical of this feature, he told me via email that Crave plans to roll out a fix soon, though he declined to specify what the fix would be.)
Reader reviews so far suggest romance fans have a lot of enthusiasm for an app that will give them more content about their favorite books and heroes. Is this enough to make the print book obsolete? Diehl, an avid romance reader, suspects that print books retain too many advantages. "The main uphill battle [for Crave] is not the audio or visual components, but screen reading," she theorized. "Whether it's on a phone or tablet, reading on a screen like that just doesn't work for some readers ... There will always be readers who prefer paper and only paper."
Navoth has a slightly more grim perspective, at least for fans of the traditional book. "People aren't going to stop reading books," he conceded. "They're not going to stop reading paper books. Just like people … still speak Latin. Right?"
"These kinds of things don't disappear," Navoth told me, nodding. "But they do go away."
At this stage, it still seems more likely that Crave will eventually disappear than that print books will become as rare as spoken Latin. But that doesn't mean there's no place for an app that invites avid readers to explore richly realized multimedia add-ons interwoven with their texts. The evidence is inconclusive as to whether books themselves need to be reimagined for the modern era, but from fan fiction to Tumblrs to message boards to conventions, proof continues to mount for one undeniable truth: Fans will never stop wanting more.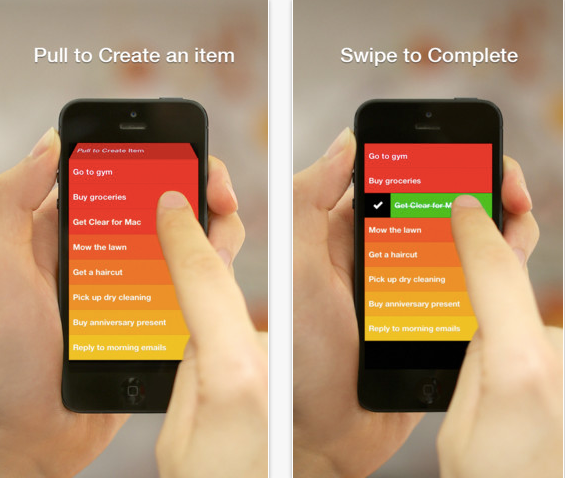 7 Apps To Make You More Productive
Related