The college festival is nothing new. Many campuses throw big annual events with some form of music and food for all students to attend. Yet, there is one that stands out above the rest (in my humble, yet biased opinion.): Tulane University's Crawfest.
In a city known for its festivals, it can be hard to stand out. From Po-Boy Fest to French Quarter Fest and Jazz Fest, there are "fests" for just about everything from A-Z in New Orleans. Seven years ago, two music-loving Tulane students started Crawfest, a completely student-run music and food festival that has now become a fixture on the April calendar of all students and many local residents.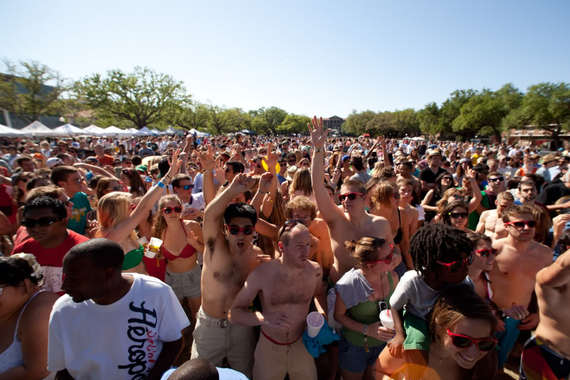 On April 5, Tulane is preparing to host its 8th annual Crawfest featuring eight live bands, two stages, 10,000+ attendees, and the centerpiece -- 20,000 pounds of Louisiana's finest crawfish. While it's true that these little crustaceans pack the work of a lobster into the size of a shrimp, there is nothing quite like a day eating mudbugs in the sun with live bands jamming in the background. This year, on top of the crawfish, more than 8,000 pounds of local produce will be boiled up in the first ever Vegetable Boil.
Students start filling the quad in front of the university student center around 11 a.m. and do not leave for hours. The lines for crawfish move fast -- each festival goer gets unlimited crawfish -- as students and locals collect their heaping baskets of the Gulf Coast novelty.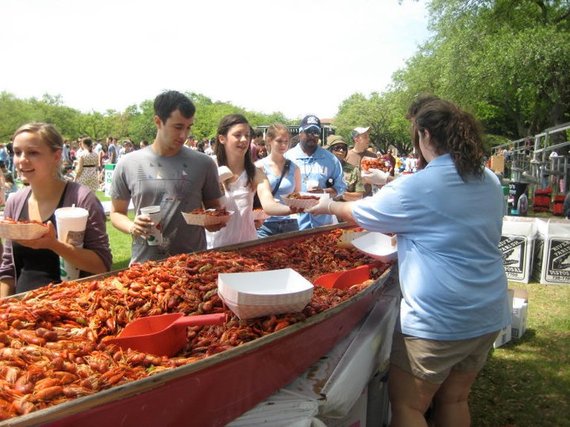 If crawfish aren't your thing, well, you're crazy. But you're also in luck because with nearly a dozen food vendors from all corners of New Orleans, there is something sure to whet everyone's palette. Zoe Bjornson, the co-food chair for Crawfest 2014 says she's most excited for the "nationally-known Food Drunk food truck, famous for their King Cake burger," and "Crawfish Monica, a Jazz Fest vendor that we snagged this year." Everyone may have their own Crawfest experience, but nobody leaves hungry. As Zoe says, "It's going to be every foodies' dream!"
Once you have your crawfish and other food, it's time to sit down and take in the music. Crawfest doesn't look to bring in the biggest national names; rather, it looks to highlight the diversity of the local music scene and introduce other groups from around the nation.
"Crawfest is known for consistently providing a New Orleans-feel with its lineup at a time when EDM is taking over college campuses across the country," notes Sam Fihma, a sophomore and Crawfest's music chair. Past headliners include Galactic and the funky METERS. This year, Flow Tribe, The Main Squeeze and Lettuce top the list of eight diverse bands scheduled to take the stage.
Tulane's relationship with the city of New Orleans has always been special and unique. The moniker "Only at Tulane. Only in New Orleans" follows students from their first tour of campus all the way to their festive commencement ceremonies. Crawfest actively highlights this relationship by fusing the culture and vibes of NOLA with Tulane's uptown campus. This connection to the city is a big part of what makes the festival so iconic and a highlight of every spring semester.
It is sometimes easy to forget that Tulane, with the most geographically diverse student population in the country, is in Louisiana. However, on the day of Crawfest, everyone knows exactly where they are.
If you are in town, feel free to swing by! Crawfest will be held on Saturday April 5, 2014 from 11 a.m. - 7 p.m. General admission is $10 and the event is FREE for Tulane students and staff.
Popular in the Community