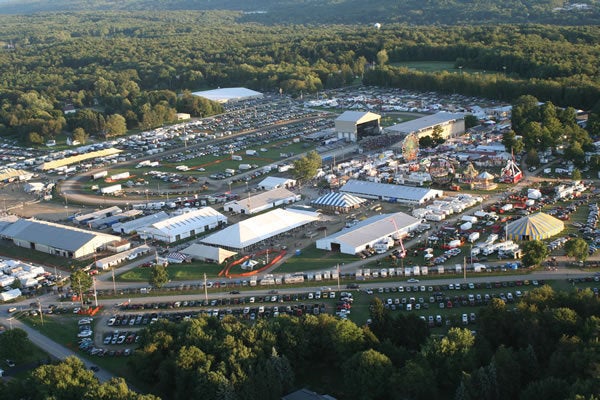 The Crawford County Fair in Meadville, Pennsylvania, was established in 1945. It is the largest agricultural fair in the state, offering a full week of livestock, motorsports and A-list entertainment. Held in late August, the fair bridges the pleasures of summer and autumn with a touch of down-home country style. As part of a Huffington Post Travel series on state and county fairs, here is our guide to making the Crawford County Fair as fun and rewarding as possible.
Country's Brightest Stars
Located in the northwest corner of Pennsylvania near the border of Ohio, rural Crawford County boasts an impressive county fair that hosts a dazzling array of entertainment, especially from the world of country music. Marquee names like
bring in crowds from all over the region. These are full-blown concerts, complete with ticket prices ranging from $33 to $54, depending on seat location. But music lovers don't have to pay extra to enjoy live music at the fair. The Youth Show Arena offers free music and entertainment throughout the fair.
Agricultural Attractions
While the music is a big draw, it's by no means the only attraction. Hundreds of agricultural exhibits and competitions fill each of the fair's eight days, including horse shows and pulls, livestock shows and 4-H contests. There are also a variety of rides and carnival games.
Fair Queen Pageant
One of the highlights of the Crawford County Fair is the
, open to young Crawford County women ages 16 to 20. Contestants model evening wear and give an oratory presentation about the importance of the fair. The winner goes on to compete in the Pennsylvania State Fair Pageant every January.
Automotive Entertainment
The Crawford County Demolition Derby offers smash-up entertainment, while the tractor and truck pulls feature powerful "smoker" tractors such as Ford/New Holland, Massey-Ferguson and John Deere; semitrucks from the Pennsylvania Posse; Pro Stock Diesel four-wheel-drive trucks; big-rig semis and modified four-wheel drives; and, on opening day, antique tractors.
Food, Arts, Crafts And More
The fair hosts plenty of arts, crafts and food competitions. Gastronomical categories include maple syrup, fancy cakes, potato chips, wine and beer. Patrons can buy homemade treats at the baked-goods auction.
A tractor pull at the Crawford County Fair hauls in big money for the winner.
What's your favorite attraction at the Crawford County Fair?