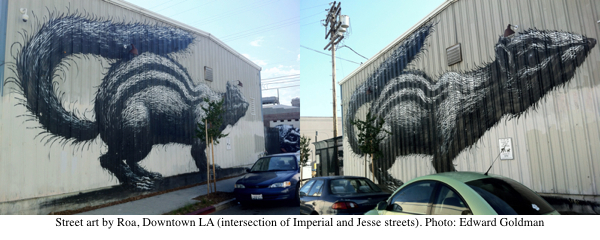 During this past weekend, the weather in LA was hot and humid - just the way I hate it. And still, in spite of all this, I travelled downtown - and not once, but twice. You want to ask me why? Have I lost my mind? Well, I'll let you be the judge.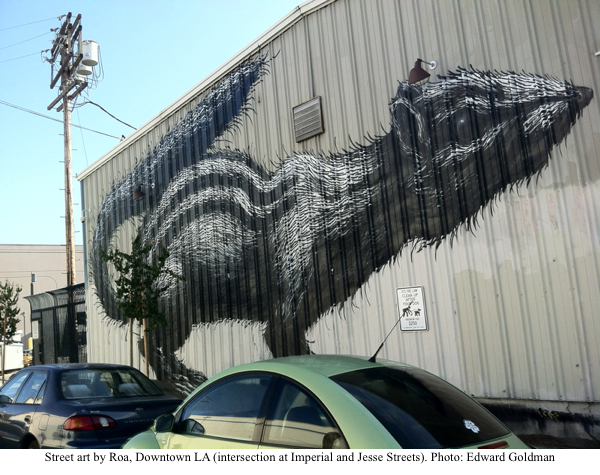 A few days ago, an article in the LA Times caught my attention. It was about the proliferation of new street murals in an industrial neighborhood east of downtown. Some of the photos in the article were so intriguing, I simply had to go and see these murals for myself. The intersection of Imperial Street and Jesse Street, which is not far from the LA River, turned out to be a run of the mill spread of one-story buildings. But the murals decorating their walls were extraordinary in their scale, imagination and character.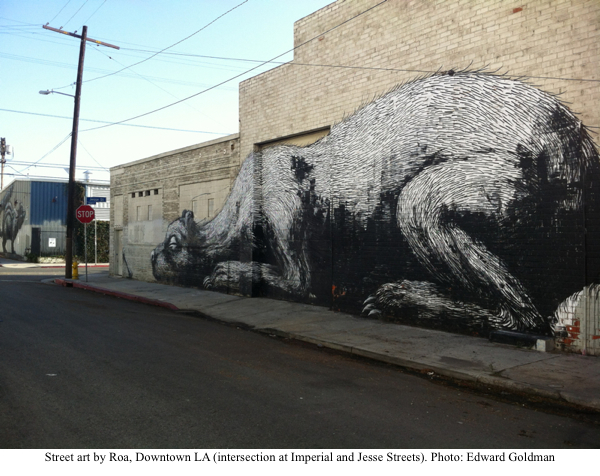 It's simply impossible not to fall in love with the animals painted by Belgian street artist Roa. His sleeping brown bear is so cute, it was hard to resist petting him - though no one knows what this hundred-foot-long beast can do when he wakes up.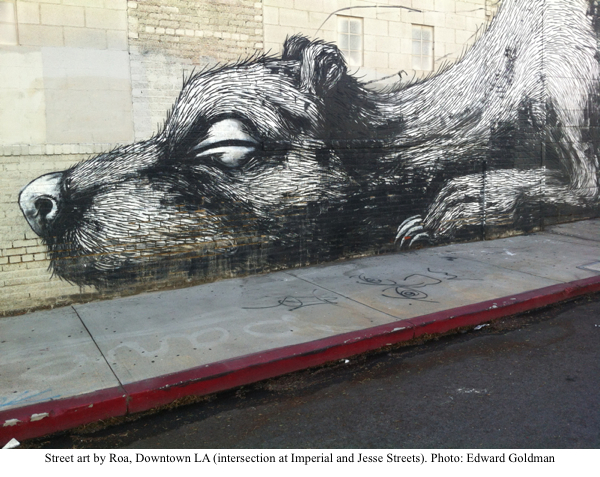 Across the street, there is another mural, one of a huge squirrel - or maybe a skunk - with his bushy tail raised as if this cutie is ready to spray the whole neighborhood. And to spice all this up or maybe just to scare you a little, there is a huge pile of animal skulls and bones painted on a nearby wall. Thank god I saw it in the daylight. At night I probably would be scared to death.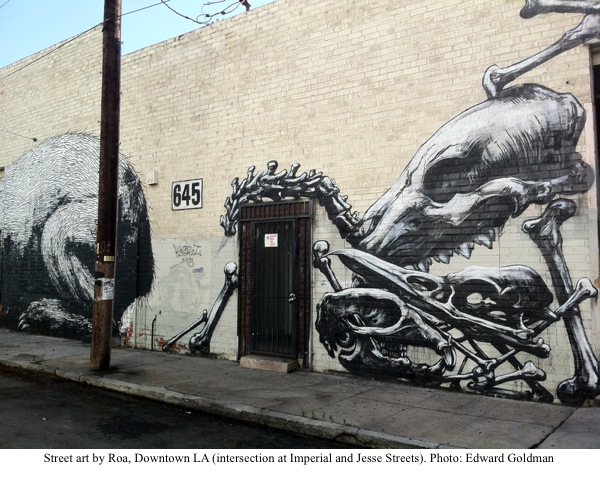 Driving in this neighborhood, I realized that I'd been there before, and actually even talked about it in one of my Art Talks last year. Believe it or not, there is a gallery in the neighborhood that organizes thirty-one exhibitions during the month of July. Every night, there is a reception from 7-9 pm, after which the art is removed to make space for the next day's exhibition. Sounds crazy? Indeed. But I would call it inspired madness, and all this thanks to LA-based artist Habib Kheradyar and his PØST gallery. On Sunday night, when I stopped by, there was an exhibition of photo collages and video work by LA artist Antonio Mendoza.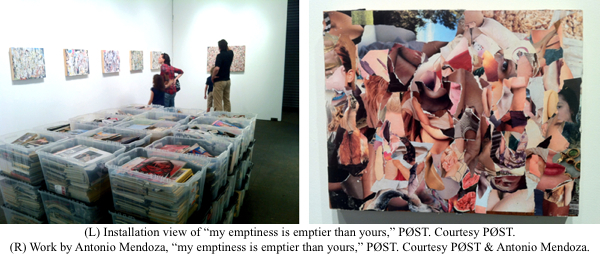 However, most of the space was occupied by a huge stack of plastic bins filled with thousands of books, magazines, CDs and God knows what else of the artist's personal belongings. I asked Antonio what it was all about, and learned that he lost his studio and had to put everything he owns in these plastic bins, thus turning his misfortune into a temporary sculptural installation -an installation that echoed his collage work hanging on the walls. Check out the list of the remaining one-night Kamikaze exhibitions at PØST on their website.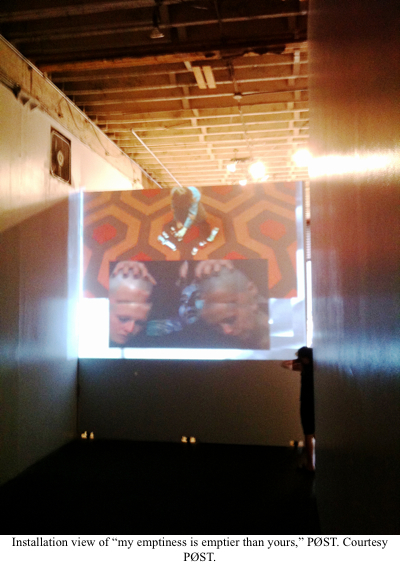 And here's the third reason I drove downtown this past weekend - a big and extravagant production by American Ballet Theater of Le Corsaire, a staple of 19th century ballet in imperial Russia. It is a crazy story about slaves and harems, pirates and romance. Totally over the top. And the same goes for the virtuoso dancing. It was shameless, delightful and fabulous entertainment. The sold-out audience went completely gaga, and I was one of those yelling, "Bravo!"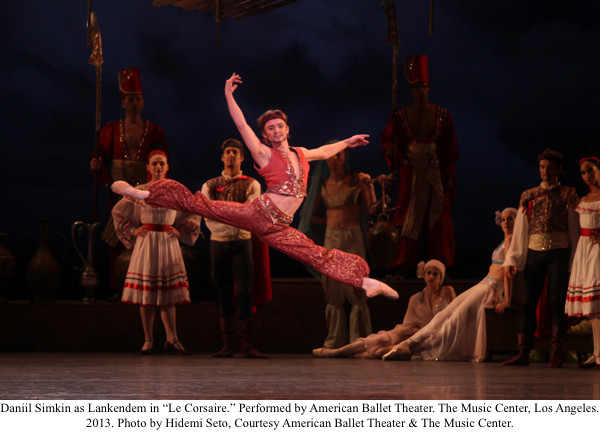 Edward Goldman is an art critic and the host of Art Talk, a program on art and culture for NPR affiliate KCRW 89.9 FM. To listen to the complete show and hear Edward's charming Russian accent, click here.
REAL LIFE. REAL NEWS. REAL VOICES.
Help us tell more of the stories that matter from voices that too often remain unheard.