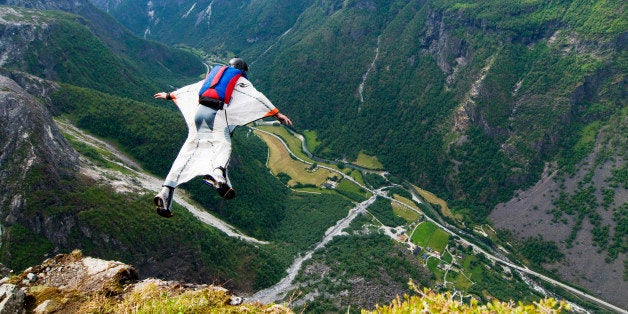 The interweb is abuzz with lists of must-dos and must-sees for the coming year. We know what's good for us, and we're not adding these crazy jumps to any of them.
1. The Contra Dam in Ticino, Switzerland
In the opening scene of "GoldenEye," James Bond jumps from this 720-foot dam on a river in Switzerland. Average Joe tourists can have their own 007 moment with a number of guided bungee excursions. If you're psycho, try it backwards. Or at night. 2. Royal Gorge Bridge in Canon City, Colorado
This bridge is actually mind-boggling: like a little string between two cliffs, it hangs 1,053 feet above the gorge below. The free fall from the edge lasts for five seconds, after which time BASE jumpers open their parachutes and sail to the gorge's floor. An extreme events company used to host an annual, invitation-only BASE jumping event here, but then it was mysteriously cancelled... which is probably for the better.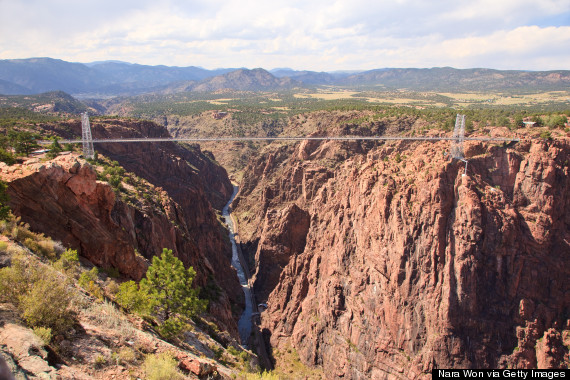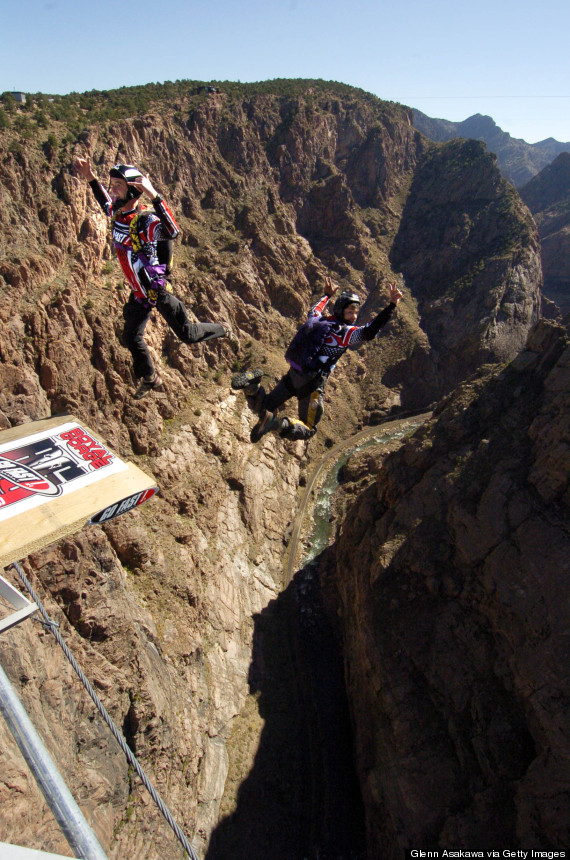 3. Bloukrans Bridge Bungee in South Africa
This is the highest commercial bridge bungee in the world, at 709 feet of sheer, belly-dropping terror. You can sign up to walk the bridge... or you can sign up to jump off it. Bloukrans is the site of many record-breaking jumps, including the most bungee jumps in 24 hours (107, though the record has since been beaten) and the oldest person to bungee jump (Mohr Keet, at 96 years old).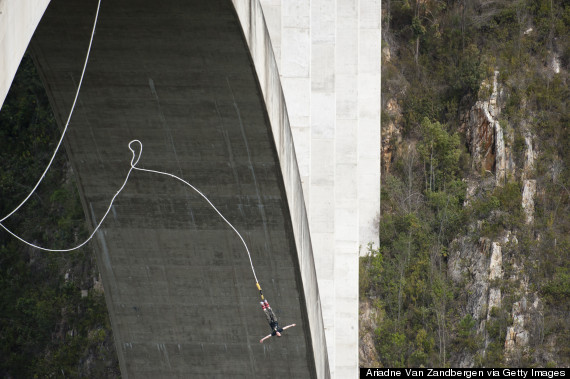 4. Phi Phi Island, Thailand
Tiny wooden ladders snaked up the side of the Viking Caves on Phi Phi Island during the Red Bull Cliff Diving World Series this fall. World-class divers fell 82 feet in a mind-blowing spectacle. Tourism websites recommend you start with the island's smaller cliffs, for obvious reasons.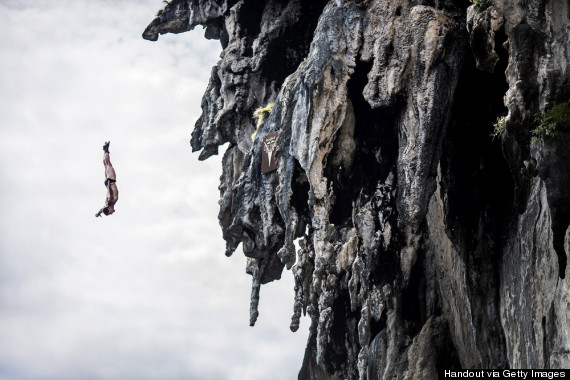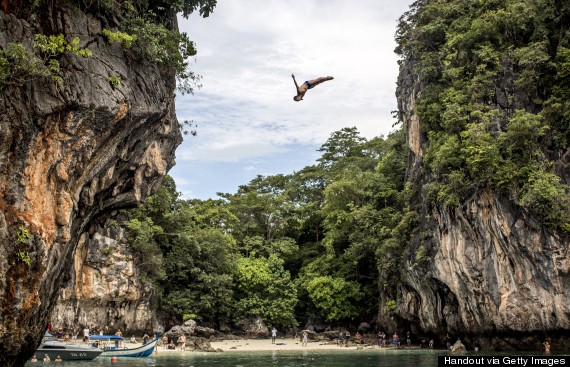 5. Gudvangen, Norway
In the mountains of Norway, daredevils prefer to attack their BASE jump in one of two ways: from a helicopter, or while wearing a wingsuit. The special suit increases lift, so you can enjoy a few extra seconds of (terror-stricken) soaring before you pull your parachute.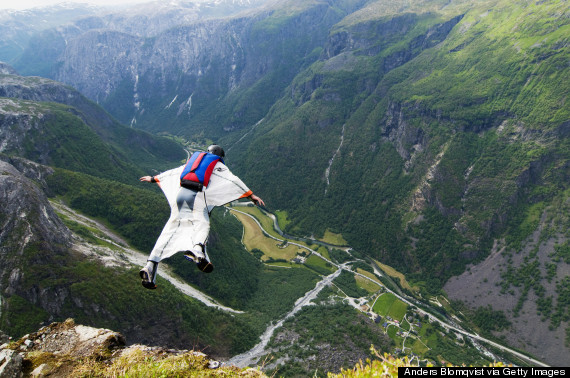 6. Brontallo, Switzerland
Nobody's stopping you from diving here... well maybe one of Brontallo's 50 residents will catch you, but they'll probably call all their friends to watch your fall from the 78-foot cliffs around their tiny Swiss town. The World High Diving Federation hosts a competition here each summer, with judges sitting casually in holes of the craggy cliffs. 7. Kuala Lumpur Tower, Malaysia
This autumn, 103 BASE jumpers from all over the world converged to hurl themselves -- without a bungee cord -- off this Malaysian tower that measures 1,379 high. Feel free to consider joining next year's event.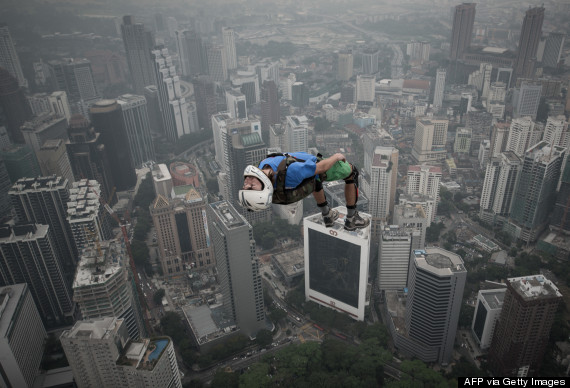 8. La Quebrada in Acapulco, Mexico
Divers must have perfect timing to survive this jump, as the ocean only opens to a safe depth for five seconds between waves. Though the stakes are high, generations of locals have trained for this jump. They bravely show their skills to tourists in both daytime and terrifying, torch-lit nighttime shows.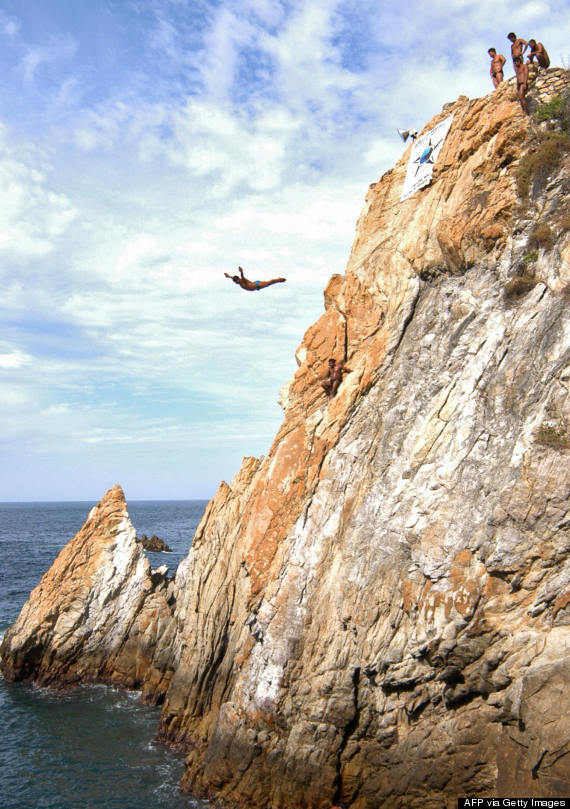 9. Nevis Bungee in Queenstown, New Zealand
Staff will "lull you into a false sense of security" with a calming van ride to the highest bungee in New Zealand. After some pump-up music, take the 439-foot plunge and smile for the gimmicky video recorders.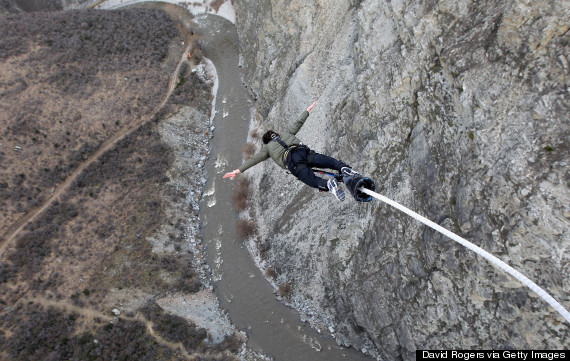 10. Ponte Colossus in Italy
Near a little village between Milan and Turin, bungee fanatics pilgrimage to a colossal, eight-tiered bridge whose height lives up to its name. The initial fall of 499 feet takes about 4.5 seconds. Apparently, that's not enough-- jumpers often come back for more.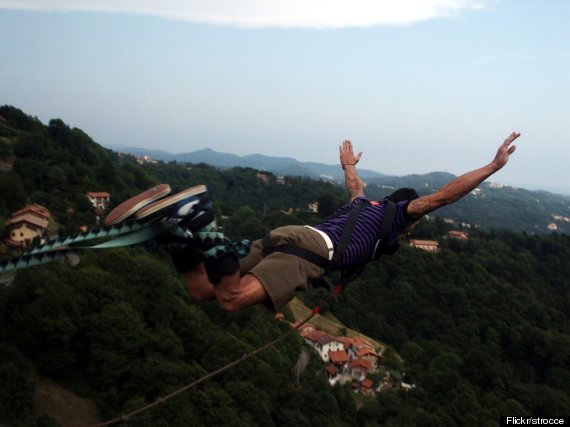 11. Rick's Cafe in Negril, Jamaica
This Rasta-themed cafe is a hit with tourists, who come for rollicking happy hours and gorgeous ocean views from the cliffs outside. While locals make the 35-foot dive into the water in an attempt to earn tips, tourists all too often try the jump for themselves... sometimes with life-altering injuries as a result.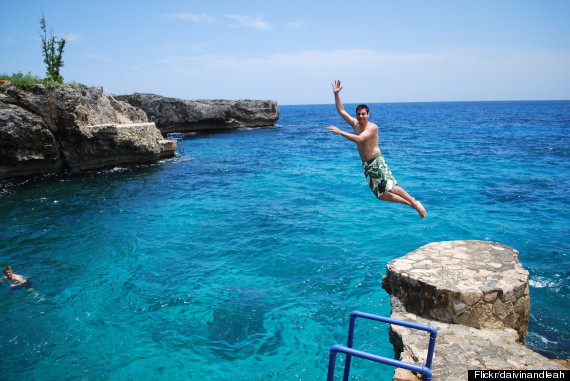 CORRECTION: A previous version of this story located Nevis Bungy in Australia. It is in New Zealand.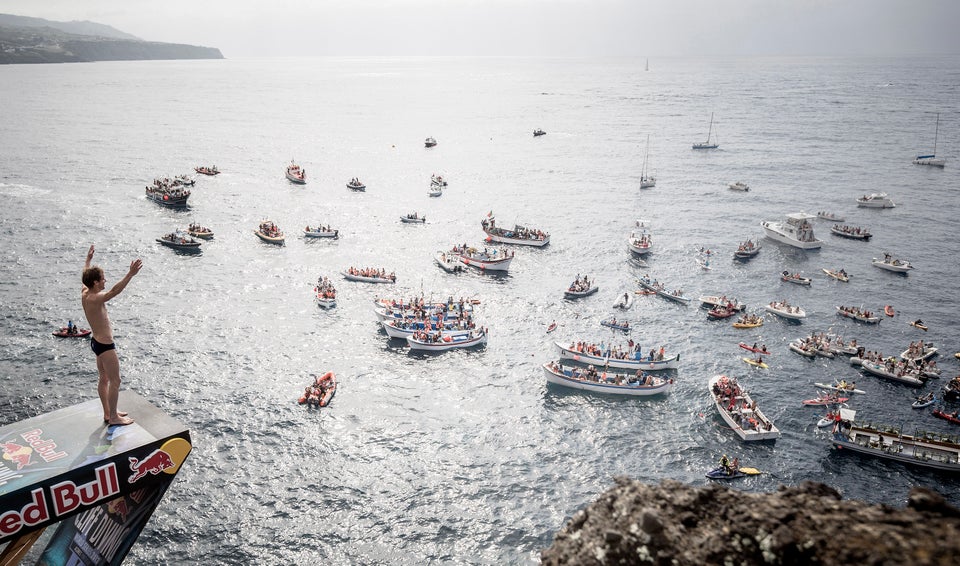 Gary Hunt Cliff Dives In Portugal