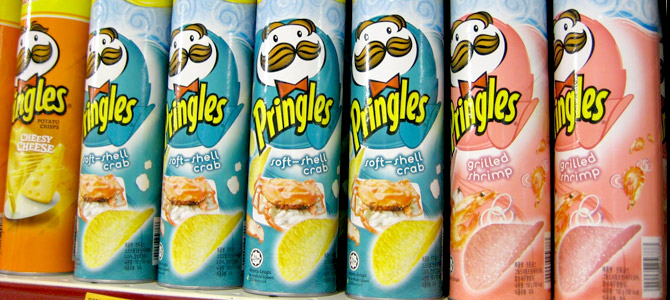 (Photo Credit: icantotallymakethat.blogspot.com/Sharon Goh)
When it comes to sheer diversity of chip flavors, you have to hand it to the folks at Pringles -- Curry, Mexican, Crispy Cheese, Ketchup, Wisconsin White Cheddar, Chili Cheese -- they go all out! But as anyone who has strolled a grocery aisle overseas knows, the international market for chips is the flavor Wild West -- things get crazy. It's as if whoever created that first nutty flavor, whatever it was, got snakebit by all the Pringles jingles all at once. First they got the flavor, then they got the fever, then they unleashed a flavor bonanza.
As noted in 2011's installment of Crazy Potato Chip Flavors, there's no limit to the accents and seasonings that you can reach into a crisp bag and cover your fingers with. Many are actually pretty good. There are the classics, of course -- salt and vinegar flavoring, sour cream and onion, barbecue. But then others start to get dubious, go over to the flavor dark side, outside the realm of sense. Salsa flavor makes sense, sure. Hot and spicy? Check. Jalapeño? OK. Paprika? OK, we're with you. Bacon, smoky bacon (yum, but uh-oh), jamón, ketchup, Bolognese sauce? Prawn Cocktail? Wait, huh? Potato chips that taste like shrimp and cocktail sauce? Why?
Humpty Dumpy Fries and Gravy Chips, Grilled Cheese and Ketchup -- these are chips masquerading as an different foods altogether. In some cases, chips are practically individual courses, meals even! It's possible to imagine the potato chip becoming like the single stick of chewing gum, three-course meal that imperiled Violet Beauregarde in Charlie and the Chocolate Factory.
Looking at some flavors, you could already assemble a chip-by-chip, 21-course tasting menu. First you have the Tayto Prawn Cocktail Flavour Crisp. Follow that with Herr's Baby Back Ribs Rippled Potato Chips (would you like a side of Humpty Dumpty Au Gratin Ripples Premium Potato Chips with that, or perhaps a Kettle Chips Fully Loaded Baked Potato chip?). A few courses later, have your entrée: Walkers English Roast Beef and Yorkshire Pudding Flavour Potato Crisps. Finish with dessert: Walkers Chili and Chocolate Chips. Something to wash it all down? How about some Hot Potatoes Spicy Bloody Mary Potato Chips?
Yes, some chips have gotten carried away. Then again, to some, apparently, there are few things in life as important (Fredric Baur, who invented the Pringles can so Procter and Gamble could ship them without using a bag, was said to have been so proud of the achievement that he told his kids he wanted to be buried in the iconic can).
So who ranks highest amongst some of the most ridiculous flavors? Whether current selections named after nonexistent flavor profiles, limited-edition crisps, or things you'll find overseas, here's an addendum to 2011's 10 Crazy Potato Chip Flavors, an updated guide to some of the craziest flavors around. Careful, once you pop...