For years whenever any theater person talked about wanting to break into television, I referenced Sara Ramirez. Because, well, I knew her for a while, and also has a great success story. Shonda Rhimes, seeing her on stage in Spamalot, basically said: "What show of mine do you want to be on?" Now I reference Donna Lynne Champlin. It's a more current reference and I like to be current. (Ramirez, an amazingly talented Tony winner, is years removed from her stage work.) She also has a pretty great success story. She doesn't have a "star is born" moment like Ramirez. Her story is more relatable. After years of mostly supporting roles on stage, in her mid-40s, settling into what she refers to as a "plus-size" body, she suddenly got her big break, in the CW show Crazy Ex-Girlfriend. Or, as I like to refer to it, a "Showtime musical pilot that didn't get picked up but was done by The CW and yet still has Emmy buzz."
In Crazy Ex-Girlfriend, which will enter its second season this fall, Champlin plays sidekick/enabler Paula opposite Rachel Bloom's Rebecca, a successful attorney who moves to California to follow her childhood boyfriend, Josh. Champlin has earned a significant amount of acclaim for her performance. On the season finale she had a long showcase number featuring her character's name in lights. Really. Gabrielle Ruiz a theater veteran who plays Valencia, Josh's current girlfriend (for most of season 1 at least), explained that though the rest of the cast had wrapped before the filming of Champlin's big number, they all came back to watch Champlin strut her stuff.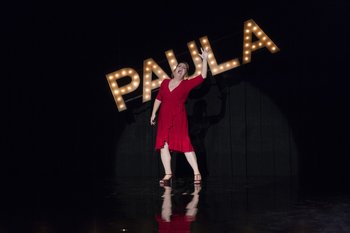 "The stage was set, the Paula lights were glowing and Donna Lynne was dancing for her life," Ruiz, who was promoted to series regular for Crazy Ex-Girlfriend's second season, said. "Rachel Bloom created a modern 'Rose's Turn' (Gypsy) moment for Donna Lynne and we all were not going to miss it! As a Broadway veteran myself, I beamed with pride that final evening. Donna Lynne is a triple threat on stage and on screen. She embodies that heart and soul."
For her part, Champlin, who had other showcase numbers earlier in the season, recognized the import of that moment. "I knew if that was done wrong I'd never be able to show my face in New York again. I know my people," she said of the standout bit.
Champlin's work this season in that number and beyond was so strong that Variety wrote she may even get an Emmy nomination. She's landed a role in the new Alexander Payne movie Downsizing. However when I noted to her jokingly during a recent interview that I think the year she got cast in Bloomer Girl, an obscure Encores! from 2001 that almost no one remembers, was really her breakout year, she doesn't argue, noting that was indeed a good year. After all, that was followed by her first originating role on Broadway, in By Jeeves, an obscure Andrew Lloyd Webber musical that almost no one remembers. She accepts it when I admit to blocking out the short-lived By Jeeves entirely. That is her. She has always felt incredibly lucky to just get these roles, whether it was playing (essentially) Carol Burnett in Broadway's Hollywood Arms or appearing in a play in a gym or portraying Paula on television. She has always brought a sense of enthusiasm and honesty into her performances.
"Directing Donna Lynne is like directing your best friend and toughest critic at the same time--she'll do anything you ask but she won't let you get away with a single false move," Jack Cummings III, who has directed Champlin in the off-Broadway revival of John Cariani's Almost, Maine, Terrence McNally's And Away We Go, William Inge's The Dark at the Top of the Stairs (for which she won an Obie Award) and more, stated.
"DLC is a compelling actor because she surprises audiences and her fellow actors," Cariani, who co-starred with Champlin in his Almost, Maine, added. "Feelings and thoughts move through her through body and soul so quickly and so honestly and so deeply and so visibly that--as an audience member and as a scene partner--you find yourself completely immersed in her world and you thoroughly experience her character's joy/pain/heartbreak/terror (there's always joy, pain, heartbreak and terror in a DLC performance) and you don't even know how or when you got so invested. She takes your breath away. And makes you feel so so much. She is so effortlessly vulnerable. And the best part is that she does what she does completely un-self-indulgently. Because she doesn't act. She just lives."
Right now she is living--and playing the accordion (something she did previously on Broadway in the Sweeney Todd revival and Billy Elliot)--in Central Park, portraying Hortensio, friend of Petruchio and suitor to the lovely Bianca, in Shakespeare in the Park's all-female take on The Taming of the Shrew. For most of the show, she's in a full suit.
"Rehearsing during the day is tough, especially when it is so hot," she admitted during a rare break. "But we've been learning a lot from the audience. The audiences are really savvy. They also all come ready to have a good time. I feel like the feedback is really true."
While many people would rest during their hiatus, this production spoke to Champlin, a self-professed Shakespeare geek who originally auditioned for the role of Grumio. "I was going to take time off. The schedule on TV is crazy. You could not work for two days but then work from 4am to 1am the next day. I definitely wanted more family time," Champlin, who is married with an almost-five-year-old son, said. "But I read on Playbill about this production and it sounded so great. I called my agent and I said: 'I don't care what I need to do, get me in the room.' There was just something about it that was thrilling. I'm not right for any of the women roles in a traditional staging of Taming of the Shrew. This was an opportunity."
Not that there are many traditional stagings of The Taming of the Shrew. Because of its misogynistic bent, the play is rarely done. "The biggest Shakespeare guy on the planet came to speak with us one afternoon," she said. "He said he doesn't teach it. It's considered radioactive by many scholastic, academic people. But this is a wonderful feminist performance of Shrew."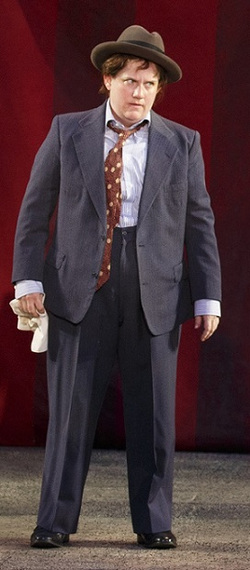 This all-female version, starring Cush Jumbo (seen previously in director's Phyllida Lloyd's all-female Shakespeare productions) as Kate and Janet McTeer as Petruchio, is book-ended by a staged beauty pageant, a device that Champlin said came about a couple of weeks into rehearsals. "One day Phyllida started asking us about our pageant experience, asking what happened when," Champlin said. Champlin had some knowledge because the dance competitions she appeared in as a child also occasionally had pageant-esque features such as an evening gown segment or interview portion. Other members of the company had more traditional beauty pageant experience. And because of Shrew's two sisters, the company watched a Toddlers & Tiaras episode featuring two sisters, one of whom always lost.
Each company member was asked to come in with a 45-second talent to show to the company. Champlin said she was "amazed at the random talents," with particular shout-outs going to Leenya Rideout, who played a mean fiddle, and Anne L. Nathan, who played a polka version of "Like a Virgin" on the accordion. Sadly, for a variety of reasons, neither Rideout nor Nathan were selected to display these talents at the Delacorte. However Champlin was--she taps at the beginning of the show, a part where all the women are in female dress. (Ruiz said her dream for Season 2 of Crazy Ex-Girlfriend is for her and Champlin to have a tap challenge.)
The pageant device, used to rather comedic effect, highlights the misogyny in the underlying play. "The audience is the final cast member in this production," Champlin stated. "When Cush gives her speech at the end, the lights come up and we all become complicit in misogyny. If they laugh at something that is misogynistic, they'll pull back. If our job is to hold a mirror up to the audience, this play can do what no other Shakespeare play can do. There are people who boo and hiss at the end. There are those dudes that applaud. It's fascinating how bipolar the reaction is."
It has also been interesting to Champlin how many people now recognize her. In Los Angeles, where Crazy Ex-Girlfriend is filmed, she is often in her car, whereas here she walks or takes the subway. You know, like us little people. "It's thrilling to be stopped and for people to tell me how much they love the show or Paula," she said.
It's also pretty thrilling for Champlin to be back on the stage, where she has spent the majority of her career. She's had guest appearances before on television and was also featured on the web series Submissions Only, but nothing as consistent and huge as Crazy Ex-Girlfriend. And television and theater are very different animals. As she explained:
"If you miss something in the theater, you are working through it, you'll get it tomorrow. It's easy to forgive yourself in the theater. On television you do one shot. All you've done rehearsal-wise is be blocked. There is all this pressure to get it right then."
Get it right with no audience to feed off of and mold your performance. "What I miss about the theater is the live experience. The toughest thing for me is doing on camera stuff as a comedian," she added. "You can never gauge physically how things are playing. No one is allowed to make a noise or anything during the filming of the show. Whereas on stage, you're constantly gauging all night long and adapting. There is almost a psychic chess game that you do all night."
Of course performing in Central Park, where Champlin also appeared in 2012 in As You Like It, changes the game a little. It's both magical (my personal favorite New York theater experience) and at times horrific. "Someone references the moon and you can look up and see the sky," Champlin cited as one of the positives. "You walk around and you think: 'Haven't Kevin Kline, Meryl Streep and Raúl Juliá walked here?' I'm literally walking in the footsteps of all of these brilliant actors. And it's Shakespeare--even when I'm not in a scene, I sometimes like to watch just to hear it. Then there is the crappy stuff: the rain, the raccoons, the bugs, the heat." Oh, plus, this particular staging involves a lot of the actresses crowding into an onstage Winnebago for quick changes, and that Winnebago also plays home to raccoons and bugs and their various excrement. It's not exactly posh.
That said, Champlin is used to performing in all kinds of environments. She's simply relishing being on stage and seeing stage performances. Her stint back in New York has meant she has been able to catch up on Broadway. She's also able to perform at 54 Below in a June 28 concert presentation of Blood Brothers, a show she loves. So she's having a pretty great time and is looking forward to it continuing. She will have a couple of weeks post-Shrew to soak up more of what this city has to offer, family in tow, before heading back to LA.
Then she returns to her unpredictable television schedule, not that she is complaining. At all. She realizes how amazing this year has been for her. She has a huge featured role in a musical television series. She gets to sing on television and reach a whole new audience. This piece will be one of a dozen on her in the last couple of weeks--last year at this time it would have likely been the only one. (Indeed, I did a piece on her last stage appearance and I think it was the only one.)
"So many more people watch television," she acknowledged. "The attention is another level. It's very humbling. For a musical theater geek it's all incredible."

Author's note: Years and years ago, I saw Champlin in the musical Flight of the Lawnchair Man, and I told her she'd win a Tony Award if the show ever came to Broadway. It didn't, but you can listen to her big number here.
Photo of Crazy Ex-Girlfriend courtesy of Scott Everett White/The CW. Photo of The Taming of the Shrew courtesy of Joan Marcus/The Public Theater.
Popular in the Community