No Bake Cranberry Orange Cheesecakes are perfect for any holiday gathering. Bright flavors of the Fall and Winter seasons meld together into terrific bites of bliss.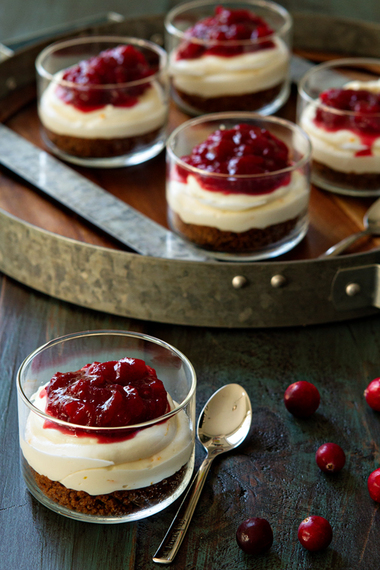 Here I go again with the mini desserts. I just can't help myself! There's something just SO elegant about rows of petite serving cups, layered with a delicious, creamy dessert full of all the right flavors. These beauties just happen to be filled with the right flavors of cranberries and orange. Plus, they're no-bake. Just whip them up, chill them in the fridge, and serve to the delight of everyone you know.
I don't know why I don't do things with this flavor combination more often. Cranberries and citrus are a match made in flavor heaven. Cranberries are pretty tangy on their own, but not so sweet. Oranges are sweet, with their own version of tang. Together? Magical, I tell ya. Especially in cool, creamy no-bake cheesecake.
This recipe is one that'll get you through any potluck party, all season long, from November to January. The mini cheesecakes are small enough to get away with being eaten in "don't-ever-eat-again!" January, but every bite is creamy, and tastes absolutely decadent, making them at home on a Thanksgiving or Christmas dessert table too.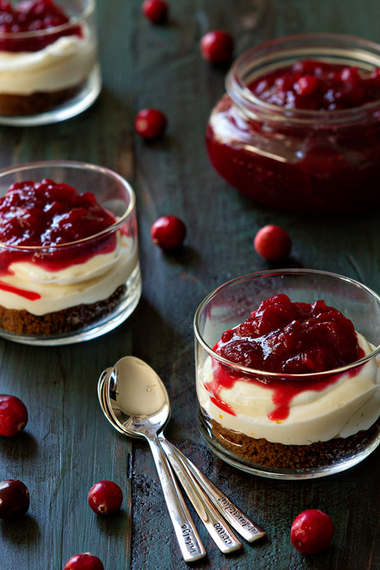 The other day I shared homemade cranberry sauce, and you can use that here, or use store-bought that's been joojed up with freshly squeezed orange juice and a little Grand Marnier. No matter what, don't skip the good quality cream cheese!
So do me a favor - make these gorgeous No Bake Mini Cranberry Orange Cheesecakes for people you love this holiday season. It's the little things that make every holiday special, right?