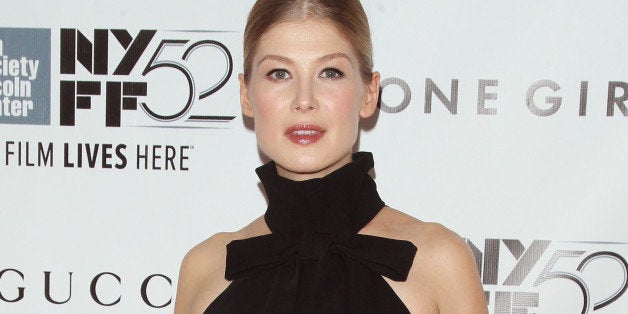 With the New York Film Festival in full swing, it feels like New York's cultural season has officially launched. Helmed by the amiable Kent Jones in year No. 2 as Director of Programming, the Film Society has put together a stunning lineup of must-see films, ranging from studio biggies, to art films, to cross-overs. Also on tap from the ever evolving fest are "Evenings With" actors/directors, revivals of classics, a Spotlight on Documentary, and the newly named Projections offering cutting-edge fare. This only skims the surface -- there's much much more to the NYFF 2014. If the organizers aim to make midtown a cinephile's mecca, they're well on their way.
That said... Sometimes in a fest there emerges a confluence of similar themes and images. This is generally coincidence, as a line-up depends to some degree on which films are available, etc. When movies do "talk to each other," says Kent Jones, "that's always great." Certainly it's fair to say that noir films, from Maps to the Stars, to Gone Girl, to Foxcatcher, dominate much of the conversation in the fest's 52nd edition.
Yet I've also picked up in this year's lineup, like some background noise hard to tune out, some dispiriting portraits of women. I don't usually take this perspective. A film stands on its own merits, regardless of gender politics. Yet it's hard not to become dismayed over the repeating female image of the aging actress as trainwreck. Crazy ladies prevail! In David Cronenburg's Maps to the Stars, Julianne Moore takes this stock character around the bend and back -- and yes, won Best Actress in Cannes.
Maps is a brilliant put-down, often hilarious, of a warped Hollywood that picks up where Nathaniel West's Day of the Locust left off. Cronenburg exercises spectacular control: not an iota of humanity or altruism is permitted into the frame. With its cosmic disgust, the film's an equal-opportunity offender. The male teen star is beyond grotesque, along with his huckster dad.
But oy, some gallery of female monsters. Olivia Williams plays the mother from hell. Mia Wasikowska limns a homicidal, pyromanical psycho, a walking embodiment of evil. Most troubling, perhaps, is Moore's actress, who rejoices at the death of a rival's child so she herself can snag a role she covets. Maybe it's time to retire the aging actress going bonkers and stick it in cold storage.
The actress as train wreck crops up again in Clouds of Sils Maria from Olivier Assayas. That said, it's a glorious, must-see film, its tone worlds apart from Maps. Unlike Moore's caricature, Juliette Binoche plays a relatable diva who's menaced by fresh young talent coming down the pike. Setting his drama against the gorgeous backdrop of Switzerland's Upper Engadine, Assayas taps into the plight of any artist struggling to keep pace with galloping change. And while Moore is made to look desperate and tatty, in Clouds the filmmaker celebrates Binoche's lushly beautiful middle age. What bothers me, though, is, well, the diva's mental fragility, a hysteria just below the surface. Are we looking at another portrait of the fading actress as walking meltdown? To be fair, Assayas leaves us (minor spoiler) with the idea that work and professionalism go a long way to making life more livable.
I revere the Dardenne brothers, the integrity and social awareness of their immaculate projects. They've created indelible moments in cinema and even their less stellar work demands viewing. That said, the plot line of Two Days, One Night -- a soon-to-be-laid-off worker must convince her coworkers to forego their bonuses so she can keep her job -- plays a bit thin and repetitious.
Also bothersome is that female factory workers don't usually look like Marion Cotillard. Even a dressed-down Cotillard sporting cheap tank tops and the slumped posture of defeat looks suspiciously like she's just done Pilates. Worse, her character is so emotionally fragile -- in fact, a teary mess who attempts suicide -- it's her husband who repeatedly gives her the strength to persevere.
Curiously, the above films were made by men. Perhaps women filmmakers are less eager to foreground weepy weak sisters and poster girls for ungracious aging. But what to make of the dubious sexual politics of Gone Girl from the best-seller by Gillian Flynn? With its he says/she says structure, the novel is a technical tour de force. Its literate language and smartass dialog place it several cuts above your average potboiler.
But in the film -- for all the verbiage about Rosamund Pike's breakout, and I wish her well -- the portrait of anti-heroine Amy Dunn is above all distasteful. And it's a damn shame, frankly, that the vehicle for an actress' breakout is a role like this.
Ben Affleck as Amy's husband comes off as a passive-aggressive heel who -- maybe deservedly -- becomes entrapped by the hell on wheels that is Amy. But Pike's Amy is the quintessential woman scorned, a tired trope if ever there was one, the latest spin on Fatal Attraction, another ringing testimonial for women.
Novels evoke through language; violence can be somewhat oblique. But in film you get in-your-face visuals in living color. So when Gone Girl's director, David Fincher, cuts to the nitty-gritty of Amy's machinations, including the urine scam, followed by an act of savagery that's no more watchable for being admirably shot... give me a break. You can talk all you like about technical skill -- this is deep misogyny. And whatever happened to the film's framing suggestion that economic shutdown can become a catalyst for interpersonal mayhem? At the press screening I attended, by the way, some viewers laughed, and not at the right moments.
As an antidote to the above female portraits, I'd recommend the lush, riveting German movie Beloved Sisters from Domink Graf. A period piece set in the 1800s that feels entirely of the moment, Beloved follows two sisters as they engineer a love triangle with poet Friedrich Schiller, object of both their affections. The divine looking Florian Stetter is a dead ringer for Schiller, and the two actresses possess a kind of natural, faintly irregular beauty that you rarely find among Hollywood's photoshopped faces. Graf guides the sisters through a fascinating ménage a trois, giving us a heady portrait of women who flout the strictures of their time to become agents of their own destiny. Talk about designing women!
REAL LIFE. REAL NEWS. REAL VOICES.
Help us tell more of the stories that matter from voices that too often remain unheard.