This week, the Chinese government granted "Crazy Rich Asians" a theatrical release in China for later this fall, ending speculation that the movie's depiction of ostentatious consumption and ultra-wealthy families in Singapore, as well as its focus on Chinese diasporic communities, might not fly with government censors.
As the first major studio Hollywood movie with a majority-Asian cast in a quarter-century, the romantic comedy was a landmark for Asian representation in the United States. "Crazy Rich Asians" — based on Kevin Kwan's book about the drama that ensues when Rachel Chu, a Chinese-American woman, meets her boyfriend Nick Young's fabulously rich Singaporean family — has wildly exceeded expectations and smashed U.S. box office records since its release in August, helping to further dispel the Hollywood myth that movies about people of color don't perform well financially.
What resonated with U.S. audiences might not resonate with Chinese audiences. The thrill Asian-Americans felt at being represented on screen at all, for instance, might well be supplanted in China by questions about the quality of the representation. 
"For Chinese people, it's more like eating General Tso's chicken," said Afra Wang, co-host of "Loud Murmurs," a Chinese-language podcast about U.S. pop culture. In other words, Chinese audiences might think the film is too Americanized and views Asia through an outsider or "exotic" lens.
When Chinese people go into movie theaters in China, they will see an all-Chinese cast all the time, so it's not something that's politically significant for them.

Afra Wang, Chinese pop culture writer and co-host of the podcast "Loud Murmurs"
After "Crazy Rich Asians" landed release dates in other parts of Asia, the movie's fate in China seemed uncertain, given the government's censorship policies and its annual quota for foreign movies released in Chinese theaters.
It's hard to know whether politics really factored into that decision, according to Manya Koetse, the Beijing-based editor-in-chief of the site What's on Weibo, which covers social media trends in China. 
"The reasons behind this will all remain behind the curtains," she wrote in an email, noting that some movies get delayed or are directly released to Chinese streaming services. "Christopher Robin" might be released anyway, Koetse said.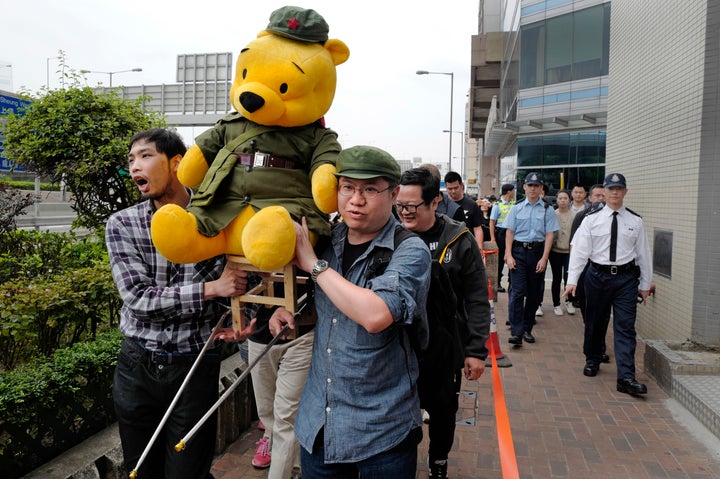 By allowing "Crazy Rich Asians" to premiere in Chinese theaters, government officials signaled they do not anticipate any political controversies from the movie.
"It's safe," Kang Liu, professor of Chinese Studies at Duke University, said of the movie, largely a splashy, glamorous affair. "It's not endangering any Chinese government policies."
And while the film's depiction of consumption and consumerism may go against "core socialist values," that's not necessarily a big deal for the government, said Xian Wang, a professor at Notre Dame who specializes in Chinese pop culture.
"The censorship in China is more oriented toward the political issues," she said. "The movie is a little bit controversial maybe, in terms of its portrayals of wealth, but that's not a huge priority for Chinese censorship."
Liu said participation in consumer culture is a major status symbol in China and posited that the government sometimes welcomes an interest in lighter subjects, like reality television and celebrity scandals, because they help distract from political issues.
While Communist Party officials "would never explicitly endorse this kind of glamorous, wealthy, decadent lifestyle," Liu said, "paradoxically, they actually promote this kind of consumerism and pursuit of wealth, this glamour, in entertainment quarters," like in movies and television.
Another potential red flag could have been the movie's focus on people of Chinese descent living outside of China, going against Beijing's vision of a unified Chinese culture.
"For the Chinese government, they try to put an emphasis on this concept of 'one Chineseness,'" Xian Wang said. "But I don't think the movie will damage this concept."
Ultimately, audiences might not really care about these potentially thorny issues anyway, she said. "They really want to go to the movie theater and enjoy their time, so I think that's not a problem for them, as long as [the movie] is visually pleasing."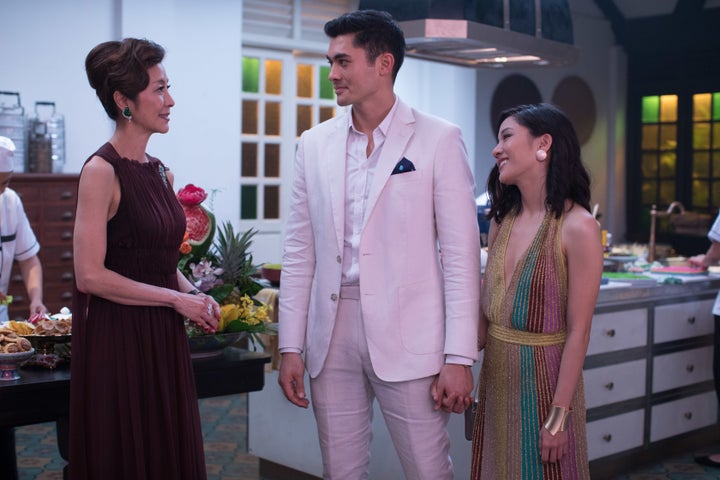 "Crazy Rich Asians" shouldn't have any trouble in that department. But it still has to win over a Chinese audience that will not be impressed by strides in representation that were so meaningful to Asian-Americans.
"When Chinese people go into movie theaters in China, they will see an all-Chinese cast all the time, so it's not something that's politically significant for them," said Afra Wang. "They don't have this problem. They don't have the feeling of being marginalized or wrongly represented."
Xian Wang said she did expect the film to "generate some discussion about Asian stereotypes," citing early reviews on Chinese social media from people who watched the movie through pirated versions online. Those reviews raised complaints that the movie is shallow and doesn't represent Chinese culture.
For Chinese people, it's more like eating General Tso's chicken.

Afra Wang
There are also the differences in the "lived experiences" of mainland Chinese viewers to consider, Liu said, noting that the movie might be less relatable to them because "it is pretty much made for the Chinese diaspora, for Chinese people around the world."
"I can imagine it would be a weird watching experience for people in China to see Asian faces speaking English, with Chinese subtitles," Xian Wang said of the movie, which mainly features English speakers, with a few brief scenes in Mandarin, Cantonese or Hokkien. "That's actually a culture shock."
Still, some of the movie's themes are likely to be familiar to Chinese audiences, such as the concept of food as a communal experience and particular family dynamics and tensions.
The tropes of domineering matriarchs and filial piety abound in Chinese pop culture. Afra Wang compared "Nick's picky and reputation-loving mom" Eleanor, played by legendary Malaysian actress Michelle Yeoh, to "a very typical Chinese soap opera character."
The film's availability online may deter some viewers from going to the theater, she said, because they might prefer to see a bigger-budget action movie.
But Xian Wang thinks the glamorous aesthetics and escapism of the film may still tempt audiences to experience it on a big screen.
She posited that instead of Asian representation as a major selling point, Chinese audiences might consider the Hollywood film's "very universal love story" to be its main appeal.
"The title of the movie is 'Crazy Rich Asians,' but you can substitute that: 'Crazy Rich Russians,' or so," Wang said. "It doesn't make a difference in China. As long as it's a good Cinderella love story, then the audience in China, they may go."
Calling all HuffPost superfans!
Sign up for membership to become a founding member and help shape HuffPost's next chapter