"Crazy Rich Asians" has something for everyone. A talented, all-Asian cast, beautifully extravagant scenery, plenty of food porn ― and of course, some stunning (and no doubt, expensive) fashion.
The book by Kevin Kwan on which the movie is based is full of high fashion references, from Yves Saint Laurent to the Antwerp Six, so naturally, we couldn't wait to see all the clothes come to life on the big screen.
Warning: Spoilers for "Crazy Rich Asians" below!
The movie's costume designer, Mary Vogt, told HuffPost that she discussed the characters with Kwan and worked with him to determine a list of designers each character would and wouldn't wear, whether it be designer or custom-made clothing.
"I really went by the actor and what was right for them in Kevin's world," Vogt said.
Vogt also said director John M. Chu was very specific about what he pictured for Eleanor Young (Michelle Yeoh), the elegant mother of Nick Young (Henry Golding).
Throughout the film, Eleanor is seen in a number of stunning looks, including the embellished blue Elie Saab dress she wears to the wedding of Araminta Lee (Sonoya Mizuno) and Colin Khoo (Chris Pang), but nothing is ever over the top. The old money families are much more subtle and sophisticated in their approach to dressing than the new money family, Vogt said.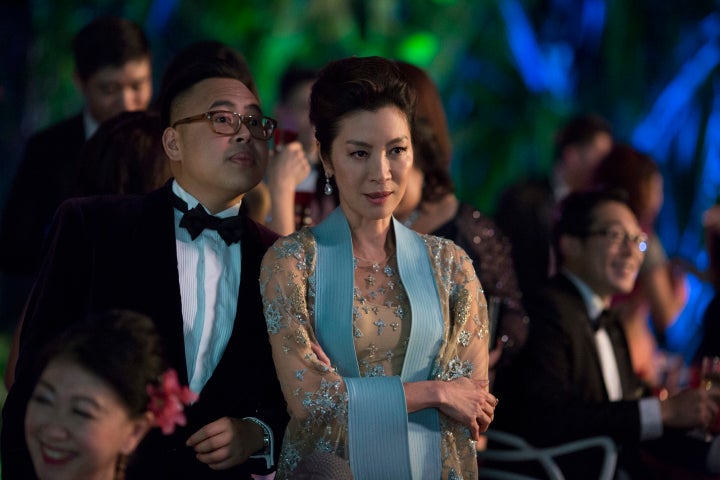 "If she wore Armani, it would be Armani Privé, and if it were Yves Saint Laurent, it would be old Yves Saint Laurent," Vogt said, noting that Eleanor is the type of person who had probably never set foot in an average department store. "If it wasn't custom-made, it would be couture, and she would never have the designer's name on her clothes. [Chu] was very specific about that; that was more of a new money thing that people did."
And speaking of a new money family ― in this case, the Gohs ― their wardrobe was what some might call extra, filled with bold patterns and plenty of visual interest.
"They were very joyful in their acquisition of things that had designers' names on it. They're a really fun family. I did a lot of Versace on them because Versace is very bold and playful and it's got a lot of gold in it," Vogt said. "Eleanor would never in a million years wear anything that has a lot of gold in it."
Peik Lin (Awkwafina), on the other hand, is "really happy, she likes her money and she likes dressing up and she's having a great time," Vogt added.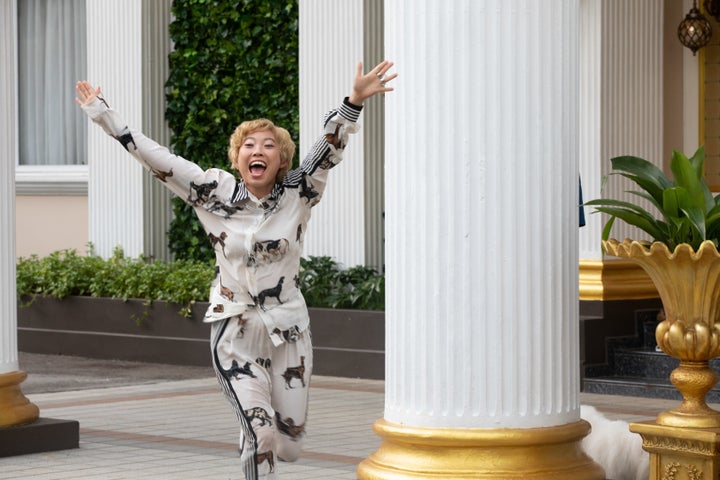 Then, of course, there's Rachel Chu, the film's leading lady. Throughout the film, Rachel's wardrobe evolves with her. When we first see her, she's dressed in a simple-yet-stylish outfit, complete with a trendy choker, which Vogt said was meant to give her a little bit of an edge.
"Even though she's a professor, she wants to look good on a modest budget," Vogt said. "She would never wear such edgy clothes in Singapore because she's kind of off her game there."
When Rachel is thrust into the crazy rich world her boyfriend grew up in, it becomes clear to her that she's not like the rest of the people she's surrounded by. And her wardrobe is a major giveaway.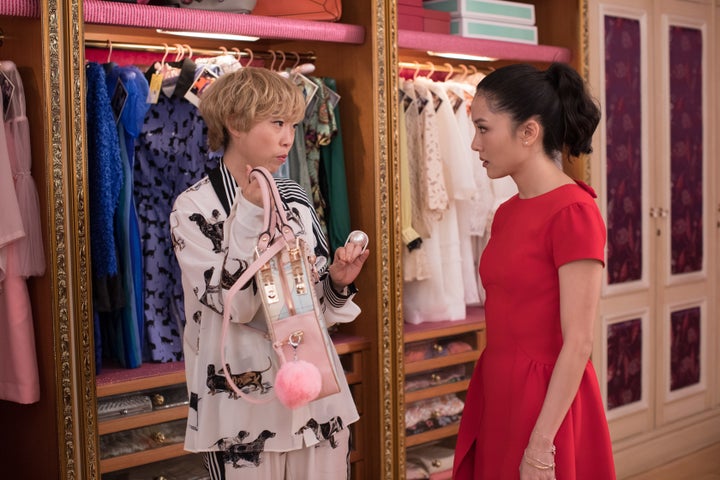 When Rachel first meets up with Peik Lin, she's dressed in a bright red dress (pictured above) she plans to wear to meet Nick's family. But Peik Lin quickly assures her the look is all wrong and proceeds to lend her a disco-glam striped Missoni dress (seen below).
Vogt told Fashionista the dress was a nod to the fact that Rachel, proverbially speaking, wasn't in Kansas anymore. She went from a monochromatic palette to "sensory-overload with fierce colors and over-the-top personas."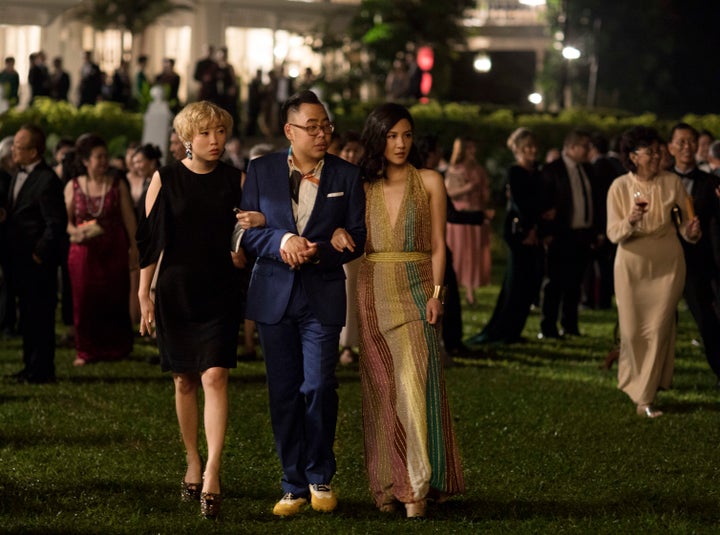 Rachel's next transformation comes before Araminta and Colin's wedding, aka the wedding of the year. She has endured Eleanor's mind games (and a disturbing prank at the hands of a few of Araminta's girlfriends) long enough and is ready to throw in the towel.
She doesn't, though. Instead, she prepares to beat Eleanor at her own game. With the help of Peik Lin and Oliver, Rachel gets her very own Cinderella moment, complete with a flowing blue gown and sparkling tiara. But first comes the quintessential makeover scene, which featured a number of gorgeous gowns, including another disco-inspired dress ― this time a silvery number by Michael Kors ― and a whimsical Dior dress that was very hands-on.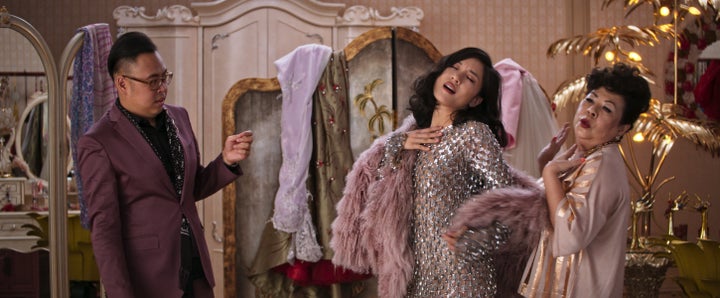 Rachel ultimately lands on an airy, light blue tulle gown by Marchesa. When she walks into the wedding, heads turn in her direction.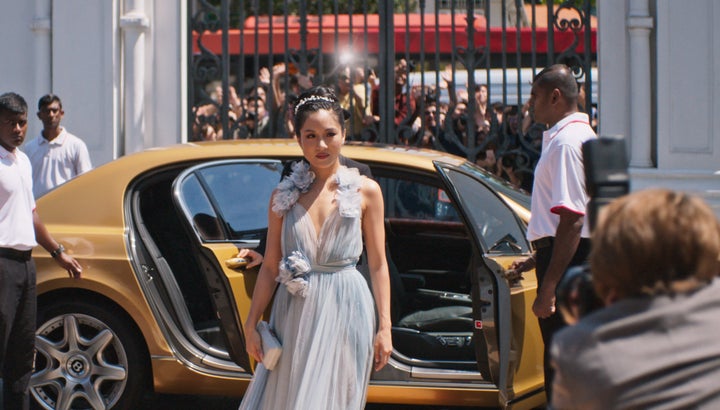 "I love that she's in this dreamy blue dress and she feels and looks fabulous and then she runs up against Eleanor, who's also in a blue dress, but Eleanor's is a little more regal, stiffer fabric," Vogt said, noting that Rachel "blows her away."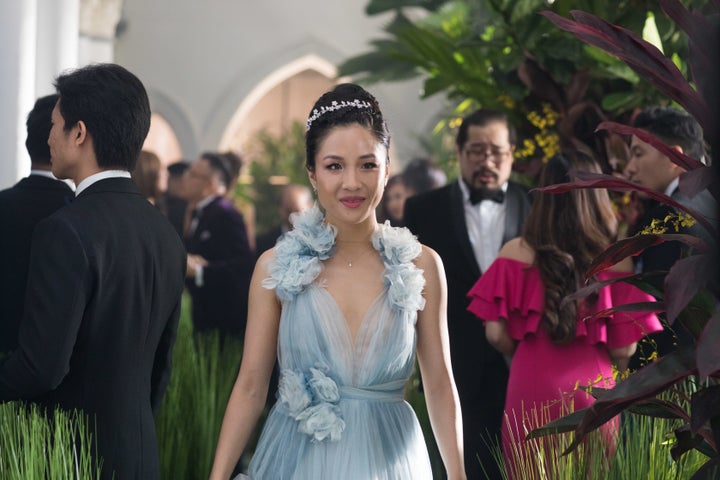 The most breathtaking fashion moment in the film comes courtesy of Araminta, right before she walks down the water-flooded aisle. Her wedding gown, a far cry from the classically elegant Valentino dress described in the book, consists of a golden crystal-encrusted jumpsuit with a voluminous ruffled skirt that was custom-made for the film. Vogt designed the gown and had it made by Carven Ong, a Malaysia-based bridal and couture designer.
"When you have another designer manufacturing, they add their own little expertise to it, so I think the dress came out a lot better with him doing it," Vogt said, noting that Mizuno ― who also happens to be a dancer ― wore it absolutely beautifully.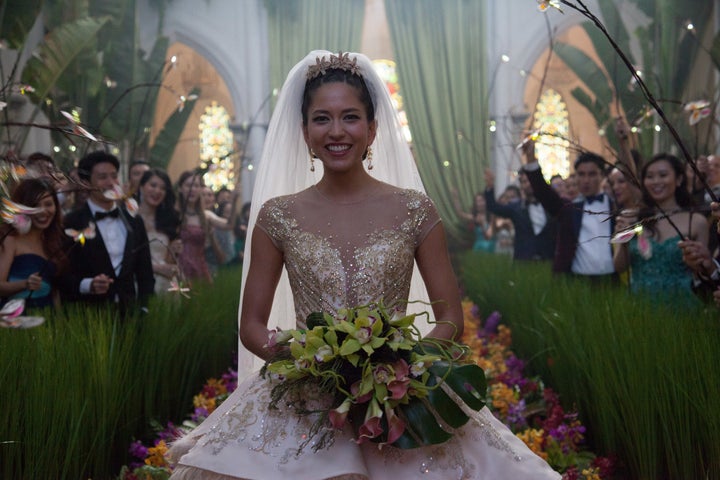 "The whole aisle was flooded with water, and she walked through the water like she was walking through air. She's just so graceful," Vogt said. "It's actually kind of a hard dress to be graceful in, particularly when you're walking through water, but she really pulled it off."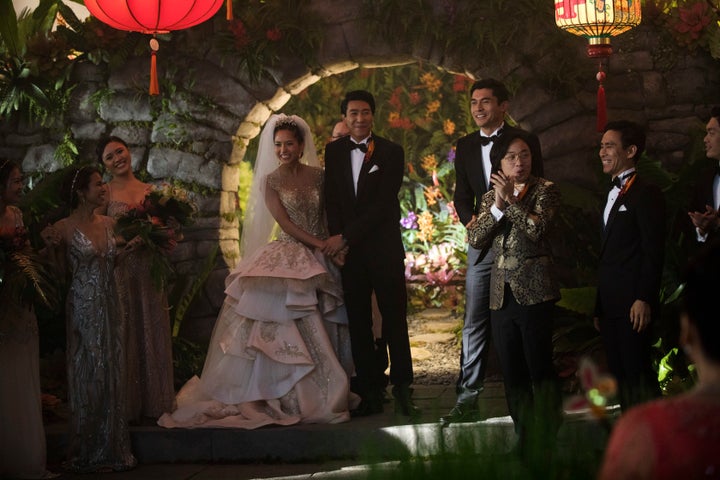 The men, many of whom wore custom suiting by local tailors, didn't look so shabby themselves: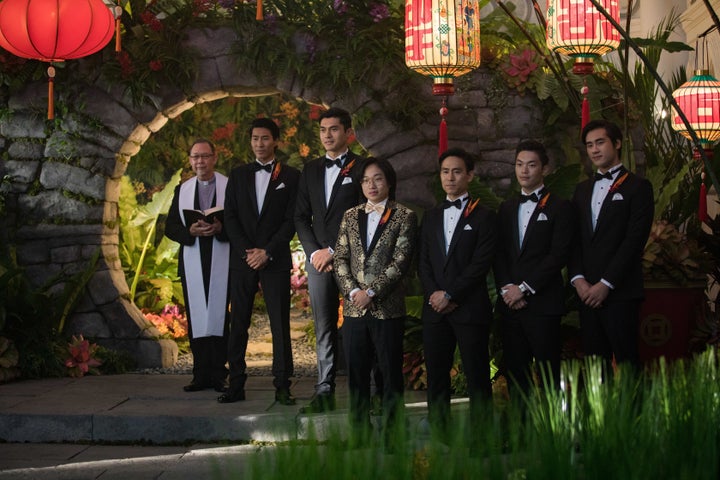 Take a look at more of the movie's fashion moments below ― and check out "Crazy Rich Asians" in theaters to see the opulence on screen.
If you ask us, it's worth it just for the clothes.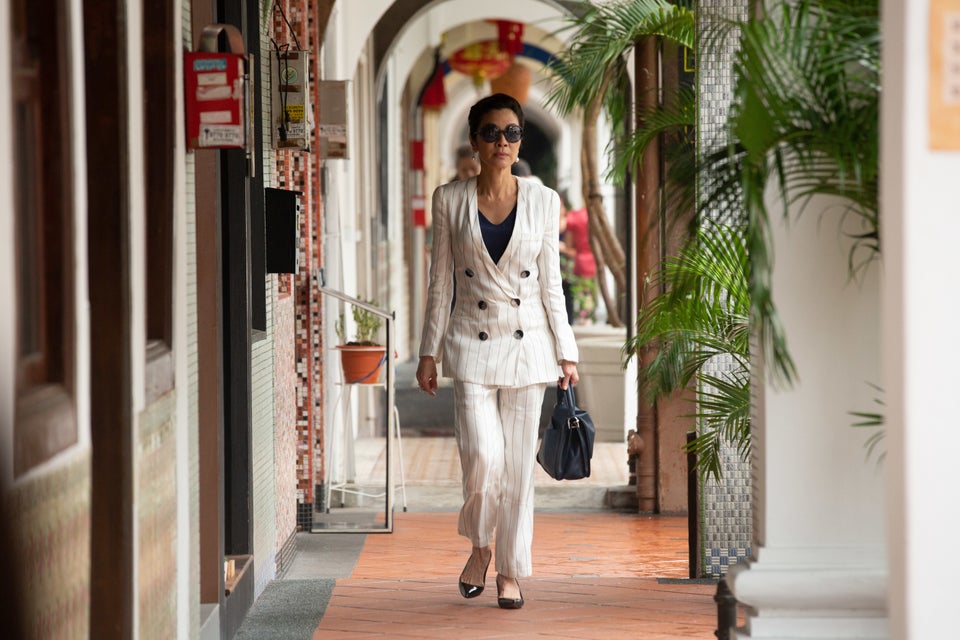 2018 WARNER BROS ENTERTAINMENT INC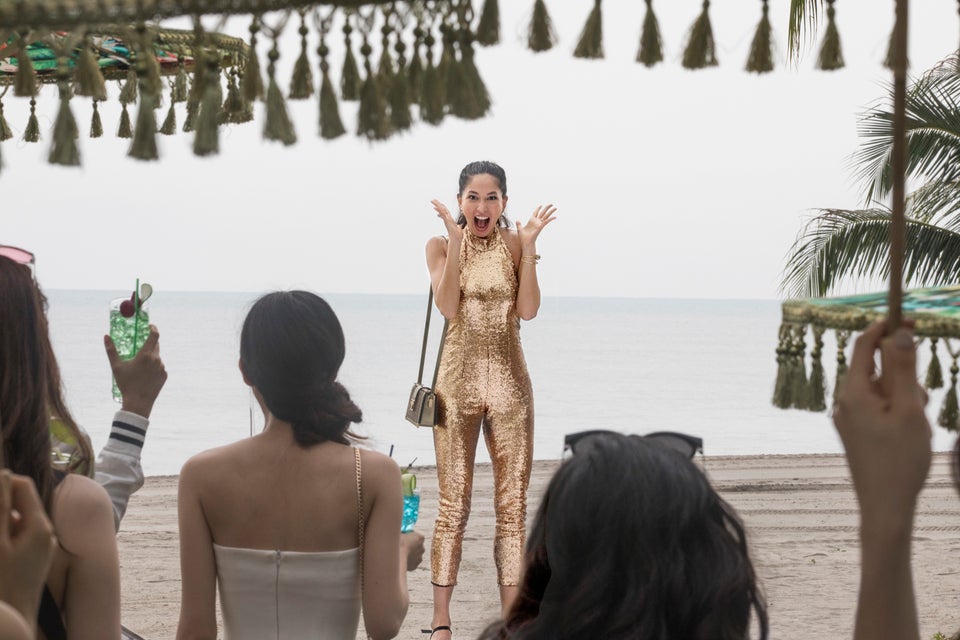 2018 WARNER BROS ENTERTAINMENT INC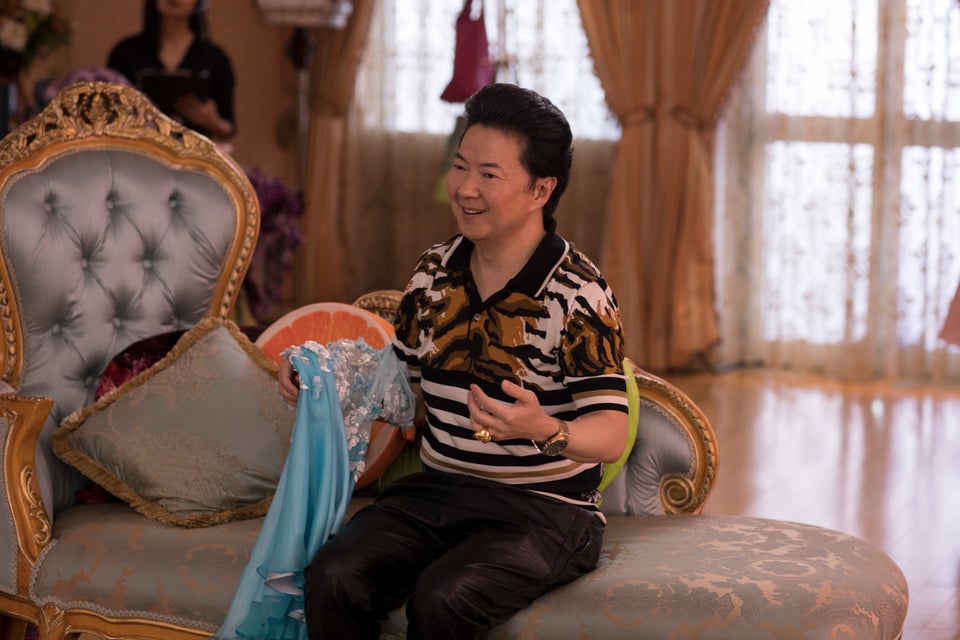 2018 WARNER BROS ENTERTAINMENT INC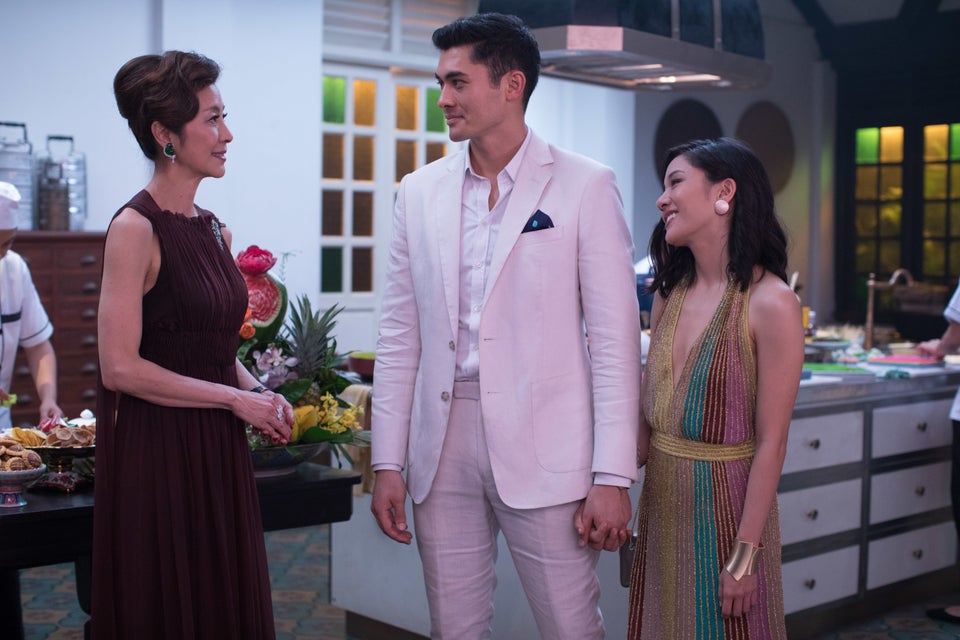 2018 WARNER BROS ENTERTAINMENT INC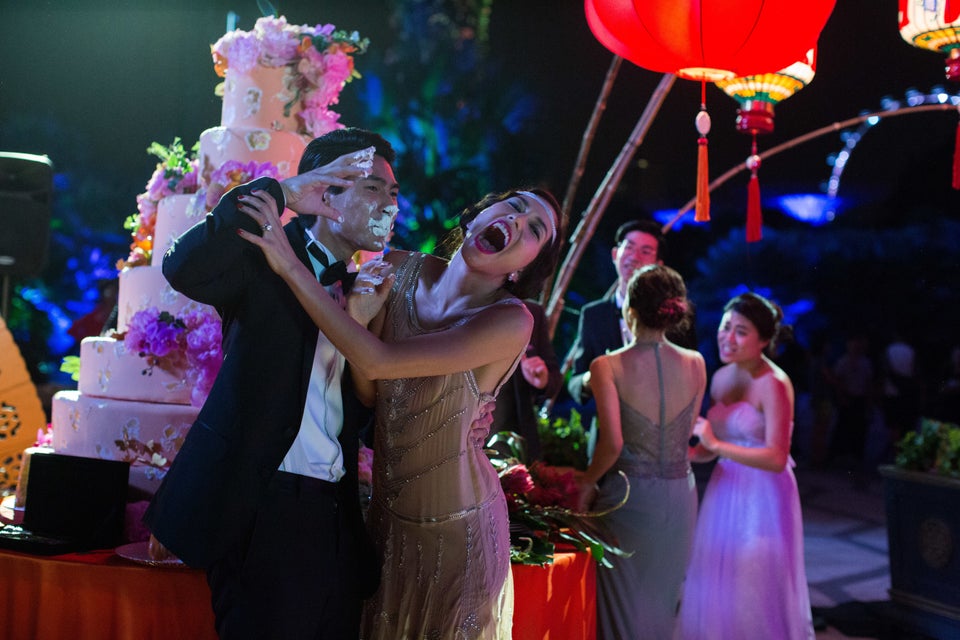 WARNER BROS ENTERTAINMENT INC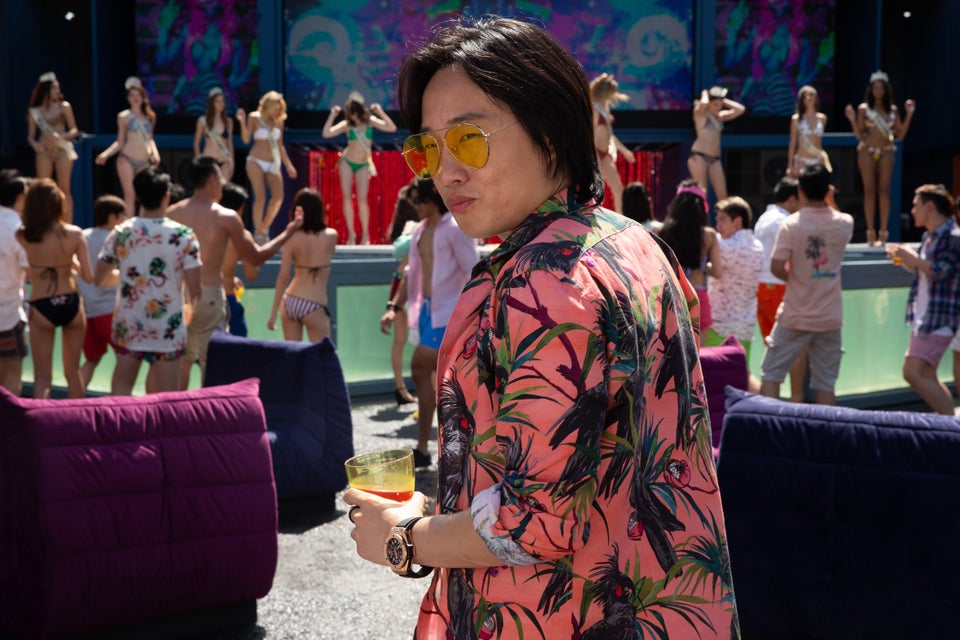 WARNER BROS ENTERTAINMENT INC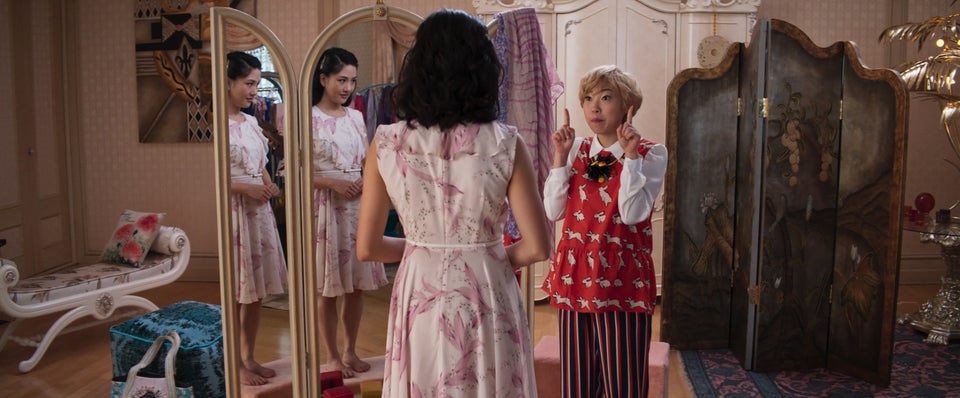 WARNER BROS ENTERTAINMENT INC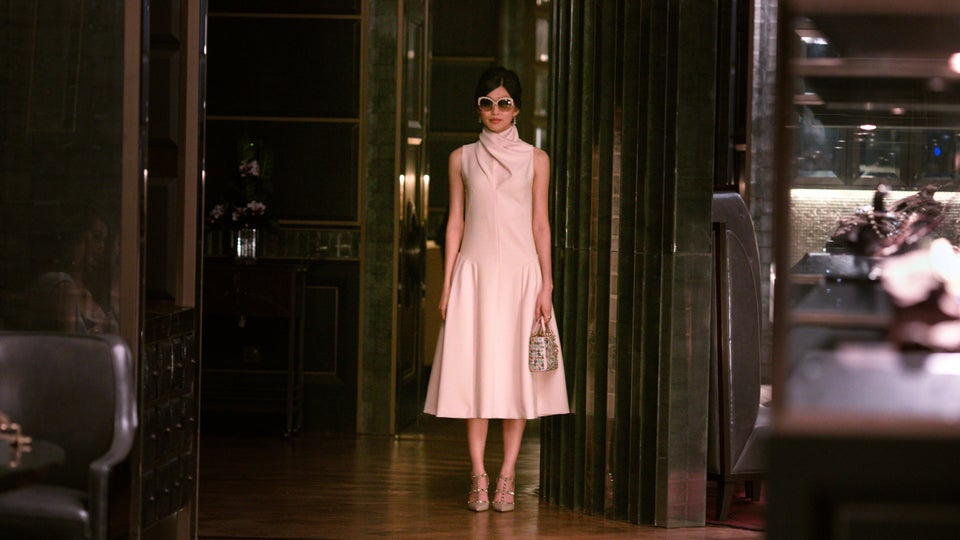 WARNER BROS ENTERTAINMENT INC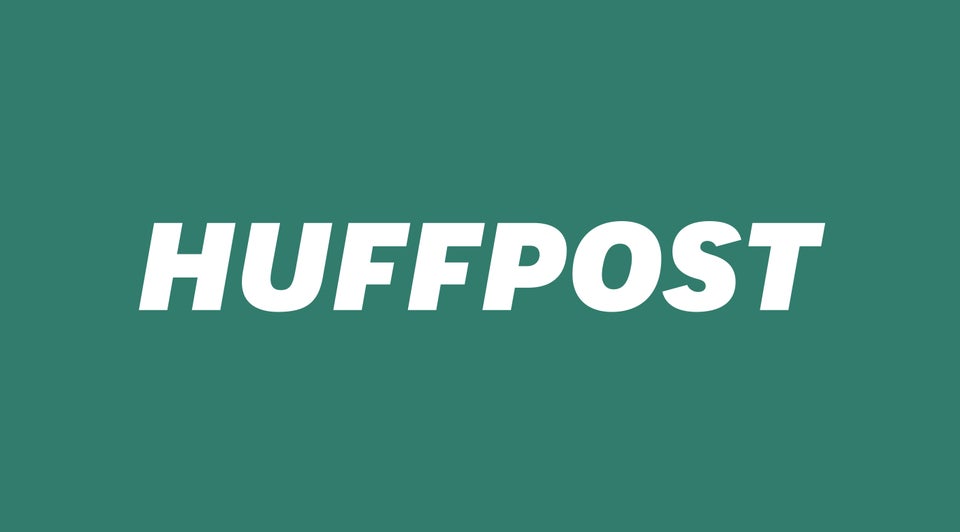 'Crazy Rich Asian' Tweets That Sum Up What A Time To Be Alive It Is For Asians