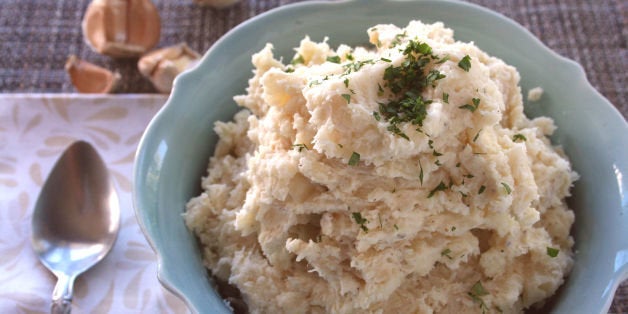 Yuca, or cassava, is a Latin American root vegetable with a similar texture and taste of potatoes, but a bit more fibrous. Light and airy, the yuca root can be boiled, fried, or mixed into soups and other dishes. In this dish, we boiled and then turned the yuca into a creamy mash with loads of butter and heavy cream.
Yuca, a staple in Latin American cuisine, is also popular in Africa and Asia. Some of the ways people cook with yuca in Latin America includes adding chunks of the root that has been peeled to vegetable or chicken soup and stews. The starchy root can enhance a soup's flavor and easily substitute adding potatoes. You can also puree the yuca and the other vegetables to make a thick, creamy soup. There's also the popular yuca con mojo (garlic yuca), which is basically fried yuca with a garlic and citrus sauce poured on top. I absolutely love cooking and eating yuca and prefer it any day over a plain old potato.
It's tricky to find fresh yuca here in the United States unless you live in a densely populated Latino community. Luckily for us in Los Angeles, they are in most grocery stores. Nowadays it's easier to find bags of frozen yuca, where it comes peeled and ready to cook. The look of the unpeeled yuca root can be intimidating at first, but once you build up the courage to slice off the waxy brown peel, you realize that it is quite easy to work with and has so much versatility. Serve the creamy mashed yuca with a tender roasted pork.
Creamy Mashed Yuca
Yields: 6 servings
Prep time: 10 minutes
Cook time: 25 minutes
Ingredients
5 pounds whole yuca (fresh or frozen), peeled and cut into 3-inch sections (about 5 pounds trimmed weight or 5 pounds frozen chunks)
4 tablespoons butter, unsalted
¼ heavy cream or milk
¼ teaspoon of nutmeg
1 tablespoon of salt
1 tablespoon of pepper
Directions
Place the yuca in a large 6-quart pot. Cover with 5 quarts cold water. Add the salt and bring to boil over high heat. Lower heat to medium and cook covered until it feels tender when pierced with a fork but still keeps its shape, about 30 minutes. Be careful not to overcook because yuca can turn into a gooey paste.
In a large mixing bowl, add the cooked yuca, butter, and cream.
Mash until all lumps are gone.
Add the seasonings of nutmeg, salt and pepper.
CORRECTION: This article initially misspelled "yuca" as "yucca," which is a different plant.
Calling all HuffPost superfans!
Sign up for membership to become a founding member and help shape HuffPost's next chapter