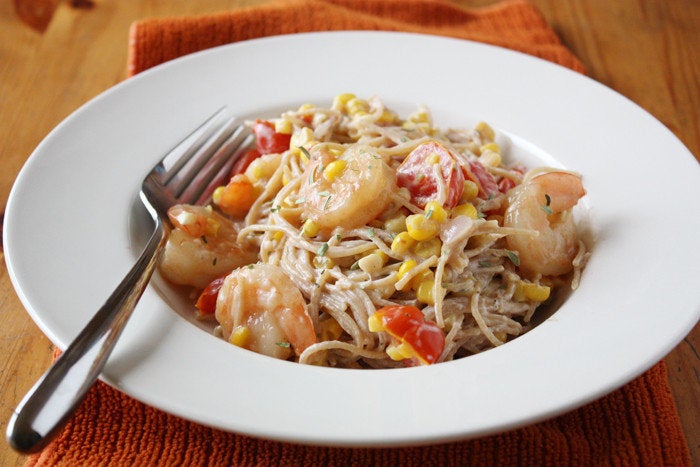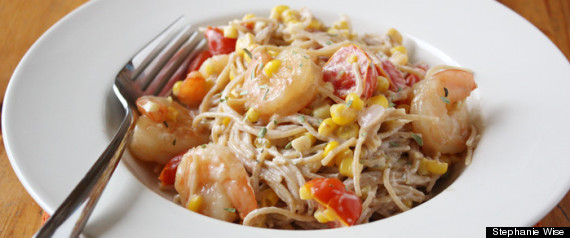 I'm not the kind of girl you see in glossy magazines, all dressed up and cute-like serving a delicious feast she just "whipped up" on an elegantly decorated table, kids politely playing with toys in the background, her guests smiling, laughing and applauding her composure in the midst of what, by all accounts, should be a ridiculously chaotic situation.
Nope. I'm the kind of girl who generally brings the chaos right with me to the table -- a table that has plates and forks stacked on it (if I'm lucky) and a handful of leftover paper napkins from last night's takeout order scattered around it. My kitchen probably looks like a bomb of pasta sauce just went off, the debris is probably decorating my clothes and my makeup almost surely has melted off thanks to the oven heat.
Simply put -- I'm not the world's greatest entertainer.
However, as I get older and start doing more of that thing they call adulthood, what with hosting get-togethers and all that other stuff they tell you you're supposed to do, I'm slowly learning the ropes of this business of entertaining. My first lesson -- always cook something easy and effortless. Then, the rest doesn't seem so difficult.
That's why I've ditched the coq au vin (for now) and have treated my guests to this tasty, healthy (and EASY) Creamy Shrimp Pasta with Summer Vegetables. Time and time again, it's proven to be a hit. It's a little sweet, a little savory and it combines some of the best flavors of summer in one satisfying dish.
Let's just put it this way -- whenever I make this stuff, there is not a noodle to be found in my hair. And while I may get no applause from my guests, I do get a lot of "mmms!" and "ooohs!" and "wows!" In my book, that is equally gratifying.
Creamy Shrimp Pasta with Summer Vegetables
Yields: 4 servings
Ingredients:
1 box (or up to 1 lb) whole wheat angel hair or spaghetti pasta
1 tablespoon olive oil
1 lb peeled, de-veined and tail-off cooked shrimp, thawed
1 pint grape or cherry tomatoes, halved
2 cups sweet corn
1/2 red onion, chopped
3 teaspoons minced garlic
Salt and pepper
1 1/2 cups nonfat or low-fat plain Greek yogurt
1 tablespoon lemon juice
1 teaspoon dried tarragon
1 teaspoon dried thyme
1/2 teaspoon dried oregano
Directions:
Bring a large pot of salted water to a boil and cook pasta al dente according to package directions.
Meanwhile, heat a large skillet over medium heat; add olive oil and shrimp. Saute shrimp until lightly browned, about 4 minutes. Add tomatoes, corn, onions, garlic and salt and pepper to taste and cook until onions are soft, about 5 more minutes.
In a small bowl, mix together Greek yogurt, lemon juice, tarragon, thyme and oregano. Pour mixture over shrimp mixture. Add pasta and toss to combine. Add more salt and pepper to taste and serve warm.