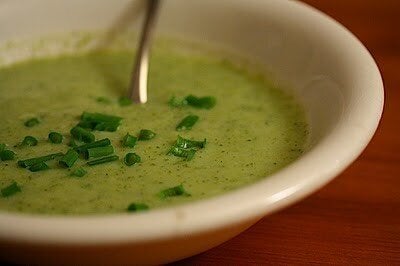 In high school, our best friend Carolyn (not to mention Jordana) was a vegetarian. This had a huge impact on our potlucks in early years, if this ode to eggplant parm was any indication. But perhaps more memorable than the eggplant and even mine and Cara's competing oatmeal chocolate chip cookies, was the veggie (vegan, in fact) tofu dish that Carolyn's dad, Donald, would make us for post-field hockey game picnics.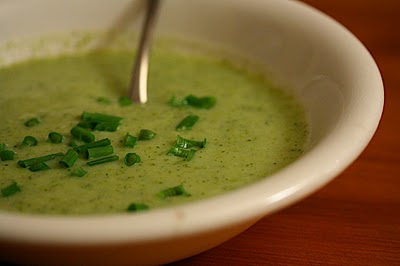 This tofu was flavored with white wine, mustard, and dill, and it was really my gateway dish into vegetarian cooking. Its deliciousness prompted me to cook it all by myself at age 15, and to buy one of my very first cookbooks in order to do so. The Modern Vegetarian Kitchen, by Peter Berley, still sits prominently on my cookbook shelf, and contains the same set of orange post-it notes I used in high school to mark intriguing recipes. One of them, Whole Wheat Fusilli with Swiss Chard and Balsamic Roasted Onions, I made for an old high school flame the summer after graduation. He was a militant vegan, the type that won't eat breakfast with you if your bagel is topped with butter instead of tofu cream cheese. Or will, so long as you will also listen to his rants about why butter, and all other dairy and meat products, are the devil. It was the first time I had ever cooked for a boy, and I served him Peter Berley's tofu (a tried and true dish), and this pasta.
But this post isn't about tofu or old boyfriends, it's about soup.
I've recently come to terms with the fact that though I love creamy soups, my stomach can't handle them anymore. And while I haven't necessarily let my cooking be ruled by my intolerance (as evidenced by this dish), I've learned that certain indulgances are just not worth the resulting pain. Which brings me back to the subject of soup and veganism and veganized soups.
With the new year upon us, I've found myself craving thick, homey soups for lunch. The thought of Potato-Leek came to mind, but to me, this just wouldn't do without the cream. But then I remembered how wonderfully rich potato can make a simple pureed soup, without having to resort to milk. I decided to unite my two favorites: Potato Leek and Cream of Broccoli Soup. The end result was so smooth and creamy that had I not been spared the stomachache after eating a large bowl I would have never believed it was dairy free.
For now, I'm happy to be cooking for a man that is neither a lactard nor a militant vegan. But with creamy dairy-free soups like this one, we'll see if vegan romance makes a repeat appearance at my table nonetheless.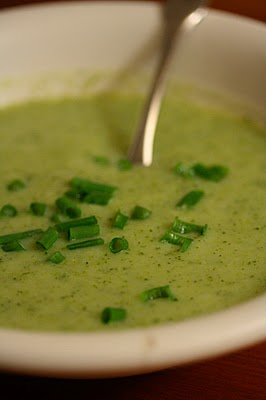 Vegan "Cream" of Broccoli Soup with Leeks and Scallions
Makes 4 servings
If you are not vegan and want the richness of actual milk or cream, try adding 1 tablespoon of butter instead of olive oil to sauté the leeks, and ¼ cup of whole milk or half and half at the end when you blend the whole thing together.
1 large bunch broccoli (about 1 1/2 pounds)
2 tablespoons olive oil
2 medium leeks, white and light green parts only, thinly sliced
1 medium Yukon gold potato, peeled and cut into 1-inch pieces
2 garlic cloves, minced
3 scallions, green and white parts, thinly sliced
1 quart vegetable broth
1 teaspoon salt
Separate broccoli stems from florets. Using a vegetable peeler, peel stems to remove tough outer layer, then roughly chop. Cut the florets into small pieces. Reserve stems and florets separately.
In a medium saucepan, heat the oil over a medium flame. Add leeks and cook, stirring often, until softened and fragrant, about 3 minutes. Add broccoli stems, potato, garlic, and the white parts of the scallions, and cook 2 to 3 minutes. Add the broth, salt, and 1 cup of water; bring to a boil. Reduce heat; cover partially and simmer until the vegetables are tender, about 12 minutes.
Add florets and green parts of the scallions (reserving 1 tablespoon for garnish); bring to a boil and then simmer 5 minutes. Transfer soup in batches to a blender or food processor, and puree until smooth.
Ladle soup into bowls and garnish with the remaining scallions.