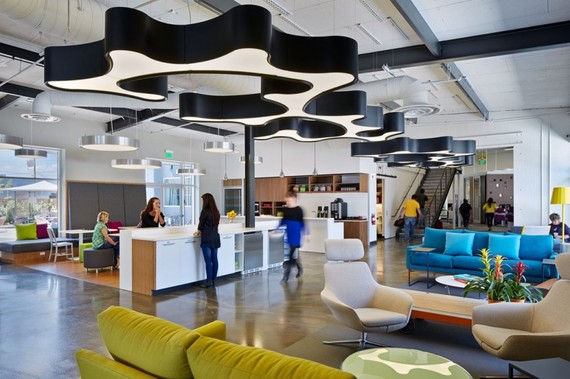 These days I have been implementing my best productivity hacks. Thanks to trial and error I am closer to designing the life I want. Because I have been working on several teams at the same time I can now compare experiences of three work dynamics in different offices.
In the first situation, I share my office with several colleagues as a completely independent university professor but most of the time I am away in the lecture hall or work in pleasant semi-silence. Then, there comes collaboration with my colleagues in IT sector as I attend meetings and complete tasks on my own. Finally, there is my alone time when I am at home, the public library or co-working space. There, with minimum distractions, I create: my articles, marketing campaigns and workflow to lead better my international conference team.
Let's face it, work and life balance are an illusion for two reasons. So many of us work longer hours than it is good for us and so many times we keep thinking about work even though we are done with our job for today.
I am learning to space out when I work thanks to regular journal writing, meditation, gym exercise and meditation. Try for yourself, when you distance yourself from distractions it does wonders for your productivity. Another reason why all these long hours became way more pleasant for me is that I participated to some extent in designing my work space and I keep everything organized.
Now I want to share with you some of tools and decorations that will both increase your happiness level and decrease the cost of maintaining your office. It is very unlikely that if we are unhappy at our working hours we get to be happy once we get home; the misery keeps wearing us off. How about changing the paradigm? We get to immerse ourselves in joyous, nicely decorated environment and we leave it to professionals to do it for us.
1) Prepare your meals in advance.
If you want to be my personal chef, I would be very grateful to you. I prefer to outsource cooking as it is one of my non-core activities during the day. I simply have to focus on what brings the biggest return on investment of my time: my teaching, writing and coordinating team efforts. Also, in down time I reunite with friends, exercise, read, catch up with family, choose what to wear, clean house and buy groceries which means my cooking time can be only 22:00 before sleep. To prioritize properly, if I am behind my schedule I get back on track as I buy a healthy meal and carry it straight to my office.
I tend to joke with my colleagues that in case I am nervous, I must be hungry. So, to prevent pangs of hunger I buy in advance fruits, nuts, sandwiches, a small amount of sweets, proper meals and water. Then in case my focus falls down I do not have to leave the office for an extra purchase, I just take out what I need from my bag or office kitchen. To plan your meals and save time, try these user-friendly apps.

2) Put some true colors on your walls.
In my faculty office I framed some of favorite photoshots. They remind me, especially in moments when I need extra motivation, that I have come a long way and that the best is yet to come. I also put postcards and inspirational quotes on a dream board so as to condition myself on a daily basis towards fulfilling my mission of making a difference into lives of others.
For those of you who love to paint walls into different colors rather than standard white, these airless paint sprayers are an excellent options, not only in offices, but also at homes and in the yard. If you are a fan of wallpapers, you can add a lot of magic to your walls. I encountered so many inspirational wallpapers: with maps of the world, stacked suitcases, the highway ahead of you, the bricks painted in Union Jack style, and even blooming cherry branches. The choice is up to you rather than having walls white.
3) Every breath you take should be intentional.
Believe it or not, I first paid attention to my breathing at the tango lesson when a teacher guided us through intensive exercise. Thanks to relaxation techniques I adopted, I became much more aware how emotions and my body are connected. I just breathe in and out from my stomach straight into my throat when I sense any anxiety in my body and... I get rid of it in less than 30 seconds.
But I also became concerned about the quality of the air I am exposed to. Life in metropolis is not an easy ride unless we channel our energy in such a way that we are not harsh with ourselves and others. And the quality of air in our offices can improve so much thanks to these air purifiers which remove remnants of smoke especially well. Although in majority of offices smoking is not allowed, it is good to clean the air we breathe nevertheless.

4) Optimize the play of hot and cold.
Last weekend an unusual dance event took place in a castle downtown center of Novi Sad in the north of Serbia. Hundreds of couples rejoiced themselves to the sounds of tango music, yet they had to keep their chins up to the fact that cooling the dance floor was next to impossible. The organizers had learned from this experience that two open windows are not enough for the breeze to circulate throughout the castle and for the temperature to stay optimal.
Just like in this dance venue, we need to spend time in optimal temperatures so as to put ourselves in enjoyable states of high creativity and productivity. Priming is one of the straightforward techniques, advocated by Tony Robbins. He suggests that holding a warm cup of coffee will enable you to feel much warmer and engaged once you have finished your drink; while in case you want to cool off you can hold on to that feeling even after you have put down the bowl or cup.
Therefore, to ensure good conditions, our offices and homes can benefit from portable air conditioners listed here which are easily ordered over Amazon and shipped effortlessly. I always envisioned that during photo and film shooting, the role of fans is to create the effect of waves in the hair or people moving in the windy environment. If you want to buy a fan, read through these fans reviews. You should aim for devices that push the air in a certain direction, while there is low pressure in the area around and behind the fan.
But what are we supposed to do in places we dwell when there is dry air, especially in winter months? When everybody around us seems to fall down with flu because of low-immune system? The cost-effective solutions can be portable room humidifiers because they get rid of viruses with the ultraviolet technology and help many people mitigate their allergies and other related conditions.
5) Take care of the sky above you.
Remember the outsourcing of non-core activities I mentioned at the beginning of the text. This is what I would do when it comes to any repairs. Why waste time on activities that somebody else can do like a pro?
In my flat the pieces started to fall down from the ceiling because there was a small flood and problem with pipes in the flat above us. This issue was settled in a pleasant way thanks to joint effort of a plumber and a house painter. This summer the flat will be completely revamped as I continue to take care of the figurative sky in my home.
Due to various reasons you may experience a misfortune in your office as let's say the commercial roof gets damaged over night. In the same way as my repairmen were able to help outside of regular work hours if it was needed, the same emergency quality is provided by roof maintenance companies 24/7. Your commercial roof can get back on track with King Koating service.
However, this kind of job entails a high level of risk for maintenance people as they operate on top of buildings. It is so important to think in advance how to provide safe conditions for those who help us and what to do in case of any emergency. Check out the approach of leading Oklahoma attorneys, Wandres Law who help clients protect themselves if employment law is breached or unfortunate personal injuries take place. With prevention and thinking upfront any repair will go much smoother.
6) Get swept off your feet with those who know how to do it.
My coach has been joking that she is a witch that travels on a broomstick and helps her clients clean the mess in various areas of their lives. ''Sometimes I may decide to circulate through the city on a vacuum cleaner to produce the desirable change much faster,'' she added with contagious laughter. These metaphors ring a bell indeed because inside and outside ourselves a constant cleaning needs to take place.
But what about cleaning outside? Can we actually help cleaning ladies we hire by giving them more advanced tools for work? Can we possibly rely on technology more to do this menial work? The future with connected homes and offices is now, it has started and even a mundane task like cleaning up can flourish with these outstanding robot vacuums. You might now save time, money and energy both for yourself and your maintenance staff.
What are your best strategies for keeping your office polished and organized? Let us know in the comment section below.