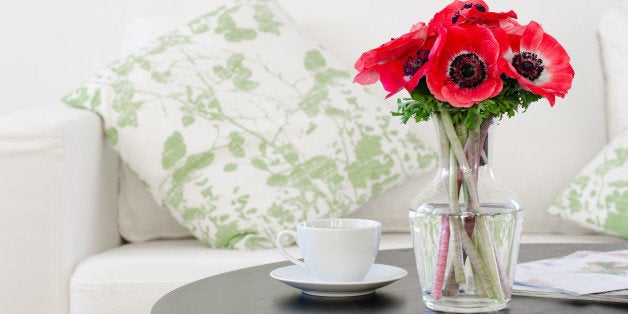 Our living arrangements reveal our approach to life. Renting is often perceived as a stepping-stone, a temporary situation that will soon be rectified by home ownership, and many of us accept bare-bone living with this end goal in mind.
An old friend moved into a handsome pre-war apartment that was soon going to be gut-renovated. The kitchen was wallpapered with a pink and blue spray-paint pattern and the living room sported a severe black and tan scheme straight from the nineties. We had a good laugh at how completely distasteful it was, but it was basically clean and livable. On a subsequent visit I was surprised that my friend had repainted all the walls as well as some of her furniture to match. The result was a cool Parisian-style apartment, a fun juxtaposition of modern furniture and classical architecture. Still, I thought this was a waste of time and money. My friend explained that she could not return from work each day to inhabit a place that felt so thoroughly like someone else's home. I did see the wisdom for her in this, but I did not really believe in the value of investing in temporary housing.
Not long after she settled in, my family moved into a rental during our house renovation. The apartment is lovely overall, but the bedrooms lacked proper window treatments. The master bedroom had a sad, dirty shower curtain hung on tension rods for privacy. And for ease, we only brought minimal furniture along with us. We discovered that we needed a dining room table suitable for our every day needs, so I scoured the web for the cheapest possible option. When I found something strictly functional but ugly, I hesitated. How awkward would it be to have this unsightly thing in my dining room? We need to feel comfortable as we live day-by-day, sleeping, eating, and hanging around. The idea of looking into the future where things would be better, and in the meantime denying ourselves a sanctuary in which we feel safe and nurtured, was unthinkable. I decided that a gently used designer table met the right balance. It is now the cornerstone of our lives, the hub where we spend many happy hours sharing meals and doing fun projects. My investment was worth every penny.
Living with good design and décor is an essential part of making our daily lives worth living, well beyond a sentimental luxury. My friend's courage to invest in her immediate environment inspired me to view my outer life as a direct reflection of my inner life. Avoid the usual trade-off of inhabiting glorified dorm rooms for eventual homeownership. This only defers the vision of a daily sanctuary to the hope of a distant dream.
The future does often look alluring from where we stand today. But we don't actually know what it will bring. Just like rental apartments, our lives on this planet are temporary. There is no certainty that a better a job, a more beautiful house, or a happier life awaits us. Give yourself a home that serves as a respite from the bustle of every day. Reward your soul by enjoying your daily life now, and savor the moments all the way into your future.