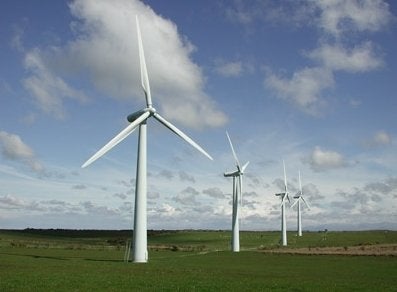 It started with a call to arms at a time of inspiration: "But I cannot do this alone, government cannot solve the problems, it's up to each of you..."
As I stood, transfixed to the podium along with 80,000 of my closest friends watching the first African American man become the Democratic Nominee for 44th President of the United States (an office he would later win) I was called to action. Yes, Barack Obama said I had to actually do something. That We, the People were going to have to do everything we could now, not later, now, to start solving the problems. We were, are, going to have to change.
I've known what to do for years. We all have. We all do. But, like most, I've said that being greener either costs too much money, takes way too much effort for the return, on and on, reason after reason I told myself that going green was for Ed Bagely, Jr., not me.
Well, Barack said nope, better get busy.
So, what could I do, right now? What can everyone?
In my world, the two biggest areas of power consumption are my home (which is also my work and studio, both radio and TV) and transportation.
I live in an 1800 square foot house (Park Howard) on a 8000 square foot lot a mile from the beach. During the winter, monthly light bills average about $275 and during the summer, $500. I have central air and heat, a 300 gallon marine fish tank, koi pond, and a fully functional audio/radio broadcast/recording studio (and video), computers, flat screens...you know, your house (minus the AV stuff and small ocean). There had to be a better way.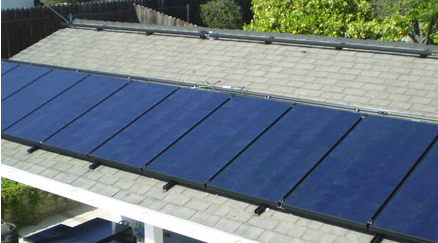 Enter SunRun solar. I found SunRun through my radio show, and after grilling a principal of the company Nat Kreamer for over an hour, my curiosity was peaked. For a very small fee up front, I could supply my home with all the power I need, even sell some back to Edison so I could use it at night. I wouldn't have to finance $40k or more and if I watched day time consumption I could end up with a zero Edison bill. Zero? $500 to Zero. Hmm.
Thanks to a return to science and reason, solar is now a very viable energy source. However, 6-8kw systems (what the average family home would need) have been cost prohibitive for most in the past. Enter SunRun and companies like them. They do power purchase agreements instead of sales of equipment. Now, it's not the only way to harness the sun, and each way to get solar on your roof has pros and cons. But all in all, Power Purchase was for me.
I now pay a fixed rate for power, about ¼ what Edison charges, power that was hitting the roof every day anyway for the last 10 years. Except now, it's working for me. SunRun's project representative Katie Brodnik arranged for the design and installation of the system through Borrego Solar in Orange County, CA. Borrego is an area leader, and specializes in installation, sales and leasing themselves.
Chris Lacher is an energy consultant for Borrego. Lacher, Brodnik and people like them are the consumer's liaison to the solar world. Lacher and Brodnik took me through the permit process and explained the letters I'd be getting from the California Public Utilities Commission and Southern California Edison (I'm a registered Power Plant now, how exciting). Borrego and SunRun worked closely and seemlessly, in a unique partnership. Power Purchase companies are new, whereas companies like Borrego have been around for some time; they are symbiotic now.
"We can get these systems up quickly, buy, rent, lease, power purchase, it's all the same," Lacher told me. "It often depends various utilities and permitting agencies.. Luckily, because of the need and interest, not to mention demand, the agencies are faster and easier to work with," he added. "Everyone is on board to get as much solar and alternative energy going as we all can, it's a partnership with state, local and commercial agencies and it's working," he concluded.
It took about three months from start to finish (planning, permits, etc), with the actual installation taking less than four days. Now Park Howard's roof (my home is named, why isn't yours) is covered with the latest solar panels. I can log on to a user interface and see how much the system is generating and how much carbon I'm keeping out of the atmosphere.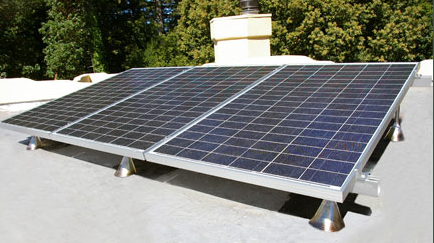 And the beauty of a power purchase agreement is that should something go wrong, SunRun maintains the system. Should the technology change, needs, etc, they work with you. And the bill? I pay about $40 a month to SunRun, and $5 to Edison. $45 down from $500 and I've kept over 1000 pounds of carbon out of the air so far. The agreement is for 18 years and is assignable should you sell the house.
There are other ways to get solar other than Power Purchase Agreements. As mentioned, companies like Borrego Solar design, sell, lease and maintain panels and their are loan programs and incentives in various states. There are leasing agreements, and of course, downright purchase. Systems can go from $25k all the way up to $75 k or more, depending. After rebate, it can still be a good amount to finance. And once you own them, they're yours, financed, paid for or not. That's why many, like myself, are going with the Power Purchase or Lease agreements.
Renting? Form a coalition and urge the landlord to go solar. Right now in CA there are rebates of up to $35k to install systems. It can be done. I will never live in a home without solar from this point onward. It just makes sense.
Fate made it easy to decide how to conserve fuel. As gas prices soared to $4 a gallon, my car was totaled by a driver that ran a light. It was older, so I only got $5k from it. Gas was bankrupting people and the thought of buying a $20k or $30k vehicle that gets under 100 miles per gallon (what we all could be getting right now). Not to mention at the time the only semi-progressive vehicle, the Prius, had a waiting list.
Americans use over 400 million gallons of gasoline a day about 22 million barrels, more than any other nation. We fight wars over the substance, and have spent more blood and money on it than almost any other. Our nation is beholden to places like Saudi Arabia, the home of the terrorists that attacked us on 9/11. Once my car was gone, I found it harder and harder to get another conduit to the oil company profit machine and the Saudi's bank accounts.
Motorcycles and scooters get incredible gas mileage, but safety has always been a concern, plus the need for a special license. But they are the only thing that gets over 50 or 60 mpg consistently.
Enter the Piaggio MP3 series, currently taking America by storm (I have two!). The bikes come in 250cc, 400cc and 500cc. And don't let their sleek European scooter design fool anyone; these are full-fledged vehicles that can gain speeds in excess of 60 ad 90 mph, all while getting 50-65mpg or more; and, they have three wheels, two in front, one in back, thus eliminating the need for a special license (Class C is the only thing needed unlike other scooters and bikes).
Piaggio is the parent company of Vespa, and introduced a line of three wheeled touring scooters to the European market that completely took off.
Now, I know what you're thinking. You HAVE to have a car. Wrong. I thought that. Plus, I'm a pansy and proud of it. Motorcycles terrified me. Actually, I loved them parked. But while moving, the signified rolling death to me. Well, desperate times call for desperate measures. Change I can believe in.
I first took a two day course from the Motorcycle Safety Foundation of America, just to see if I could do this and if I could, how to do it right. They offer classes across the land, and after taking one, anyone getting on two or three wheels should be required to attend. You don't even need your own bike. I learned on a Harley. Yup, a Harley. It was a sight.
By taking the class I was able to skip the whole motorcycle permit thing and just take the test for the license. I passed first time at the DMV. After I got a license I wasn't going to need for a bike I didn't have, I got my hands on the MP3 250 from Vespa of San Francisco (no other dealer in CA had them at the time). I paid under $8k out the door.
The MP3 250 is the perfect around-town and shorter distance bike. Peppy, sporty and fuel efficient, the under seat storage capacity and additional top case make it able to go grocery shopping or take a friend around town on errands.
The dual front tires make corner stability unbeatable, while the automatic transmission and other creature comforts make use extremely easy. Everyone from 16 to 60 can use one. My 250 (Gio is his name) has 2100 miles and I've spent under $150 on gas total since June, 2008.
Now the 250 is perfect and will perform well at any distance (I went from Long Beach to Barstow, no lie, to watch a Change of Command Ceremony of Eric Palacia, my personal Afghanistan veteran and hero) it's bigger brother the MP3 500 is the long distance touring scooter America's (and me, apparently) waited for to break the bike/scooter barrier. With a 500cc engine and redesigned body, the 500 is the bike for trips to Los Angeles, down the coast to Escondido to Art Throb Tattoo to see my cousin Geoff for great new ink or up the coast to Malibu for the day. To increase engine size, storage capacity suffers, and while the 500 could also be a perfect around town bike, it likes to cruise. It reaches speeds of up to 100 mph (no personal knowledge, of course) and is fully street and freeway legal (all are). I love Giotron as much as Gio, and each has their own purpose.
Now, Karel, that's extravagant you say? Wrong. My insurance is under $1000 a year for both. They both get 55mpg or more. The 500 could go cross country if I needed it to, and the combined purchase price of both is still around the same as a decked out Scion XA.
Prices range from $7000 to $10,000, total. It was under $100 to register in CA and holds 2.75 gallons, or less than $8 for a fill up that will go almost 200 miles.
Other scooters and bikes are out there getting great gas mileage, but these are leading the way in innovation, the future. To find out more go to www.piaggiousa.com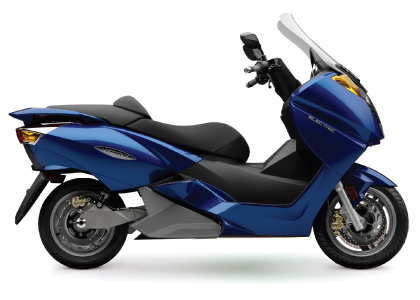 And for total zero emissions, how about Vectrix. Long Beach Motosports at 3291 Cherry Ave., Long Beach, carries them as does scooter shops throughout the country. Vectrix first came to my attention on Jay Leno's web series Leno's garage (on his show as well). These scooters charge in under three hours, go from 0-60 in seconds, and go 60 miles on one charge. Vectrix are made in Massachusetts, and are the equivalent to a 250cc bike. They retail between $8k and $10k, about 1/3 the price of most cars.
And I know what many are thinking, how do you shop on a motorcycle or scooter? Well, I go to Costco, buy my guts out (less these days) and get strange looks standing next to one of my MP3's; until the cab arrives, I put all my goods in, the cab follows me home ($10 from Costco) helps me unload and Violá! As for events or multi-passengers, rental cars are about $25 a day; rethink your needs. You don't NEED a car to get around to most places. Even moms and dads. How many empty minivans, just a driver, have to be out there before we get the message sometimes we don't need a traditional car? It's obvious we won't walk or take traditional bicycles, so...
There are always Smart cars, America's real only micro-compact vehicle. However, it takes premium only and tops out at about 45 miles per gallon and starts at $13k, going up to $16k with features. But it's a start.
"My Smart Car is the perfect solution for shopping, for almost everything. True, it took some getting used to on the freeway, but inside it feels no smaller than a Mini or other small car," Smart car owner Brian Good told me. "And no, it's not perfect. I wish it got even more mileage and had just a few more creature comforts, but what I've saved in gas alone is remarkable. And, I can park horizontally or vertically downtown."
There's also the Zenn, Zero Emission No Noise car. Like Chrysler's GEM Car (I owned one for years, and was joked I had a golf cart on Steroids) and all NEV's (Neighborhood Electric Vehicles) the state caps their speed at 25mph. These cars can go faster, but the state says no for now. As these technologies expand, speeds will increase. And of course, it's all in the batteries. Right now, batteries are in the last century; but over then next 10 years look for this to be one of the biggest fields of innovation: battery power.
So Barack asked, and I answered. Park Howard now generates all of its own power on most days and then draws back from the grid at night inexpensively. I went from 30 miles per gallon in my vehicle to over 60 and cut vehicle expenses by $200 a month or more.
Two small green changes, thousands of pounds of carbon out of the air and hundreds saved in my pocket.
Barack asked all of us. Your turn. I found solutions. Maybe they're not for you, but find your own. They're out there. Don't wait for a bail out or a government program or hand. Take the lead. The first green job to create is your own.
After all, I'm saving a lot of green by simply going green in two areas. Saving money and the planet can't be all bad, right?

Related
Popular in the Community